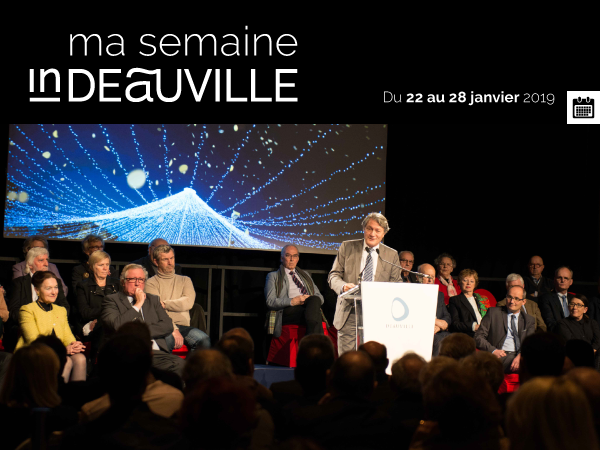 Tonight at 19 p.m. at the Deauville International Center, Philippe Augier, mayor of Deauville, will discuss all the subjects of the municipality, education, sports, town planning, cleanliness, environment, social ties, budget ... on the occasion of the Wishes of the City. Open to everyone !
DEAUVILLE
Saturday, January 26
_______
Between the words of Françoise Sagan
and the dance of Jean-Claude Gallotta
The choreographer, master of the pas de trois, plunged back into "Bonjour Tristesse".
He imagined in echo a dance of romantic feelings, light and untied.
A choreography of hugs, danced with passion. Moments, desires and words,
invested and carried by three magnificent dancers-interpreters
DEAUVILLE
23 at 27 January
_______
Micro-Folie:
a digital games area for everyone
Access over 500 works from 12 national cultural institutions via a giant screen connected to tablets, tinker with digital tools, dive into another world with virtual reality, challenge yourself on video games or enjoy 'a toy library…. Try the experience!
Deauville is looking for people to supervise and lead the workshops.
A good way also to share and create links!
All the info here.
SAINT-ARNOULT


Tuesday January 22
_______
Show jumping:
warm up
These days allow riders to perform show jumping courses of the level of their choice in order to prepare for competitions.
SAINT-ARNOULT

Saturday January 26 and Sunday January 27

_______

Arena Polo Tour

The teams will try to be successful during level 4/6 goal matches for this first stage of the Arena Polo Tour, a tournament which brings together the Polo clubs of Chantilly, Paris and Deauville.
DEAUVILLE

Saturday, January 26

_______

Revue-spectacle: "Deaullywood"

Through the evocation of cult films, dance, song and comedy serve the sequence shots of this 7th art.

TOUQUES

Friday January 25

_______

Concert: ArTroZic

Middle road rock blues music group.

TOUQUES

Friday January 25

_______

Theater :
"Tcha Tcha Car"

They are two, they do not know each other and yet they will have to support each other for more than 8 hours in the same car ...

TOUQUES

Sun January 27

_______

Dancing tea

A convivial moment over tea or coffee and a few dance steps to the music of an orchestra.
DEAUVILLE

Thursday January 24

_______

Normand.e.day

This second edition is open to anyone interested in digital education and its challenges for school.
The collection of your personal information is carried out by the SPL territory of Deauville for its own and exclusive use. This registration is subject to a declaration to the CNIL (National Commission for Data Protection). In accordance with the Data Protection Act and the GDPR, you have the right to access, modify, rectify and delete data concerning you. To exercise this right, send an e-mail to communication@indeauville.fr.
Photographs: © Sandrine Boyer Engel / Naïade Plante / Ezan-jipou / Guy Delahaye / Justine Jacquemot / DR