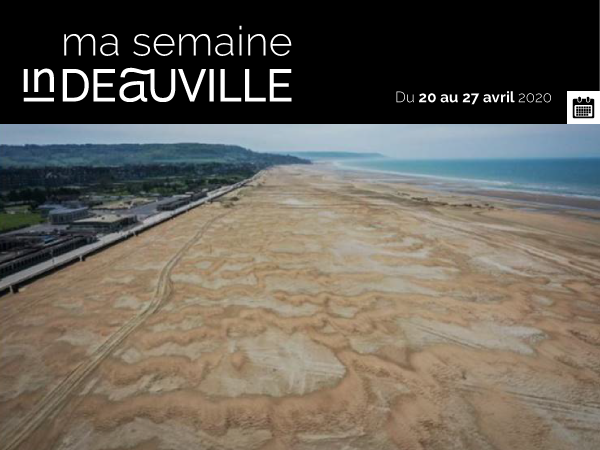 The inDeauville coastline as far as the eye can see, photographed by AFP and already on a world tour with TV5 monde.
Sharing on the set
At the Norman creamery in Villers-sur-Mer, the cheese is shared with aperitif platters made to order and delivered directly to your home.

Good plants for your garden
At the Houssaye de Touques nursery, you can now buy plants for your vegetable gardens.
Bon Thé Bonheur puts all its flavors in boxes
It is the latest addition to the list of restaurants that deliver.

The Gardens of Coppelia at the bedside of those who need it
Their newly renovated hotel welcomes caregivers and people in difficulty.
Caregivers and residents of
Ehpad
du Mont Joly in Trouville-sur-mer received Easter chocolates from the Rotary Club of Deauville and Marianik's chocolate factory.
The latter also donates 10% of its sales to staff at the Côte Fleurie Hospital Center.
Antoine Doinel found his freedom on the beach at Villers-sur-Mer
At 14, Jean-Pierre Léaud performs his first role in
The 400 shots
. It is "one of the most important moments of his life" he said a few years later. In the film, he is the young Antoine, locked up in a house for delinquents. He escapes. After a long race in the countryside, he arrives at the sea at the foot of the Black Cows, on the beach at Villers-sur-Mer, a haven of freedom, the promise of a new start. A mythical scene in the memory of moviegoers. A nugget in the first film of the New Wave, which we are proud to have in our cinema section.
The collection of your personal information is carried out by the SPL territory of Deauville for its own and exclusive use.
This registration is subject to a declaration to the CNIL (National Commission for Information Technology and Liberties).
In accordance with the Data Protection Act and the GDPR, you have the right to access, modify,
rectification, deletion and forgetting of data concerning you. To exercise this right, send an e-mail to communication@indeauville.fr.
P

hotographies: © Photo Lou Benoist for AFP
/
Artsandculture Google / All Rights Reserved.