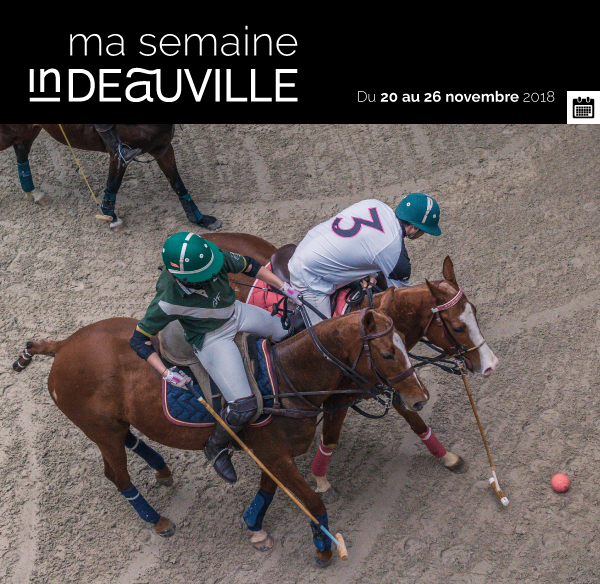 In the eye of inDeauville this week
inDeauville, polo is played on the beach, in the heart of the Deauville-La Touques racecourse and in winter at the International Horse Park. This weekend, the Latino polo club set the grandstand on fire.
DEAUVILLE
Tuesday November 20th
_______
The 24th Honfleur Russian Film Festival
invites itself to Deauville
For the 13th year, the City of Deauville and the Barrière Group have joined forces with the Honfleur
Russian Film Festival of Honfleur in order to contribute to the enjoyment of its selection during a free screening. During this evening, the film "The Clay Pit" (2017) by Vera Glagoleva, adapted from the play
"The Clay Pit" by Olga Pogodina-Kuzmina.
DEAUVILLE / TROUVILLE-SUR-MER
Friday 23rd and Saturday 24th November
_______
Alain-Spiess 2nd Novel Award - Le Central
This award recognizes a second novel whose writing has been judged to be outstanding. This year's winner is
the winner is Nicolas Mathieu for his book " Leurs enfants après eux ".
Program of the two days: preview of "La dernière folie de Claire Darling" by Julie Bertuccelli in her presence, meetings, signing sessions, debates and prize-giving with the writers and readers.
Friday, November 23rd

_______

Meetings around the photographic collections

Françoise Denoyelle, historian of photography, Raphaelle Stopin, director of the Centre photographique de Rouen - Normandie, Céline Ernaelsteen, ARDI/Caen and Anne Lacoste, director of the future Institut pour la Photographie - Hauts de France, will discuss the nature and history of photographic collections in France, their constitution and the difficulties that go with it, as well as their primary importance.
DEAUVILLE

Friday 23rd November

_______

Book signing
of Naïade Plante

Naïade Plante, with her friend photographer and editor François Louchet, published her first book of photographs, "Masala Corlors", an intimate and universal journey between India and France.

DEAUVILLE

Saturday 24th November

_______

Concert : BB Brunes

In ten years, the ex-baby rockers have become serious representatives of a "made in France" pop. On tour, the group is showcasing "Puzzle", a 5th album that earned them a nomination at the Victoires de la Musique.
SAINT-ARNOULT


Saturday 24th November
_______
Youngstock Show - Equestrian Elegance Contest
This model competition, reserved for young horses, is organized by the French Pony and Cob Welsh Association. The horses are presented in hand and judged by the best international judges.
DEAUVILLE
Sunday November 25th
_______
Day of fight against violence
against violence against women
November 25th is the International Day for the Elimination of Violence against Women.
On this occasion, the Soroptimist Club of Deauville-Trouville is participating in the National Cinema Operation by organizing a screening of the film "Les Conquérantes" by Hervé Mimran, followed by a debate with speakers specialized in issues related to violence against women and girls.
Funds raised during the evening will be donated to a local organization that works to combat violence against women.
VILLERS-SUR-MER

Saturday 24th November

_______

Dive into the world of dinosaurs

Learn to recognize the fossils of these large reptiles found in the rocks of Normandy.

VILLERS-SUR-MER

Sunday, November 25th

_______

Discover the Jurassic world

The Paleospace presents a rich collection of fossils from a bygone era...

Sunday, November 25th

_______

Shorebirds,
who's up for it?

Waders are small wading birds that feed in the mud. Beak and legs are adapted to the animal.
DEAUVILLE

November 24th

_______

Revue-dinner-show:
"Deaullywood"

Through the evocation of some films and filmmakers that have become cult, dance, song and comedy serve the sequence shots of this 7th art.

TOUQUES

November 25th

_______

Tea Dance

Spend a convivial moment around a tea or a coffee and some dance steps on the music of Kriss trio.
TOUQUES

From November 23rd
to December 30

_______

Christmas at the Gallery
des créateurs

Exhibition and sale of decorative and utilitarian objects, tableware, jewelry reflecting the creativity of contemporary crafts.
In accordance with the law "Informatique et libertés" of January 6, 1978, you have the right to access and rectify data concerning you.
For any request, send us a message by clicking on communication@deauville.fr.
Photographs: © Justine Jacquemot / Russian Film Festival / Naïade Plante /
DR