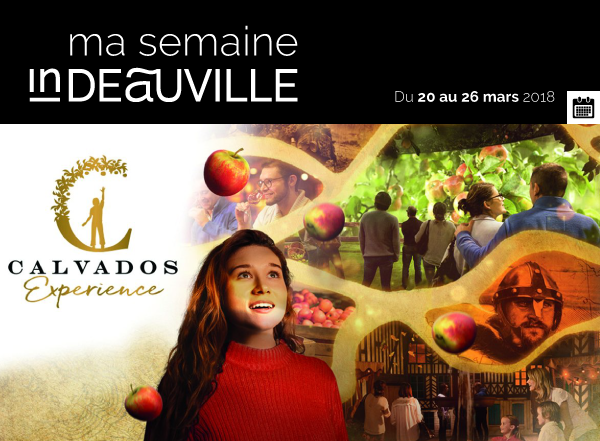 PHOTO OF THE WEEK
We saw : the museum to live the experience of Calvados.
Saturday, March24th
________
Cultural season
Emmanuel Van Cappel back in Deauville
Emmanuel Van Cappel
, alias Manoche, plays a virtuoso game with words and with the sounds
of his devouring passion: his trumpets.
Elle... émoi
is a one-man show.
A questioning on the love, the passion, the place of the art in the life of an artist,
the punctual confusion between the art and the sense of the life.
Saturday , March24th

________

Three religious works
performed in the magnificent
church of Saint Martin

Catherine Gouillard-Simard (organ) and l'Oiseleur des Longchamps (baritone) play Stabat Mater by Pergolesi, Motets à la vierge by Boellmann and Dextera Domini by Franck. These concerts participate in the preservation of the Mutin-Cavaillé-Coll organ of 1920. Light effects will magnify the windows.

VILLERVILLE

Saturday , March24th

________

Yaacobi and Leidental
at the Garage in Villerville

The play is the meeting of three lonely souls. Their paths cross, bonds are unravelled. Behind its "comedy" appeal, it is also a dramaturgical picture of relationships with others and with oneself. 1h20 to be entertained, to laugh, to be moved, to waddle on one's armchair and to accompany these three protagonists in this journey that is life. Performed and directed by the Troupe Les Migrants de Satin.
SAINT-ARNOULT


Saturday 24th and Sunday 25th March
________

Indoor polo: the discipline that delights the public
A new date has been added to the calendar of polo players, to the great pleasure of fans of the sport. With its summer tournaments and regular meetings, Deauville is definitely the capital of the discipline.
DEAUVILLE

Tuesday March20th

________

ASTD AIKIDO :
women's discipline

A day organized by the French federation of aikido and budo, particularly intended for women. This Japanese martial art, art of peace; it is based on the principle of non force, of non opposition in front of the attack which the practitioner is confronted with. By its principles, it is particularly adapted to a female public.

Sunday March 25: Aikido Workshop
VILLERS-SUR-MER

Sunday March25th

________

Guided tour : Jurassic Odyssey

The Paleospace presents a rich collection of fossils from the Vaches Noires cliffs located on the beach. A playful visit full of discoveries for young and old.
Feminism, May 68, adolescence, war, dictatorships...
The writers and musicians invited to the 2018 edition of the Festival Livres & Musiques
have drawn from literature texts that blow hard.
Mark your calendars, it will be from April 13 to 15.
3200
delegates will exchange
at the Centre International de Deauville this week.
In accordance with the law "Informatique et libertés" of January 6, 1978, you have the right to access and rectify data concerning you.
For any request, send us a message by clicking on communication@deauville.fr.
Photographs: © Sandrine Boyer / Gérard Giaume - H&K / Christophe Toffolo / William Beaucardet_Hugo&Cie_6 / OT Villers