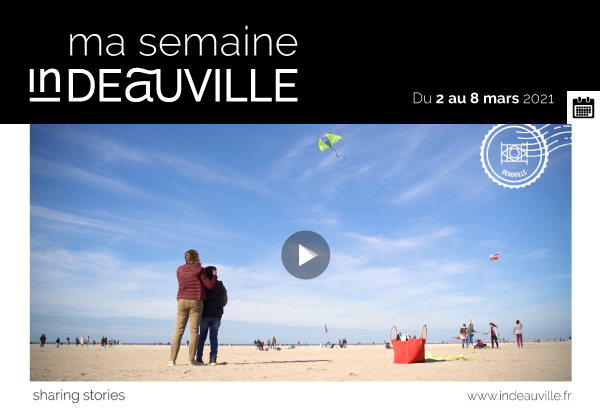 Solve the enigmas of Deauville and Villers-sur-Mer, imagine and create with Margot, win an orientation challenge, enjoy your favorite sport full time, visit the seaside heritage, walk on the hiking trails or simply walk around air on the beach, regardless of the activity, holidays are always profitable inDeauville!

Signage dresses Franciscans
After being adorned with colors, the universes and spaces of the building reveal their destination through dedicated signage, alternating stencil and sticker techniques. The public will be able to walk around and easily find their way around the Franciscans.
TOUCH

From March 5 to April 25

_______

"Reasons for effect"

Signs, symbols, tattoos, sets of lines, curves, dots, illustrations, lace spirit, floral decorations ... the patterns, colors and figures, declined on ceramic, glass, paper, textile ... are exposed to a Creators Gallery.

Saturday and Sunday, also meet Hélène Mansia for the presentation of the book "Dentelle d'Alençon - Un jardin adorned".
DEAUVILLE

Until March 7

_______

Photographic walk

Last week to get inspiration from the outdoor exhibitions at the Planches Contact # 10 photography festival.
DEAUVILLE
Friday March 5 and Saturday March 6
_______
In the starting blocks
Resumption of horse races at the Deauville-La Touques racecourse for two days of meetings on the winter track. Horse races take place behind closed doors but are broadcast live on Equidia and PMU.
The collection of your personal information is carried out by the SPL territory of Deauville for its own and exclusive use.
This registration is subject to a declaration to the CNIL (National Commission for Information Technology and Liberties).
In accordance with the Data Protection Act and the GDPR, you have the right to access, modify,
rectification, deletion and forgetting of data concerning you. To exercise this right, send an e-mail to communication@indeauville.fr.
Illustration: © Sandrine Boyer Engel / Naïade Plante / Villers Tourisme / Etienne Chognard / Ville de Touques