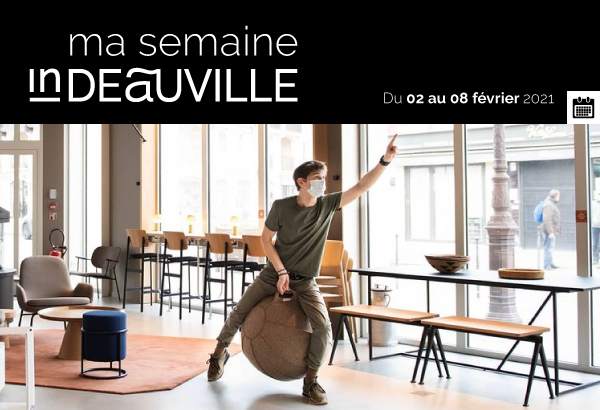 Picture of the week
We liked this photo posted by the You hotel to thank its clients for the weekend. Throughout the inDeauville territory, hoteliers go out of their way to welcome you as best as possible while respecting health rules.
Lace up your running shoes and get ready for training. Discover the routes of the two major sporting events in 2021.
The image of the Franciscans
The steps of the chapel are being assembled. It will take three weeks to assemble the 230 retractable seats. Easily modular, the space can be reconfigured in just fifteen minutes. The acoustics and lighting have been entirely designed to provide an exceptional sound and visual experience. This old chapel becomes a choice setting for hosting shows, events and screenings.
The Saint-Martin church in Villers-sur-Mer is being renovated
The neo-Gothic style church built from 1872, listed as a Historic Monument, is currently undergoing renovation and embellishment work.
Olivier GUERIN, first Deputy Mayor, climbed onto the scaffolding to better explain the content of the work carried out there.
| | | |
| --- | --- | --- |
| Wear a mask when the distance of one meter cannot be respected | Maintain a distance of at least one meter from others | Wash your hands regularly or use a hydro-alcoholic solution |
| | | | |
| --- | --- | --- | --- |
| Cough or sneeze into your elbow or into a tissue | Blow your nose in a disposable tissue and throw it away | Greet without shaking hands and stop the hugs | |
The collection of your personal information is carried out by the SPL territory of Deauville for its own and exclusive use.
This registration is subject to a declaration to the CNIL (National Commission for Information Technology and Liberties).
In accordance with the Data Protection Act and the GDPR, you have the right to access, modify,
rectification, deletion and forgetting of data concerning you. To exercise this right, send an e-mail to communication@indeauville.fr.
Illustration: © Sandrine Boyer Engel / Naïade Plante