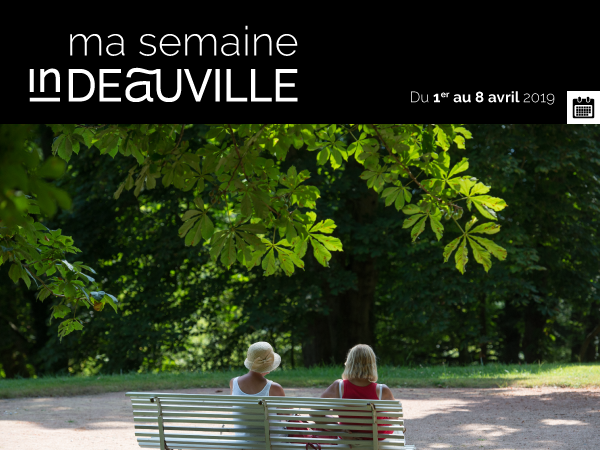 BENERVILLE-SUR-MER
From April 3rd to 7th
_________
A new season at
Calouste Gulbenkian Park
From now on, the park opens more and earlier in the season: 33 hectares of greenery
to stroll and relax every week.
DEAUVILLE
Friday, April 5th
_________
Thomas Fersen in concert
Always a singer and now a bit of a storyteller, Thomas Fersen alternates songs and funny fables on his piano.
DEAUVILLE

April 3rd, 6th and 7th

_________

Micro-Folie as a prelude
to the vacations

Discover activities for young and old: story time, family visits, early learning games, scoubidou workshop, conference visits... And training courses on the digital embroidery machine, the cutting plotter.

All the events of Micro-folie Deauville here

VILLERS-SUR-MER

Monday, April 8th

_________

Asteroid Challenge

A planetarium session followed by a multi-player challenge to save the Earth from meteorite rains or to compete between spaceships in 360°!
DEAUVILLE

From April 8th to 11th

_________

Handball course

The Avant Garde Deauvillaise de Handball organizes a free training course for the young people.
VILLERS-SUR-MER

From April 3rd to 9th

_________

Exhibition
of paintings

Sylvie Dechiron and Marijo Alice exhibit with the same desire: to transmit their emotions and share the look of a subject through their paintings.

TOUQUES

From April 5th to 7th

_________

Artisans' souls

As part of the European Crafts Days, 7 artisans will exhibit.
VILLERS-SUR-MER
Saturday, April 6th
_________
Dinner and show
An evening whose proceeds will help Beninese women in the education of their children.
DEAUVILLE

Sunday April 7th

_________

Flea market

By the Association Sportive Trouville Deauville de soccer

TOURGEVILLE

Sunday April 7th

_________

Everything fair

by the association of the parents of the school of Tourgéville.
DEAUVILLE
April 4th and 5th
_________
9th SIB Members' Day
The public interest group will focus on the contribution of digital technology in terms of efficiency in the health sector and, more generally, the public sector. Nearly 25 workshops and 10 flash demonstrations will present the most significant projects to the group's members and partners.
The collection of your personal information is carried out by the SPL territoire de Deauville for its own and exclusive use.
This registration is subject to a declaration to the CNIL (Commission Nationale de l'Informatique et des Libertés).
In compliance with the French Data Protection Act and the RGPD, you have the right to access, modify, rectify and delete data concerning you,
of rectification and deletion of data concerning you. To exercise this right, send an e-mail to communication@indeauville.fr.
Photographs: © Sandrine Boyer Engel / Naäde Plante / Simon photo