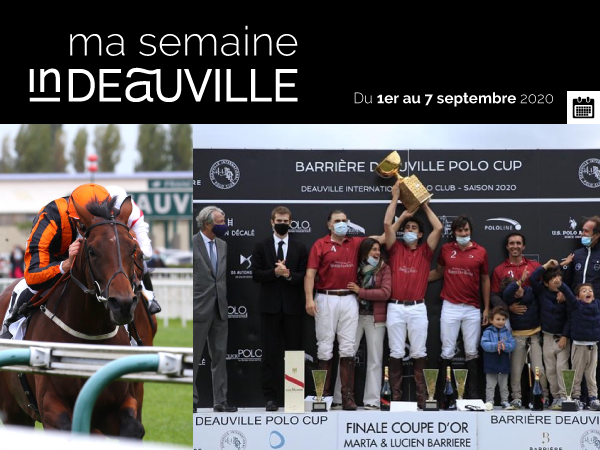 Nice sporting day yesterday on the racecourse
from Deauville-La Touques
The traditional Deauville Lucien Barrière Grand Prix was won by Christophe Soumillon and Telecaster trained by Hugh Morrison and closed the summer horse racing meeting.
On the Polo side, the Marquès de Riscal team won the 70th Gold Cup of the Barrière Polo Cup. Forty years after his father, Alejandro and his son Luis Aznar won 8-7 against the Barrière team.
DEAUVILLE
from 4 to 13 September
_______
46th Deauville American Film Festival:
an exceptional year
For this 46th edition, Deauville is reinventing itself and showing solidarity with the world cinema industry which has been hit hard this year. There will be over 100 films to watch! A heritage section as in each edition and new features, including 15 films in competition. These will be submitted to the prize-winning jury chaired by Vanessa Paradis, to the revelation jury chaired by Rebecca Zlotowski, as well as to festival-goers who vote for the Public Prize of the City of Deauville.
This Festival will pay tribute to Kirk Douglas and will honor Barbet Schroeder, Prize of the 46th Festival, and the nursing staff in an "American doctors / French doctors" section.
It also opens its doors to two major film festivals whose progress has been disrupted: the Cannes Film Festival and the Annecy International Animated Film Festival.
DEAUVILLE
Saturday, September 5
_______
Guided tour: Deauville and French cinema
Filming locations, actors and directors linked to the city, anecdotes that have punctuated the festivals ... Deauville invites you to rewind its cinematographic history.
DEAUVILLE


2 6 in September
_______
Sailing: French Business Championship
The Deauville Yacht Club has been selected by the French Sailing Federation to organize this championship bringing together 18 companies whose crews will sail on the J80s of its sailing school.
VILLERS-SUR-MER

Saturday September 5 and Sunday September 6

_______

Grand Ouest Jet Ski Championship

Throughout the weekend, you can meet and interact with the pilots and their teams in the paddocks, attend jet ski and thundercat races, flyboard and freeride jet ski demonstrations.
SAINT-ARNOULT

September 3 to October 5

_______

"In the Footsteps of Bill Pickett American Cowgirls & Cowboys"

Cyril Bailleul discovered African-American cowboys and cowgirls and the Bill Pickett Rodeo in Atlanta in 2012. Fascinated by cultural diversity, the photographer wishes to share this African-American western heritage, an important American cultural heritage.

VILLERVILLE

3 13 in September

_______

Paintings by Daniel Brindel

"I pay a lot of interest to the random, explains Brindel. My work is thus a mixture of improvisation and reflection to tend towards a work which is plastically interesting".

_______

"Vegetal"

Designed, modeled, embroidered or sewn, trees, leaves and flowers are available in all materials. Poetic imaginaries that pay homage to nature in all its diversity.
SAINT-ARNOULT

Sunday, September 6

_______

Garage sales

of the Red Cross of Deauville Côte fleurie

SAINT-GATIEN-DES-BOIS

Sunday, September 6

_______

Garage sales

of the Association of Parents of Students of the Bois Joli school
Eugene Boudin. Deauville beach - Museum of Fine Arts of Caen, Martine Seyve photographer.

The collection of your personal information is carried out by the SPL territory of Deauville for its own and exclusive use.
This registration is subject to a declaration to the CNIL (National Commission for Information Technology and Liberties).
In accordance with the Data Protection Act and the GDPR, you have the right to access, modify,
rectification, deletion and forgetting of data concerning you. To exercise this right, send an e-mail to communication@indeauville.fr.
P

hotographies: © DYC / Cyril Bailleul / Manche Jet CLub / Daniel Brindel / Sandrine Boyer Engel / Museum of Fine Arts of Caen, Martine Seyve /
All rights reserved.