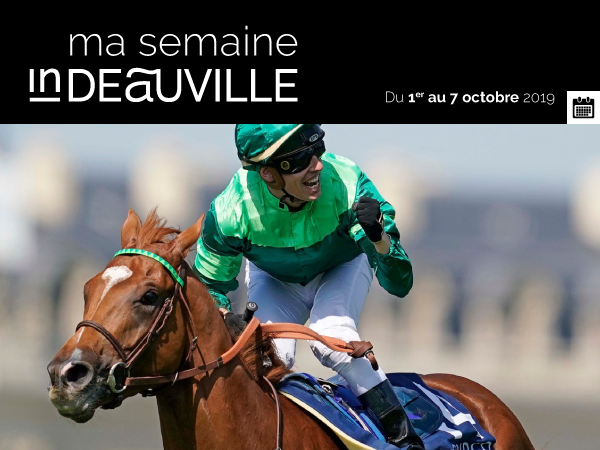 THE IMAGE OF THE WEEK
Sottsass, thoroughbred made #indeauville
is preparing for the Qatar Prix de l'Arc de Triomphe which is taking place at the Longchamp racetrack this weekend. This horse born, sold, trained in Normandy has its chances of winning the prestigious prize…
All of Normandy crosses your fingers!
VILLERS-SUR-MER
5 and 6 October
________
Extraordinary conference on
"Paleontology and archeology
in Normandy"
As part of the activities marking its 40th anniversary, the Palaeontological Association of Villers-sur-Mer invited twenty or so great paleontologists and archaeologists to present the results of their recent research. During two days, around twenty interventions will be accessible to all.
VILLERS-SUR-MER Saturday, October 5

________

Guided tour: Dinosaurs of Normandy

Immerse yourself in the world of dinosaurs, these large terrestrial reptiles whose fossils have been found in Norman rocks.

VILLERS-SUR-MER Dimanche octobre 6

________

Guided tour: Jurassic Odyssey

The Paléospace presents a rich collection of fossils from the cliffs of the Vaches Noires, testifying to a bygone period. Explore this Jurassic world.
SAINT-ARNOULT
4 6 in October
________
Show jumping competition
Pros and Amateurs
Nearly 1 competitors at the start! The opportunity to come and admire some champions of Normandy and better. With 000 events spread over 11 days, competitors will try to fare well to qualify for the Grand Prix on Sunday.
BLONVILLE-SUR-MER
Dimanche octobre 6
________
Marche Rose at the Marais de Blonville / Villers
This 5 km walk is part of the Pink October National Campaign for the benefit of breast cancer research and patient support. A village will offer entertainment and information throughout the morning.
BENERVILLE-SUR-MER

2 5 in October

________

Calouste Gulbenkian Park

Take advantage of the last days of opening of this exceptional park.

DEAUVILLE Saturday, October 5

________

Visit of the Saint-Laurent church

A Plantagenet vault and narrow windows allow you to date the old parish church of the old village of Deauville from the beginning of the 12th century.

DEAUVILLE

Saturday 5th and Sunday
6 October

________

Garage sale

From the Amicale des Deauvillais d'Origine et Sympathisants.
VILLERS-SUR-MER


4 17 in October
________


Plastic arts exhibition


by Joëlle Ortega-Valverde, international visual artist and novelist.
TOUQUES

October 4 to November 17

________

Exposure:
"Scandinavian influence"

Design and sobriety characterize these unique pieces of craftsmen who interpret here the Scandinavian style. Tableware, decorative objects, lighting, paintings, textile creations, jewelry.
DEAUVILLE


October 7 to 13
________


Exhibition dedicated to recycling


As part of Blue Week, residents of Villa Beausoleil exhibit their work made from recycled objects.

The collection of your personal information is carried out by the SPL territory of Deauville for its own and exclusive use.
This registration is subject to a declaration to the CNIL (National Commission for Information Technology and Liberties).
In accordance with the Data Protection Act and the GDPR, you have the right to access, modify,
rectification, deletion and forgetting of data concerning you. To exercise this right, send an e-mail to communication@indeauville.fr.
Photographs: ©
Sottsass by Alan Crowhurst / Getty Images
/ Villers-sur-Mer / Pixel Events