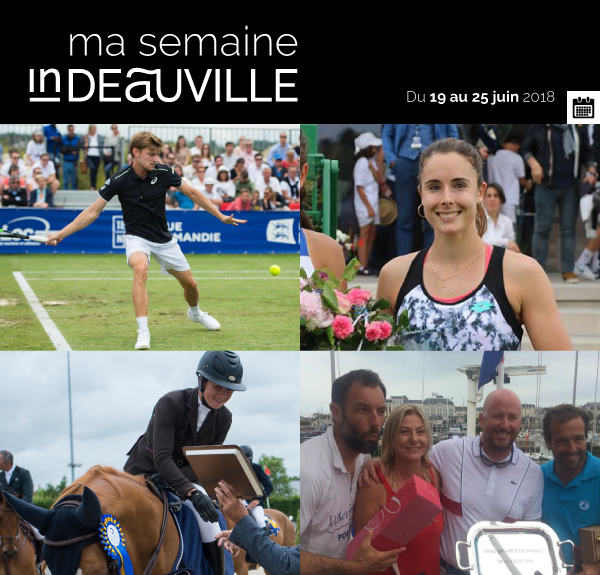 THE IMAGES OF THE WEEK
Sportspeople from all disciplines challenged each other over the weekend in the Deauville area. In the end, while David Goffin lifted the Deauville Trouville Open Cup and Alizé Cornet that of the Calvados Open at Lawn Tennis Club, Jemma Kirk won the City of Deauville prize at the Jump'in du Pôle International du Cheval, and the Portuguese crew of "The boss" the Linkers Open international de France de Dragon.
DEAUVILLE
Du 22 to 24 June
________
6000 athletes expected on the boards
With constant progress since its creation, the Deauville International Triathlon has established itself as one of the major triathlons in France. This year again, the number of participants is increasing: they should not be less than 6000. 5 test formats for all levels are offered, each comprising three disciplines over suitable distances: a sea swimming test, a loop of cycling in the Normandy countryside, and a running course on the boards. Course, tests, spectator points, village… all the info here
Friday 22 June
________
School triathlon
In pre-opening of the Deauville International Triathlon, schoolchildren will learn the discipline.
DEAUVILLE
Tuesday 19 and Wednesday 20 June
________
Sustainable development and eco-innovations,
400 professionals and key players in the sector gathered in Deauville
No one doubts the power of the image when it comes to revealing, highlighting, valuing, explaining, sometimes denouncing: Deauville Green Awards offers a unique opportunity for companies, institutions, NGOs and communities to promote actions and good practices to meet the challenge of climate change, preserve our environment, ensure the well-being of future generations. The aim is to make the general public aware of climate issues around the world. This 7th edition will focus on the theme of water, in connection with the World Water Forum in Brasilia in March.
_______

Two events open to all
_______

Tuesday 19 June

________

Screening of the film
"Blue Planet"

Dive into the depths of our oceans to discover incredible beauties and underwater mysteries. The festival, with the Surfrider Calvados association committed to protecting the coast and the oceans, offers 2 free special screenings of the film "Blue Planet": at 14 p.m. for schoolchildren and at 20:30 p.m. for all.
TOURGEVILLE
Monday 18 June
________
Clairefontaine opens its horse racing season
with obstacle and music
In 2018 at Clairefontaine, she runs, she runs emotion! 21 race meetings will take place between June 18 and October 26, concentrating the 4 disciplines of Trotting, Flat, Hurdles and Steeple-Chase. No racing day is like any other, a host of activities is offered every day.
Next race day: Friday, June 29.
TOUQUES

Thursday 21 June

________

Music classes
and traditional songs

CHAM classes

(Class with Fitted Music Schedules)

of Charles Mozin College will play different hymns

(orchestra and song)

under the direction of Rémi Vanpeene, followed by the Mouette et chanson workshop, under the direction of Jean-Philippe Letellier for traditional songs.
DEAUVILLE

Saturday 23 June

________

Dinner-Concert
Lyric Recital
Haute Couture

Opéra en plein air offers you an evening where the love of lyrical art mingles with the passion for fashion and prestigious clothing according to a staging by Manon Savary and presented by Patrick Poivre d'Arvor.

VILLERS-SUR-MER

Saturday 23 June

________

AeroLive concert tour

AéroLive is a traveling festival which crosses Normandy and highlights groups from the regional scene of current music. Will be present: Bam Bam Tikilik (Blues Creole & Tropical Garage) and Shake the Ronin (Indie Pop).
VILLERS-SUR-MER

Friday 22 June

________

Conference
"Rediscovering Egypt: Historical Wonders and Human Values"

Mourad Sedky, expert on the Pharaonic civilization, cultural guide in Egypt and head of travel agency, invites us to understand how the heritage of the Pharaonic civilization merged in modern Egypt. Also in the presence of Franck Ferrand, historian and journalist.

VILLERS-SUR-MER

Du 22 to 28 June

________

Painting exhibition
by Nathalie Mabille

Nathalie Mabille likes to capture human expression and reproduce it on these canvases. Spontaneous and colorful work with a knife.
TOUQUES

Du June 23 to 1st July

________

Exhibition of paintings
by Michel Gauthier

Michel Gauthier's works are inspired by Flemish and Dutch masters of the past, without sacrificing the pictorial modes of the moment.

DEAUVILLE

All summer

________

Exhibition of photographs

"Beach happiness" by

Delphine Barré-Lerouxel.
DEAUVILLE

Friday 22 June

________

Sailing: Friday Regatta

The regatta in its simplest device, on a coastal course of 2 hours.

DEAUVILLE

Saturday 23 June

________

Crossing the estuary by sea shuttle

Cross the estuary by sea shuttle and spend the day on the other bank of the Seine.

An original experience

and practical!

DEAUVILLE

Sunday 24 June

________

Sea trip aboard an old rig

Discover the shores of the Seine Bay aboard the François Monique, a shellfish sloop from 1935.
DEAUVILLE

Du 20 to 23 June

________

Visit of Calouste Gulbenkian Park

70 years after its conception, the park remains a magical place, an unknown and joyful facet of a secret Deauville.

DEAUVILLE

21 June

________

Guided tour of Villa Strassburger

This imposing residence was erected in 1907. Purchased in 1924 by the American press editor and horse enthusiast Ralph Beaver Strassburger, it has kept its period furniture, decoration, trinkets…

VILLERS-SUR-MER

Saturday 23 June

________

Guided tour: Dinosaurs of Normandy

Immerse yourself in the world of dinosaurs, these large terrestrial reptiles whose fossils have been found in Norman rocks.
VILLERS-SUR-MER

Sunday 24 June

________

Guided tour: discovery
cliffs
black cows

Go back in time on this exceptional paleontological site which will reveal its secrets to you. A family stroll with an introduction to fossil collecting.

VILLERS-SUR-MER

Sunday 24 June

________

Guided tour: Jurassic Odyssey

The Paléospace presents a rich collection of fossils from the Vaches Noires cliffs, which bear witness to a bygone era. Explore this Jurassic world.
_______

In the agenda…
_______

TOURGEVILLE, BENERVILLE-SUR-MER, SAINT-ETIENNE LA THILLAYE,
BLONVILLE SUR MER, VAUVILLE AND DEAUVILLE
Wednesday 11 July
________
Art rando: Reserve your place now
A day of hiking, between land and sea, to get off the beaten track and discover the small trails in the heart of the Pays d'Auge between two cultural stops.
TOUQUES

Wednesday 20 June

________

Child reading:
Wednesday stories

Come listen to the stories and tinker with the animators of the library on the theme of the Medieval.

VILLERS-SUR-MER

Saturday 23 June

________

Inauguration of the green dinosaur

The inauguration of the dinosaur, shaped by the gardeners of the City of Villers sur mer, is an opportunity to offer summer visitors to Villers a convivial moment around an aperitif and to announce the events of summer.

SAINT-PIERRE-AZIF

Saturday 23 June

________

Bouquetot Saturdays

Discover the Bouquetot Eco-domain and its players around a farmers' market. You can walk there following the smell of hot bread baked in the bakehouse before settling on the grass for a picnic.
BLONVILLE-SUR-MER

Saturday 23 June

________

Saint-Jean fires

After a country meal with music, followed by a ball, a huge fire will be lit at nightfall.
VILLERS-SUR-MER

Saturday 23 June
________School fair A moment of family conviviality
to meet, have fun and celebrate the end of the school year.

DEAUVILLE

Monday 25 June
________Memory day

The CM2 students will leave for the Colleville cemetery. They will be sensitized on the themes of resistance, courage and sacrifice.
Du Monday June 18 to Friday 22 June
________
It is the week of "fresh attitude" in schools
For this national week of tastings and discoveries of fresh fruits and vegetables, the school restaurant offers children many tastings.
In accordance with the "Data Protection" law of January 6, 1978, you have the right to access, rectify and delete data concerning you. For any request, send us a message by clicking on communication@deauville.fr.
Photographs: © Sandrine Boyer / Naïade Plante / Laurent Lachèvre / Villers OT