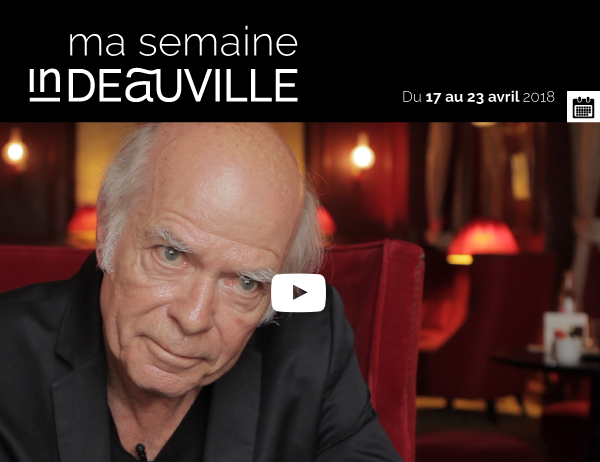 THE VIDEO OF THE WEEK
Pascal Quignard was named winner of the Prix de la Ville last Saturday
de Deauville during the Books & Music Festival for his novel
"In this garden that we loved so much" (Grasset editions).
Saturday 21 April

________

Vivaldi, Händel, Telemann ...
And David Chalmin

The happy meeting between Justin Taylor, the most prominent young harpsichordist of his generation and David Chalmin, composer of the American minimalist movement, resulted in an order from the Easter Festival. Preceded by an anthology of major instrumental works, "Sept Particules" combines baroque instruments with the electric guitar and various synthesizers.
Friday 20 April
________
Unpublished: the film by Mozin's students on the Easter Festival
Musicians and students shared multiple educational moments. The students present the documentary produced during the exchanges.
DEAUVILLE


Saturday 21 April
________
Sailing: The Double Game
New for 2018: this time and for once, a mixed double regatta where the ladies are skippering!
SAINT-ARNOULT

Saturday 21 and Sunday 22 April

________

Indoor polo tournament

New meeting for Polo players who will face each other in ten games.
VILLERS-SUR-MER

Thursday 19 April

________

Nordic walking initiation

Volunteer coaches will show you the benefits of sport-health.
BLONVILLE-SUR-MER

Sunday 22 April

________

Egg hunt

For children to 0 11 years.

BLONVILLE-SUR-MER

Monday 23 April

________

Creative workshop

Theme: The funny caterpillar.

VILLERS-SUR-MER

Monday 23 April

________

Asteroid challenge

A planetarium session followed by a challenge to save the Earth!
Golf, tennis, sailing, horse or painting…
all possibilities are there!
BLONVILLE-SUR-MER

Saturday 21 April

________

Garage sale
BENERVILLE-SUR-MER

Sunday 22 April

________

Brocante

DEAUVILLE

Sunday 22 April

________

Auctions :

19th century furniture and works of art
TOUQUES

Sunday 22 april

________

Dancing tea

With the Jérôme and Emilie Ortet Orchestra.
From the monday 23 April
________
Register for the Elders' Trip
The trip will take place on Tuesday May 15, departure is scheduled at 8:30 am at the foyer
and the place will be kept secret like every year until the departure of the bus.


Thursday 19 April
________
Permanence to improve your home
You are an owner or a tenant and you envisage that a company carries out work
in your home (windows, insulation, roof, facade, heating, sanitary ...).
Depending on your situation, you can benefit from grants and loans at preferential rates.
A permanence is set up to inform you the 1st and 3rd Thursdays of the month
to the Coeur Côte Fleurie Community of Communes.
In accordance with the "Data Protection" law of January 6, 1978, you have the right to access and rectify data concerning you.
For any request, send us a message by clicking on communication@deauville.fr.
Photographs: © Sandrine Boyer / Naïade Plante / Claude Doaré /
Umberto Nicoletti / Justine Jacquemot