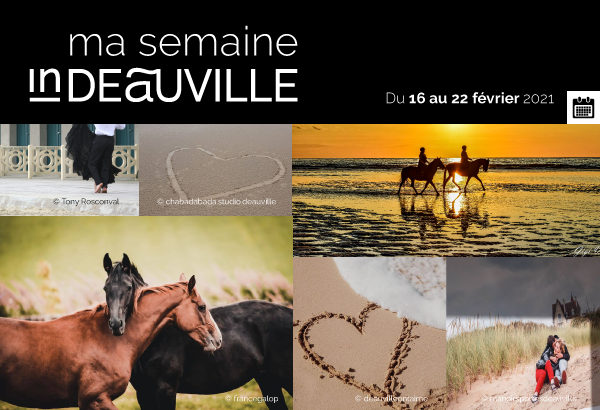 This Valentine's Day weekend inspired some pretty pictures
Do you have some pretty pictures of the inDeauville area? Send them to us, a photo library is entirely dedicated to you on the site
www.indeauville.fr
#JeudiPhoto, each week one of them is published on our social networks.
Outdoors, manual, sport or fun… there are many suggestions for outings to share with the family during the holidays inDeauville.
BLONVILLE-SUR-MER 22 at 26 February

_______

Create with Margot

Margot, creative animator, invites children from 3 to 11 years old to make their own creations during manual workshops.

VILLERS-SUR-MER
Wednesday February 17
DEAUVILLE
Friday February 19
_______
Solve the puzzles of Deauville and Villers-sur-Mer. Like little detectives, the children set off in search of clues sown here and there. At each stage, they must complete a game booklet allowing them to discover the city while having fun.
Beating heart of the Franciscans
The Cloître received its future furniture this week. Comfortable seats, kiosks for books and low tables, will offer visitors all the attributes of a friendly place conducive to moments of meeting. Only a few weeks left, to meet you there!
The Bayeux Tapestry is online!
Project piloted by the City of Bayeux and the DRAC Normandie, the 70 meters of millennial embroidery, which tells the story of the conquest of England in the XNUMXth century, was photographed by the Fabrique de patrimoines en Normandie then reconstituted by the University of Caen and the CNRS with a quality of images hitherto inexistent online.
DEAUVILLE

Thursday February 18

_______

Villa Strassburger

This imposing Norman regionalist-style residence was built in 1907. The villa was bequeathed to the City of Deauville in 1980. A rare thing, from its last owner, it has retained its furniture and decoration from the 1950s.
DEAUVILLE Saturday February 20

_______

Deauville, history and heritage

Go on a fabulous journey back in time since 1860, when Deauville was created, Discover its history and its exceptional places which have forged its international reputation.

TOUCH

Monday 22 February

_______

It all starts in Touques!

From Charlemagne to today, Touques has stood the test of time! The city was the port of the valley, seeing the Vikings and the Dukes of Normandy pass. Go back to its origins, from its forgotten past to its medieval heritage.
SAINT-ARNOULT

Tuesday February 16

_______

A day to train in competition conditions

The Pôle international du Cheval Longines Deauville organizes a day of show jumping training sessions every week. These "warm up" allow riders and horses to prepare for the next competitions to come.

SAINT-ARNOULT

February 17 and 18

_______

Last stage of the Normandy Equestrian Winter Tour circuit

Competitions have always been the driving force behind the equine industry to train, present and sell horses. This is why Cheval Normandie, an association of Norman breeders, has set up this indoor circuit dedicated to young horses for training and marketing. The events are designed to showcase the mounts of riders, whether they are amateurs or professionals. This last step will be filmed and broadcast in streaming.
For pure pleasure to relax or surpass yourself, inDeauville gives you a taste for sport.
Good week !

| | | | |
| --- | --- | --- | --- |
| Wear a Category 1 surgical or fabric mask when the two-meter distance cannot be met | Maintain a distance of at least two meters from others | Wash your hands regularly or use a hydro-alcoholic solution | Air the rooms as often as possible, at least a few minutes every hour |
| | | | |
| --- | --- | --- | --- |
| Cough or sneeze into your elbow or into a tissue | Blow your nose in a disposable tissue and throw it away | Greet without shaking hands and stop the hugs | |
| | | | |
| --- | --- | --- | --- |
| | Limit social contacts as much as possible (6 maximum) | Use digital tools (TousAntiCovid) | |
The collection of your personal information is carried out by the SPL territory of Deauville for its own and exclusive use.
This registration is subject to a declaration to the CNIL (National Commission for Information Technology and Liberties).
In accordance with the Data Protection Act and the GDPR, you have the right to access, modify,
rectification, deletion and forgetting of data concerning you. To exercise this right, send an e-mail to communication@indeauville.fr.
Illustration: © Sandrine Boyer Engel / Naïade Plante / Villers Tourisme / Etienne Chognard / Ville de Touques