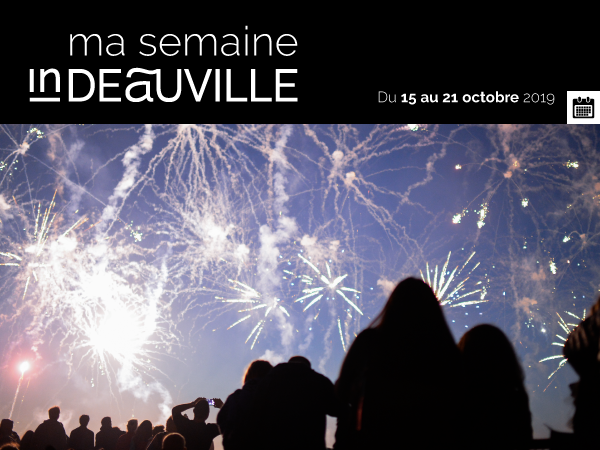 Film themed fireworks
"A Monkey in Winter"
In honor of the film "A monkey in winter" by Henri Verneuil,
largely filmed in the village in 1962,
Villerville shoots fireworks every year.
See you on Saturday October 19 on the beach at "Tigreville".

DEAUVILLE
October 19 to January 5
CONTACT BOARDS:
OPENING OF EXHIBITIONS
Planche (s) Contact, a festival of photographic commissions is taking over the City for a new edition under the artistic direction of Laura Sérani. She designed a program for the festival built for several editions. 2019 begins a new journey.
The in: with each edition, new perspectives on Deauville

________

The invited photographers exhibit their photographs of Deauville taken during a creation residency last spring. Carole Bellaïche, Nicolas Comment, Klavdij Sluban, Larry Fink and the Riverboom collective: these five big names in photography will surprise you.

Selected by a jury under the chairmanship of Sarah Moon, five young talents are competing to win the Contact Board prize. Abdoulaye Barry, Grégory Dargent, Chau-Cuong Lê, Jean-Charles Remicourt-Marie and Julia Vogelweith were invited to tell their Deauville story.
The carte blanche:
tribute to Claude Lelouch

________

The carte blanche - in this anniversary year - is entrusted to Claude Lelouch, who with "A man and a woman" created and conveyed the myth of Deauville far beyond French cinemas. He will exhibit images from his archives and, with the help of Valérie Perrin, other more recent ones from Deauville, a city also intimately linked to his successes.

The exhibition on the beach:
Koto Bolofo

________

Koto Bolofo, a South African fashion photographer and director with an elegant and sought-after style, takes over the beach with a monumental exhibition of new poetic images and fashion photos taken for the magazine Numéro.
The off
________
A dozen exhibitions initiated by enthusiasts of Deauville, Normandy, photography.
All of Deauville under the influence of the image

________

Laura Sérani has traveled the city in all directions to find new exhibition places. This year, we will have the pleasure of discovering photos on the walls of the poetic Villa Strassburger but also on the Empress Eugenie quay and the Olympic swimming pool.

A house for the Festival

________

Pending the imminent opening of the Franciscans, the Festival moves to the village hall. Here there is no exhibition but many opportunities to meet there between round tables and other workshops.

Meetings for all

________

For its tenth edition, Planche (s) contact offers workshops, internships, workshops for children, beginners, almost professionals. And always the competition for the 25th Longines hour to create Deauville by night. Save your dates!
inDeauville
From 21 to October 27
InDeauville celebrates the return
Equidays
________
The Equidays return, six years after their last edition.
The Department of Calvados wanted to reconnect with this event, every two years, to allow everyone to live a unique experience, closer to the horses, in the four corners of the department. Races, horse shows, hikes, sales, stud tours ... Calvados will celebrate the horse in all its forms through around sixty events for all audiences.
TOURGEVILLE




BENERVILLE-SUR-MER

Monday 21
and Friday October 25

________

Horse racing: obstacle and flat at Clairefontaine

Monday, the obstacle course meeting will be an opportunity to celebrate the All Saints holidays with the family. Friday, around the flat races, "hippoween" entertainment will be offered to children. Candy offered to children in disguise!

DEAUVILLE

22 24 in October

________

Horse racing: fall meeting in Deauville-La Touques

The Deauville-La Touques racecourse offers three days of galloping punctuated by visits to the training center and the hippodrome, entertainment at the start boxes, a betting workshop, a children's village, an exhibition…

DEAUVILLE

22 25 in October

________

October Yearlings Sale

The catalog for this 2nd session of the year reserved for yearlings brings together more than 600 foals practically all born and raised in France.
DEAUVILLE

Wednesday October 23

________

6th Equirencontres

The French Equine Veterinary Association (AVEF) and Boehringer Ingelheim, laboratory specializing in animal health, will lead conferences around the theme "Special gallopers".

DEAUVILLE

Thursday October 24

________

Presentation of the World Congress of Equine Infectious Diseases

In 2020, the CID will host the 11th edition of this congress, which will bring together 500 specialists in infectious diseases and equine immunology from five continents. The hosting of this congress demonstrates the excellence and international recognition of French equine health research teams.

SAINT-ARNOULT

Thursday October 24

________

3-year criterion

This breeding competition brings together 2 and 3 year old horses divided into several categories and sections: 3 years unassembled and mounted, and training of males 2 and 3 years old.
SAINT-ARNOULT

24 October
as of December 4

________

"Purebred"

Marie-Anaïs Thierry, equestrian journalist and photographer, pays tribute to these speed aces, whether they are yearlings full of future, recognized champions, horses reformed for competition or leisure. Three universes will be in the spotlight: that of racing, polo and horse-ball.

TOURGEVILLE

Friday, October 25

________

Visit the Haras de la Poterie

Haras de la Poterie has specialized in the breeding of horses and other equines for almost twenty years.

SAINT-ARNOULT

Dimanche octobre 27

________

Show jumping competition Club Ponam

The ponies find their track for a new day of show jumping events where they compete by category: horses or ponies. The competition, open to amateurs and equestrian centers, allows regional riders to compete in optimal conditions.

SAINT-ARNOULT

Dimanche octobre 27

Demonstrations and initiations to polo and horse-ball

________

In addition to the show jumping events on the same day, the public will be able to discover and learn about polo and horse ball, two equestrian disciplines practiced at the Pôle International du Cheval Longines Deauville.
VILLERS-SUR-MER


18 24 in October
________


Exhibition of paintings by Bruno Caillé


Bruno Caillé marries the color contrasts that are found more often in oil, with the transparency and delicacy of watercolor.
TOUQUES

October 18 to November 3

________

Exhibition: "Come in Art"

With artists Kaell, Léo T, Lila and Philip Porto. Different types of art will be represented: the "abstract nude", digital art, sculptures made with plastic purges, paint and clay with clean lines.
VILLERS-SUR-MER


Saturday, October 19
________


Concert of the Caen Harmony Orchestra


Founded in 1884, the Caen harmony orchestra claims two missions: to allow musicians from conservatories or main music schools and young students to continue their training as part of training.
TOUQUES

Wednesday October 16

________

Wednesday stories

Children from 3 years old are invited to listen to the stories and to tinker with the Halloween animators in the library.

TOUQUES

Friday, October 18

________

Babies and books

They cannot read, but toddlers can listen, observe and react. Share this moment with them. 0 to 3 years old.
VILLERS-SUR-MER

Monday October 21

Asteroid challenge at the Planetarium

A planetarium session followed by a challenge to save the Earth from meteor showers or to compete between spaceships at 360 °! From 7 years old

VILLERS-SUR-MER

21 25 in OctoberHalloween animals

Fun workshops to scare yourself (a little): construction of dinosaur masks, discovery of Sidonie the bat and Amédée the spider ...

5 10 in years.

VILLERS-SUR-MER

21 25 in OctoberThe Créaclub workshops

On the theme of autumn and Halloween, each workshop has its theme to vary and stimulate children's creativity. 4 to 12 years old.
TOUQUES


Friday, October 18
________


A chef, an artisan: Duo of creation


As part of the "Scandinavian Influence" exhibition, Eric Provost, chef at the Le Royal hotel in Deauville and Christine Bézard-Turlier, ceramist, unite their worlds for an evening for a tasting mini-dinner privileged.
VILLERS-SUR-MER




Dimanche octobre 20


________
Sale of Villersoise families
Sale of children's, women's and men's clothing, household linen, shoes and bags for the benefit of the association.
The collection of your personal information is carried out by the SPL territory of Deauville for its own and exclusive use.
This registration is subject to a declaration to the CNIL (National Commission for Information Technology and Liberties).
In accordance with the Data Protection Act and the GDPR, you have the right to access, modify,
rectification, deletion and forgetting of data concerning you. To exercise this right, send an e-mail to communication@indeauville.fr.
Photographs: © Loll Willems / JC Boscher / Asso.Petit Foc / Caroline Rose / Roman Drits / DR