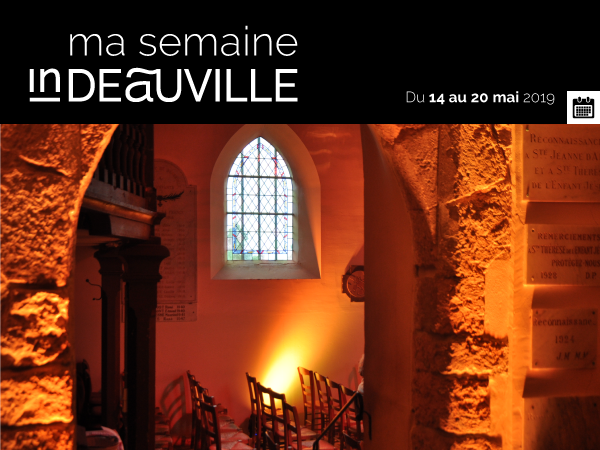 Saturday May 18th
________
Pierres en lumières
As night falls, spotlights will highlight the architectural features of the churches
Saint-Christophe de Bénerville-sur-Mer and Notre-Dame de la Visitation de Blonville-sur-Mer,
exceptionally open for the occasion.
DEAUVILLE

May 15 to 21

________

Japanese Film Festival

7 films, 7 days for a total change of scenery. The Morny cinema invites you to discover Japan through its cinema.

DEAUVILLE

Saturday, May 18th

________

Preview: "Les plus belles années d'une vie" (The best years of a life)

The epilogue to Claude Lelouch's film "Un homme et une femme" (A Man and a Woman) will be previewed at the Cinéma Morny at the same time as the official screening at the Cannes Film Festival, and again on Saturday May 25 in the presence of Claude Lelouch.
TOURGEVILLE
Sunday May 19th
________
Strings and voice concert
Organist and composer Dominique Preschez celebrates with Ensemble & Création - Nicole Galtier - 10 musical years of concerts, creations, recordings and tours in France and abroad.
VILLERS-SUR-MER

May 15 to 28

________

Photography exhibition :
VSM Images Création

Club Photo Villers-sur-Mer celebrates its 4th year of existence. Its talented members, both beginners and experienced, are eager to showcase their work.

TOUQUES

May 17 to 22

________

Exhibition :
Touques en Art

Eclectic and resolutely contemporary, this exhibition presents the work of some twenty artists, including painters, sculptors, ceramists, photographers, decorators and street artists.
BENERVILLE-SUR-MER

May 15 to 19

________

Calouste Gulbenkian Park

A delightful facet of a secret Deauville, which has retained the charm its creator once created.

VILLERS-SUR-MER

Saturday May 18th

________

Dinosaurs of Normandy

Dive into the world of dinosaurs, whose fossils have been found in the rocks of Normandy.

DEAUVILLE

May 18th and 19th

________

Sea trip aboard an old sailing ship

Discover the Calvados coast and the Baie de Seine aboard the François Monique, a shellfish sloop built in 1935.
VILLERS-SUR-MER

Sunday May 19th

________

Nature walk: Protected marsh flowers

The Blonville-Villers marsh, nestled between the hedged hillsides and the seaside, reveals its rich biodiversity.

BENERVILLE-SUR-MER

Sunday May 19th

________

Visit to the Mont-Canisy batteries

As part of the European Atlantic Wall Days, the Friends of Mont-Canisy are offering tours of the underground gallery.
DEAUVILLE

May 15th, 18th and 19th

________

Micro-Folie: art at your whim

Lecture tours, fun or family visits, digital workshops... discover a place, a work of art, an artist and develop your creativity.

Saturday May 18th

________

Leisure Day

Free activities for the whole family: sports mini-tournaments, quizzes, card and giant games, children's face painting, dance show, concert, pétanque....
SAINT-ARNOULT


May 17 to 19
________
Showjumping competitions Pros & Amateurs
Let's get jumping! Among the "Pros" in the running are a number of high-level regulars such as Pénélope Leprévost, Reynald Angot, Michel Hécart, Eugénie Angot...
DEAUVILLE


May 20 to 23
________
Championship
de France UNSS de step
500 students and teachers expected.
DEAUVILLE

Saturday May 18th

________

Father-Daughter Rally® 2019

45 crews from several European countries, made up of fathers and their daughters in prestigious vehicles, will give their first turns of the wheel in Deauville.
DEAUVILLE

Wednesday, May 15th

________

Info ' addictions

Professionals have joined forces to create a meeting on the theme of addictions for parents and teenagers. They will host a round-table discussion on alcohol, food addiction, drugs, table and electronic games...

DEAUVILLE

May 15th to 17th

________

12th Scientific Days of the Cancéropôle Nord-Ouest

The conference will feature a number of sessions for professionals, including "Artificial intelligence and its applications in oncology", CAR-T Cells, and funded projects for young researchers.
DEAUVILLE

Friday May 17 and Saturday May 18

________

Kiwanis Service Club annual convention

Kiwanis provides financial and/or logistical support for children with disabilities, and organizes outings and prevention initiatives. During the congress, Kiwanians from all over the world will discuss the actions and events carried out this year.

DEAUVILLE

Sunday May 19th

________

BS Congress

A day dedicated to business leaders in the beauty sector to share in the development of their business.
Your personal information is collected by SPL territoire de Deauville for its own and exclusive use.
This registration is subject to a declaration to the CNIL (Commission Nationale de l'Informatique et des Libertés).
In compliance with the French Data Protection Act and the RGPD, you have the right to access, modify,
rectification and deletion of your personal data. To exercise this right, please send an e-mail to communication@indeauville.fr.
Photographs: © Association pour la Préservation du Patrimoine de Bénerville-sur-Mer / Sandrine Boyer Engel / Golf Academy / Basile