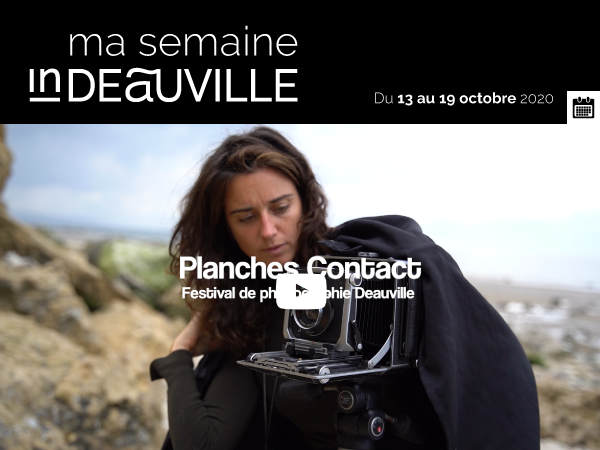 DEAUVILLE
October 17 to January 3
_______
Festival Planches Contact #11 : Ouverture des expositions
Rendez-vous dès ce week-end pour découvrir la 11e édition du festival Planches Contact avec l'exposition grand format du célèbre photographe britannique Martin Parr sur la plage et les expositions des photographes Philippe Chancel, Todd Hido, Lorenzo Castore, Mathias Depardon, Nikos Aliagas, Evangelia Kranioti, Riverboom, les productions de la Fondation Photo4food et du Tremplin Jeunes talents.
___________________

Deux workshops sont proposés cette semaine :
___________________

Pour ne manquer aucune exposition, inDeauville a créé un parcours itinérant de 10 étapes, en plein air ou en intérieur. Un parcours culturel, dans un Deauville en perpétuel mouvement.
VILLERS-SUR-MER

14 20 in October

_______

Exhibition of paintings and photographs

Claudine Arras exhibits an abstract work focused on the free interpretation of photographs taken from here or elsewhere but more particularly in Normandy where the maritime landscapes inspire her. The artist will be accompanied by two photographers: Catherine Leconte and Alexandre Leconte.

TOUQUES

October 16 to November 1

_______

Exposure:
BôzArts-sur-Touques - 2e édition

La Compagnie BôzArts est une association d'artistes normands. Une vingtaine de peintres, photographes et céramistes de tous horizons, professionnels et amateurs exposent leurs œuvres. Pas de thème, mais un seul maître mot : la couleur !
INDEAUVILLE
17 23 in October
_______
Samedi, premiers rendez-vous d'une semaine autour du cheval
Courses hippiques, ventes aux enchères, visites guidées, concours de saut d'obstacles… La première semaine de vacances d'automne est l'occasion de découvrir les lieux et événements équins inDeauville.
THE MESNIL MAUGER

Saturday, October 17

_______

Viste guidée du Haras d'Ecajeul

Jean-Luc guide les visiteurs à travers les écuries, la prairie et le rond de longe, Isabelle prépare la collation à déguster juste après la visite à côté d'un feu de cheminée.

TOURGEVILLE




BERNERVILLE-SUR-MER

Monday September 19

_______

Horse races

Une journée de courses de plat, des animations dédiées aux vacances et aux jeux et une visite guidée des coulisses de l'hippodrome le matin.

DEAUVILLE

19 23 in October

_______

Vente d'automne

Lundi sera le premier jour de la vente de yearlings d'octobre qui se poursuivra jusqu'au vendredi dans un esprit de coopération et de soutien aux éleveurs français.
INDEAUVILLE
From October 17 to November 2
_______
Les vacances de la Toussaint arrivent !
La magie opère inDeauville avec un programme d'animations haut en couleurs qui saura ravir toute la famille. Entre ateliers créatifs, spectacles, activités avec les chevaux et animations délicieusement terrifiantes pour Halloween, nous avons sélectionné pour vous les meilleures activités automnales pour varier les plaisirs.
VILLERS-SUR-MER

Saturday, October 17

_______

Pink October: Family walk and sports walk

La manifestation est réalisée au profit de la recherche contre le cancer du sein et de l'accompagnement des patientes nécessitant des soins d'accompagnant. Deux marches sont prévues : une de 5 km et une de 12 km.

DEAUVILLE

Saturday, October 17

_______

Voile : Régate des Vapeurs – 2e édition

Contested as a crew of at least two team members, this competition is open to all boats of the Osiris Habitable handicap system with a minimum coefficient of 10 Net, Sport-Boats, Dragon, J80.
DEAUVILLE

Saturday, October 17

_______

Villa Strassburger

Cette imposante demeure a été érigée en 1907. Chose rare, son mobilier d'époque et sa décoration ont été conservés.

DEAUVILLE

Dimanche octobre 18

_______

Deauville, history and heritage

Go on a fabulous journey back in time since 1860, the date of the creation of Deauville by the Duke of Morny.
BENERVILLE-SUR-MER


Wednesday October 14
_______
Workshop "How to reinvent your business"
Organisé par les réseaux Femmes & Challenges et Femmes Business Angels. Au programme : tables rondes, Speed Mentoring, conseil, networking… afin de trouver les clés pour repenser son entreprise ou tout simplement lui trouver de nouvelles sources de développement.
The collection of your personal information is carried out by the SPL territory of Deauville for its own and exclusive use.
This registration is subject to a declaration to the CNIL (National Commission for Information Technology and Liberties).
In accordance with the Data Protection Act and the GDPR, you have the right to access, modify,
rectification, deletion and forgetting of data concerning you. To exercise this right, send an e-mail to communication@indeauville.fr.
Illustration : © Sandrine Boyer Engel / Naïade Plante / Suzanna Lupa