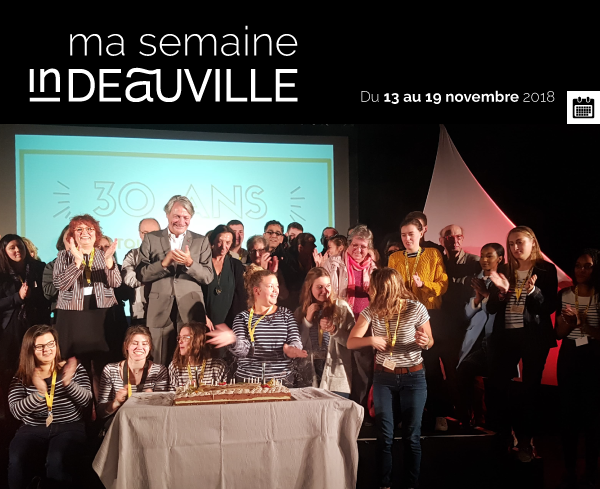 In the eye inDeauville this week
In 30 years, 615 students have trained in tourism in Deauville.
This BTS, a pioneer during its creation, celebrated the anniversary of its creation this weekend. 300 of them had made the trip. In 30 years a lot has changed: two separate BTS have emerged, the programs have evolved but the pleasure of learning has remained the same and the results are still above the academic average (96,29% in 2018 ).
Deauville remains a privileged place for this learning by offering multiple training opportunities in a professional environment.
DEAUVILLE
Saturday, November 17
_______
"Life is beautiful" at the Cultural Season
Before this adaptation on stage by Philip Grecian, "La Vie est belle" is the masterpiece
by American filmmaker Frank Capra. Discovered in 1947, this humanist Christmas tale has become
in 2017 a troupe show with seven actors, who perform more than twenty
of characters. A joyful lesson in life (and drama) without downtime, full
twists, changes of scenery, emotions ... and optimism.
SAINT-ARNOULT

Saturday November 17 and Sunday November 18

_______

Polo is also played
at the Pôle International
of the horse

After a season marked by show jumping and dressage, the best polo players are reinvesting in the Pôle International du Cheval, to compete in an indoor tournament for teams of 3 players, each player having at least 2 horses.

DEAUVILLE

November 19 to 21

_______

Sale of autumn horses

This mixed sale includes horses in flat and obstacle training, 2 year old blinds, flat yearlings as well as a section of obstacle yearlings from very beautiful French families.
DEAUVILLE


Saturday November 17 and Sunday November 18
_______
Passage of grade
French judokas
The Normandy League and the ASTD judo are organizing a weekend of competition for judoka grade passes. Between 700 and 800 participants from all over France are expected.
VILLERS-SUR-MER

Sunday, November 18

_______

Discover
from the Jurassic world

The Paléospace presents a rich collection

fossils, from a bygone era when huge marine reptiles hunted crocodiles and ammonites in a warm sea.
DEAUVILLE

Saturday, November 17

_______

Revue-dinner-spectacle: "Deaullywood"

Through the evocation of a few films and filmmakers who have become cults, dance, song and comedy serve the sequence shots of this 7th art.

Sunday, November 18

_______

Theater :
" Bless you "

Around Bernard Menez, the troop competes in humor in this stripping and cynical piece by Pierre Chesnot and directed by Luq Hamet.

TOUQUES

Sunday, November 18

_______

Dancing tea

of the Golden Age Club
COMMUNITY OF COMMUNES
HEART FLOWER SIDE
Thursday, November 15th
_______
Permanence to improve your home
Are you an owner or a tenant and you plan to have a company carry out work in your accommodation (windows, insulation, roofing, facade, heating, sanitary ...)? Depending on your situation, you can benefit from grants and loans at preferential rates. A permanence is set up to inform you the 1st and 3rd Thursdays of the month at the Community of Communes Coeur Côte Fleurie.
DEAUVILLE


From today
_______
Association dinner:
The ticketing is open
Dinner, dance, sing, share, laugh, remember, make plans, meet.
On December 1, the 24th association dinner will once again bring together more than 1000 people involved in local community life. The evening will be hosted by the Tuxedo group. Save this date in your calendars!

All the info here
In accordance with the "Data Protection" law of January 6, 1978, you have the right to access and rectify data concerning you.
For any request, send us a message by clicking on communication@deauville.fr.
Photographs: © Arnaud Perrel / Naïade Plante / Sandrine Boyer Engel /
Paleospace Villers / DR