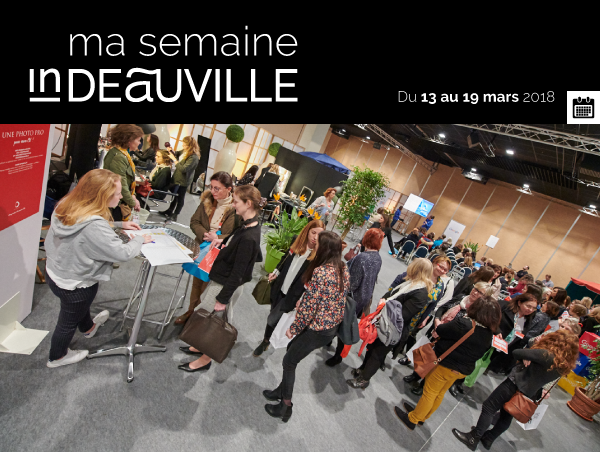 THE PHOTO OF THE WEEK
Normans in mind
March 8: more than 600 women ended up in Deauville
to consume a conquering program.
Saturday 10 March
________
Cultural season
Discover a piece of Canadian culture
Samuel
, which won the honors of the Granby International Song Festival competition in 2016, and
Mehdi Cayenne
, the choice of European professionals, will share the stage of the Théâtre du Casino in order to publicize a part of Canadian culture, Samuele being from Quebec and Mehdi, from Ontario.
March 13 > May 31

________

News contest

As part of the 4th Villers sur mer book fair, take part in a news competition open to all. Let your imagination run wild!

DEAUVILLE

Saturday 17 March

________

Conference
by Dominique Preschez:
"The Art of Improvisation"

Dominique will make us live the beautiful story of improvisation, the evolution of musical language over the centuries by illustrating his words, live, and in music, with comparative examples of the styles of Bach, Mozart, Beethoven, Schumann, Brahms , Frank, Fauré, Debussy, Ravel ...
DEAUVILLE
Tuesday 13 March
________
France-China: Crossed views
10th edition of Franco-Asian bilateral prospective days,
meetings that have established themselves over the years as a major opportunity
to discover and better access Asian cultures.
SAINT-ARNOULT

Tuesday 13 March

________

Show jumping: warm up

This day allows riders to perform show jumping courses of the level of their choice.

SAINT-ARNOULT

Saturday 17 et sunday 18 March

________

Indoor harness competition

Leaders and teams of Normandy, Manche, Brittany, Pays de la Loire, Ile de France ... take possession of the International Pole of the Horse.
VILLERS-SUR-MER

Saturday 17 March

________

Normandy dinosaurs

Immerse yourself in the world of dinosaurs, whose fossils have been found in Norman rocks.

SAINT-GATIEN-DES-BOIS

Saturday 17 March

________

Nature walk: On the salamanders trail

From February-March, the salamanders come out of their sleep in order to gain water points to reproduce. Appointment for a night expedition to meet nature in the forest.
VILLERS-SUR-MER

Sunday 18 March

________

Guided tour: Meridian and astronomy

Discover in the company of a guide, the formidable adventure of longitude and confront the difficulties encountered by 17th century sailors.

SAINT-PIERRE AZIF

Thursday 15 et Friday 16 March

________

Ecological beekeeping workshop

Learn to drive and build a small natural beekeeping activity that respects the life cycle and biology of the bee.
TOUQUES
Tuesday 13 March
________
Hotel and Restaurant Forum
57 companies will be present with nearly 350 job offers, mainly in kitchen, reception, service and floor staff. Last year, 500 visitors came to submit their applications.
DEAUVILLE

Saturday 17 March

________

Dinner-Show
"Muses season 3"

150 costumes, 21 paintings and 10 exceptional artists on the theme of art and painting.

DEAUVILLE

Saturday 17 March

________

Theater: Francis Huster

In this moving spectacle, Francis Huster plays his own role and proclaims his love for a combat theater, free, noble, courageous and carrying humanist values.
BLONVILLE-SUR-MER

Saturday 17 March

________

Brocante
In accordance with the "Data Protection" law of January 6, 1978, you have the right to access and rectify data concerning you.
For any request, send us a message by clicking on communication@deauville.fr.
Photographs: © Laurent Lachèvre / Sandrine Boyer / PixelsEvents