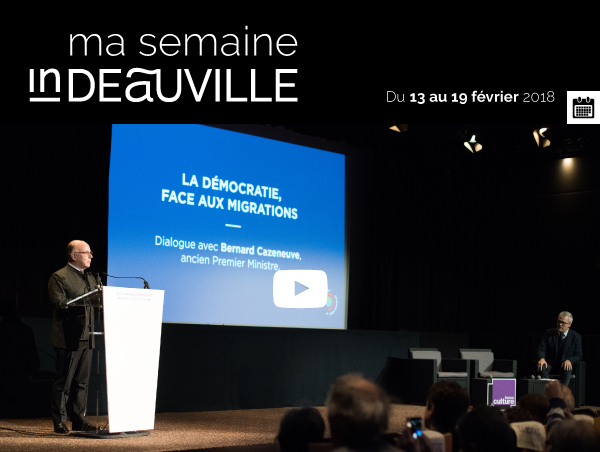 « The world is changing at a rapid rate. Decisions are made urgently and under pressure. And it seemed to us [interesting] to ask ourselves to consider these great subjects which the world must face ", explained Philippe Augier at the opening of the first edition of the College of Possible Worlds, on the theme of migration. "A very sensitive theme, object of fantasies", about which ex-prime minister Bernard Cazeneuve pointed "The temptation of instrumentalization" on the part of "all political organizations".
Demographers, politicians, prefects and representatives of various institutions and associations came together on one point, which Jean-Christophe Dumont (OECD) summed up: "Without denying the difficulties in managing migratory flows, it is important to put the facts in their proper place. Especially in France, the gap between perception and reality on migration issues is significant».
Du February 10 to March 11
________
The Françoise Sagan exhibition
"Life in freedom, writing in demand"
The exhibition brings together photographs and many documents from the private collection
by Denis Westhoff, son of the writer. We also understand how Françoise Sagan
and Deauville met, in the shared taste of the beach, skies, horses,
games, evenings that last until early morning.
Opening Saturday, February 17 at 18:30 p.m., open to all.
Guided tours of the exhibition on Wednesdays and Saturdays.
Sunday 18 february
________
Love in words # 8
"Love, words", a new dive into the pages of Françoise Sagan
Anne-Marie Philipe, joined on stage for the first time by the singer and actress Maissiat, invites to a wonderful journey towards the love stories lived by the characters of the writer and an immersion in her memories and interviews when the author de "La Chamade" evokes or shares the feeling of his own love passions.
SAINT-PIERRE-AZIF

Du 12 to 14 february

________

Open House at Haras de Colleville

The visits to stud farms are exceptional moments. You can approach three stallions, Kendargent, Goken and Galiwa, and discuss crossbreeding with Guillaume Vitse, head of the stud farm.

SAINT-ARNOULT

Tuesday 13 february

________

Show jumping: warm up

These training sessions on the Pôle International du Cheval track allow riders to perform obstacle jumping courses of the level of their choice.

DEAUVILLE

13 and 14 february

________

Sale of mixed horses

First vacation of the year, the February sale welcomes all types of horse profiles, for competition or for breeding.

SAINT-ARNOULT

Sun 18 february

________

Show jumping competition Club Ponam

Around 300 competitors from clubs in the region take part in these events intended for the sporting development of the rider.
VILLERS-SUR-MER

Saturday 17 february

________

Nordic walking initiation

Volunteer coaches from the Côte Fleurie Nordic Walking Association will help you discover the benefits of this healthy sport.
VILLERS-SUR-MER

Saturday 17 february

________

Guided tour: Dinosaurs
from Normandy

Immerse yourself in the world of dinosaurs, whose fossils have been found in Norman rocks. Learn to recognize them and discover their peculiarities.
TOUQUES

Sunday 18 february

________

Nature walk:
Migration in action!

From February, migratory birds are back! The Touques marsh is the ideal place to rest and feed spatulas, fighters, harriers or avocets ...
VILLERS-SUR-MER


Du 18 to 23 february
________

Guided tour :
Jurassic Odyssey
The Paléospace presents a rich collection of fossils from the Vaches Noires cliffs. Explore this Jurassic world.
VILLERS-SUR-MER
Until 20 february
________
Event exhibition
Villers at Story Time
Villers sur mer pays tribute to Charles Perrault, On the program this week: the exhibition "When the tale comes to life" produced by Armand Langlois, Breton visual artist, who proposes to bring the object alive in the light of Charles Perrault's tales; times of readings and creation; and an interactive young audience show, "Once upon a time ...".
VILLERS-SUR-MER

Monday 19 february

________

Asteroid challenge
at the Planetarium

A planetarium session followed by a challenge for up to 30 players to save the Earth from meteor showers or compete between spaceships at 360 °! From 7 years old.

VILLERS-SUR-MER

Monday 19 february

________

Child workshop:
The funny caterpillar!

Painting, collage, cutting, coloring, DIY, the workshop tackles lots of different techniques to leave with a beautiful handmade souvenir.

From 4 to 12 years old.
TOUQUES

Sun 18 february

________

Dancing tea

With the Duo Guinguette orchestra.
In accordance with the "Data Protection" law of January 6, 1978, you have the right to access and rectify data concerning you.
For any request, send us a message by clicking on communication@deauville.fr.
Photographs: © Naïade Plante /
Sandrine Boyer / Laurent Lachèvre / William-Duvernoy