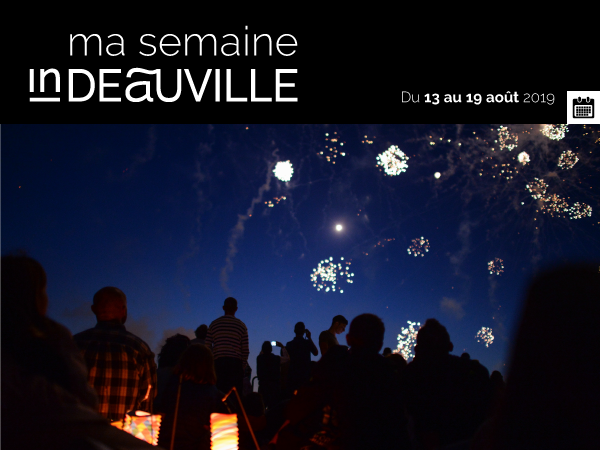 VILLERS-SUR-MER
Saturday August 17 and Sunday August 18
________
43 authors at the Villers-sur-mer book fair
Bruno Salomone, Danièle Gilbert, Guy Carlier, Fabien Lecoeuvre, Anne Richard, François Reynaert, Janine Boissard, Gilles Paris and many others…. await you all day Sunday at Villaré to exchange. Saturday: conference with Danièle Gilbert and Sunday: readings, award of the short story, continuous interviews.
VILLERS-SUR-MER
Tuesday August 13 and Friday August 16
________
Two Sable Show concerts on the beach
Tuesday, TomBés du Camion, lets you rediscover French song with an explosive sound mixture, sometimes swing / jazz, sometimes reggae, sometimes rock'n'roule.
Friday, enter the heart of the sunny soul / funk universe of Solar Project: a clever mix of tones and a beautiful part given to the rhythmic and coppery parts.
VILLERS-SUR-MER
From August 16 to August 22
________
New Talents Festival opens
In opening:
Stéphanie Moraly and Romain David, violin piano duo passionate about sonatas ardently defends French music yesterday and today.
Saturday
, it will be Mozart, Ravel and Franck in three sonatas.
Sunday
, the duo of André Roe and Geoffrey Baptiste plays the piano with 4 hands. : a very special show, where hands intertwine on the keyboard with virtuosity.
The festival also offers musical workshops for children.
Know everything here
DEAUVILLE

Friday, August 16

________

Organ and Voice Concert

on the theme of Ave Maria JSBach, Gounod, Mozart, Pergolèse, Saint-Saëns, Schubert… are on the program of this concert organized by the Friends of the organ

BLONVILLE-SUR-MER

Sunday, August 18

________

Recital

Johanne Cassar (soprano), Jérémie Maillard (cello) and Nicolas Tuiliez (harp) perform melodies by Ravel and extracts from operas by Mozart and Massenet

DEAUVILLE

Sunday, August 18

________

new gospel family

With its American, French and African songs, all styles of gospel are addressed: the great traditional, old school gospel, African gospel, urban gospel and even electro gospel.
DEAUVILLE
August 13, 15, 17 and 18
________
At the Meeting of Deauville Barrière,
culture and horse overlap
Tuesday
, the races will be exceptionally semi-nocturnal with a first start at 16 p.m. followed by an outdoor screening of Claude Lelouch's film
" A man and a woman "
.
Thursday
, it will be the first round of the Longines equestrian challenge Normandy in which equestrian riders engage, as well as the Prix Guillaume d'Ornano, reputed to be the best race reserved for 3 year old horses.
Saturday Sunday
, witness the consecration of the best young sprinter during the Darley Prix Morny, among other races including the Darley Prix Jean Romanet, Darley Prix de Ponome and Darley Prix Kergolay.
SAINT-ARNOULT
August 15-18
Longines Deauville International Horse Center
________
The best of show jumping on the Longines Deauville Classic
This year, four days of competition: tests labeled CSI 3 * and CSI 1 *, but also a CSI young horses. Some of the best riders in the world have already planned to make the trip for this last deadline before the European Championships in Rotterdam. Our two favorite events: Wednesday from 18 p.m. will take place the long-awaited Longines Race with jockeys in competition. Sunday afternoon, the Longines Grand Prix of the Normandy Region at 1,50m will be the highlight of the weekend. Around the quarries, an exceptional village, part of which is dedicated to children. Baptisms of ponies, recognitions of courses with great riders open to the public…
TOURGEVILLE
Wednesday August 14 and Friday August 16
Deauville Clairefontaine Racecourse
________
A retro 50s day and an exceptional evening
Wednesday
, in a retro, burlesque and rock and roll atmosphere, you can get a makeover, go under the blade of a barber, learn about lindy-hop and attend the election of Miss Pin-up Clairefontaine! At the end of the day, after a reining demonstration as well as a quarter-mile sprint race, it's a great evening that begins with a concert and fireworks!
Friday
, these are the flat races under the theme "Discovery of the Southwest".
DEAUVILLE
Saturday August 17 and Sunday August 18
________
The return of the Tattoo Festival
250 tattoo artists from around the world meet in Deauville. 50 exhibitors and a whole program of concerts, artistic performances, shows, exhibitions…
TOUQUES

Thursday, August 15

________

Country Evening

With a concert by Kevin Buckley and the Yee haw band, country initiations and demonstrations.
BLONVILLE-SUR-MER

Tuesday August 13

________

Visit "Between beach and marsh"

Discover the birds, mammals, insects and plants that make up this unique landscape.

VILLERS-SUR-MER

Wednesday, August 14

________

The marsh of Coâa the green frog

Designed for children, this walk in the marsh combines games and discovery of nature.
VILLERS-SUR-MER

Wednesday, August 14

________

Crossing the Vaches Noires cliffs

Go back in time on this exceptional paleontological site and learn how to collect fossils from Villers to Houlgate.

VILLERS-SUR-MER

Wednesday, August 14

________

The Little Secrets of Villers Walking Rally

In teams of 2 to 5 people, discover the little details that make the charm of Villers, illustrated with anecdotes from the history of the seaside resort.

BENERVILLE-SUR-MER

Sunday, August 18

________

Photo safari in Rosalie in the Marais

With maps and clues, discover the remarkable places of the marsh (fauna, flora, history) and validate your visit with a photo
TOUQUES

August 17-26

________

Lawn tennis :

Open Seniors and Open Seniors + At Lawn Tennis Club Deauville-Normandie

VILLERS-SUR-MER

Saturday, August 17

________

Beach Volleyball

Bath Establishment Tournament
The collection of your personal information is carried out by the SPL territory of Deauville for its own and exclusive use.
This registration is subject to a declaration to the CNIL (National Commission for Information Technology and Liberties).
In accordance with the Data Protection Act and the GDPR, you have the right to access, modify,
rectification and deletion of data concerning you. To exercise this right, send an e-mail to communication@indeauville.fr.
Photographs: © Sandrine Boyer Engel / Naïade Plante / Scoopdyga / Collectif Caboisett / Tatoo Festival / MNM Watermark Trio / NGF / Amicale Philatélique et Cartophile de Trouville-Deauville / PixelEvents / Culture Creation in Pays d'Auge /
DR