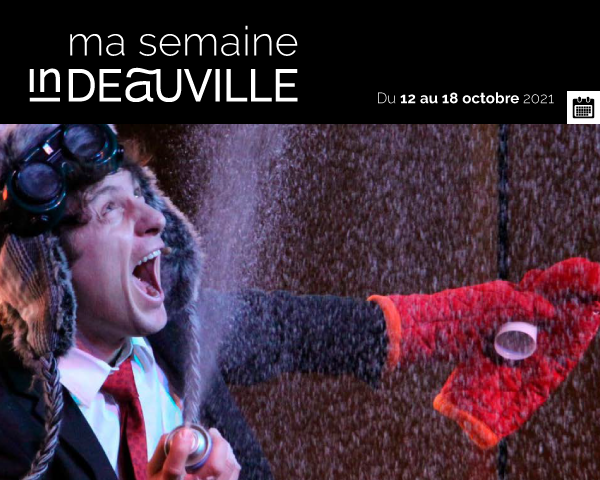 The city of Villers-sur-Mer launches its first cultural season!
The cultural and events teams have worked hard to find the best shows, in Avignon or elsewhere, in order to please all audiences. Boulevard theater, stand-up comedy, concerts for young and old, classical and more contemporary theater, or a preview in the presence of the director of the film.
Villers-sur-Mer has carefully selected this program.
_______
DEAUVILLE
Friday, October 15th
_______
Sung conference : Véronique Mortaigne & Barbara Carlotti


The years of Serge and Jane
in the Pays d'Auge
Jane Birkin and Serge Gainsbourg met in 1968. Invited by Régine, they adopted Deauville in 1969. Charlotte was born in 1971. In 1975, Jane bought the presbytery of Cresseveuille, where they invited : Andrew Birkin, Régine, Jean-Claude Vannier or Yul Brynner. Véronique Mortaigne, journalist, tells here the happy and loving years of Jane and Serge. At her side Barbara Carlotti, composes a mini recital and covers the songs loved by Serge G. and those sung by him, Jane B. or Régine.
Photo © Luc Fournol
DEAUVILLE

Thursday, October 14th

_______

Franciscans Remember: Queen Maria Christina of Spain by Sylvie Ancelot

In 1856, Maria Christina of Bourbon Sicily, in exile in Paris, chose Trouville, the summer capital where she met artists, aristocrats, political figures and future investors who "looked at the wide open spaces nearby", such as the Marquis of Salamanca, future owner of Villa Salamanca (later Villa Camellia) and advisor to the ex-sovereign.
VILLERS-SUR-MER

Saturday 16th October

_______

Concert : Harmony Orchestra "La Fraternelle

This large ensemble of 60 musicians, made up of woodwinds, brass and percussion, is fond of varied experiences, mixing professionals and amateurs of high level.

DEAUVILLE

Saturday 16th October

_______

Guided tour : The Strassburger Villa

This imposing Norman regionalist style house was built in 1907. It was bequeathed to the City of Deauville in 1980. Rarely, the villa has kept its original decoration.

For this 3rd weekend, 13 places are to be discovered on the territory Caux Vallée de Seine. in Fécamp and Lisieux.
TOURGEVILLE / BERNERVILLE-SUR-MER


Monday, October 18th
_______
The Deauville-Clairefontaine racecourse opens a week of horse racing
The program includes flat races and the promotion of an exceptional industry with Normandie Grands Événements. The brand was launched by the Conseil des Chevaux de Normandie, itself born of the desire of professionals in the industry to organize themselves regionally for the future. Its ambition: to assert Normandy as a land of horses in the world.
TOURGEVILLE / BERNERVILLE-SUR-MER

Monday, October 18th

_______

Guided tour of the Deauville-Clairefontaine racetrack

Recognizable by its typically Norman buildings, the Deauville-Clairefontaine racecourse is the only tri-disciplinary racecourse on the Normandy coast. It hosts trotting, jumping and flat races.

After a visit of the track, exclusively reserved for professionals, a Norman aperitif will be served.
SAINT-GATIEN-DES-BOIS
Saturday, October 16th
_______
Apple festival
in all its forms
Local apple and potato producers will be present to sell their potatoes, apples, cider, pommeau, jelly, cooked dishes...
The collection of your personal information is carried out by the SPL territoire de Deauville for its own and exclusive use.
This registration is subject to a declaration to the CNIL (Commission Nationale de l'Informatique et des Libertés).
In compliance with the French Data Protection Act and the RGPD, you have the right to access, modify, rectify, delete and delete your personal data,
of rectification, deletion and oblivion of data concerning you. To exercise this right, send an e-mail to communication@indeauville.fr.
Photos : © Sandrine Boyer Engel / Naïade Plante / Luc Fournol / Zuzanna Lupa