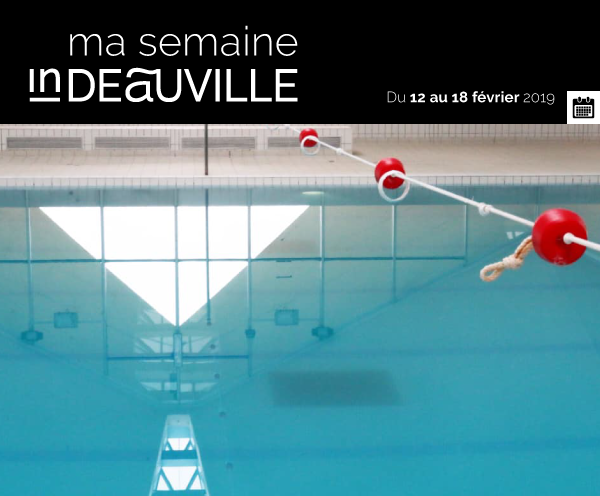 In Deauville, we love the sea so much that we capture it,
warms it up and pours it into the pretty pool.
It has just reopened after its winter technical shutdown.
You will like the place, its brightness and above all:
- aquagym lessons at 12 noon every day,
- adult swimming lessons, Tuesdays, Wednesdays and Thursday evenings
at 18 p.m. or Wednesday morning at 15 a.m.,
- muscle building on Thursday at 18 p.m.
Namely, at noon, the swimming pool does not close until 13:45 p.m. to welcome you
during your lunch break.
DEAUVILLE
Saturday February 16
_______
Welcome to the Wizards

- FULL -
The world of the famous magician Harry Potter is back in Deauville to
a day entirely dedicated to the saga, in the presence of two of the actors,
Natalia Tena aka Tonks & Devon Murray aka Seamus Finnigan.
DEAUVILLE
Sunday February 17
_______
Love in words
"Correspondences"
by Albert Camus & Maria Casarès
The fiery loves of Maria Casarès and Albert Camus, through a selection of their 865 letters exchanged between March 1944 and January 1960, are at the heart of this new edition of "Love in All Letters", brought once again by Anne-Marie Philipe joined on stage for the first time by Jérôme Garcin.
SAINT-ARNOULT


Tuesday February 12
_______
Show jumping: warm up
These days allow riders to perform show jumping courses of the level of their choice in order to prepare for competitions.
DEAUVILLE

Tuesday February 12 and Wednesday February 13

_______

February mixed sale

Season after season, the horses from the February Sale continue to prove themselves on the tracks of the racetracks. This year, 497 horses will go under the auction fire.
DEAUVILLE


Saturday February 16 and Sunday February 17
_______
Presentation and expertise of stallions at Haras Zangersheide
Nearly 50 males aged 3 and over will be judged by model, paces, free jumping or mounted in an attempt to obtain their approval to be able to reproduce for the Zangersheide stud-book (studbook).
VILLERS-SUR-MER

17 at 22 February

_______

Guided tour :
Odyssey
Jurassic

The Paléospace presents a rich collection of fossils. Explore this Jurassic world.
VILLERS-SUR-MER

Wednesday February 14 and Monday February 18

_______

Guided tour: discovery
Black Cow Cliffs

Go back in time on this exceptional paleontological site which will reveal its secrets to you. A family walk over 3 km with an introduction to fossil collection.
DEAUVILLE

13 at 17 February

_______

Mirco-folie is full of activities for the holidays

Themed family tours, digital workshops, storytelling, creative hobbies, interactive games ... take advantage of the holidays to treat yourself to a Micro-madness. The space is to be consumed without moderation!
VILLERS-SUR-MER

February 12 to 17 (except February 14)

_______

Children's Planetarium

A family session to discover the basics of astronomy: celestial objects, shapes, dimensions

VILLERS-SUR-MER

Thursday February 14 and Monday February 18

_______

Asteroid challenge at the Planetarium

After a Planetarium session, save the Earth from meteor showers or compete between 360 ° spaceships!
VILLERS-SUR-MER

13 at 19 February

_______

Exhibition of paintings and sculptures

Marie-Véronique Samaden exhibits her paintings on the theme "In a garden", accompanied by the sculptor Jacques Bergamasco.

February 16 to March 10

_______

Exhibition: BôzArts-sur-Touques

Figurative and abstract art, photography, ceramic and porcelain, an exhibition organized by the artists' association La Compagnie BôzArts.
VILLERVILLE

Saturday February 16

_______

Lotto

Organized by the association Les Petites Mouettes of the Patrick Grainville school in Villerville.

Saturday February 16

_______

Red Cross Sale

The association offers men's and women's clothing in all sizes to benefit its actions towards the most disadvantaged.

DEAUVILLE

Monday 18 February

_______

"Proust or time regained"

By Pierre Bonard, lecturer at the Academy of Sciences, Arts and Beautiful Letters of Caen
The collection of your personal information is carried out by the SPL territory of Deauville for its own and exclusive use.
This registration is subject to a declaration to the CNIL (National Commission for Information Technology and Liberties).
In accordance with the Data Protection Act and the GDPR, you have the right to access, modify,
rectification and deletion of data concerning you. To exercise this right, send an e-mail to communication@indeauville.fr.
Photographs: © Sandrine Boyer Engel / Maria Casares and Albert Camus Photo © Rene Saint Paul Bridgeman Images /
ZuzannaLupa / Julien Boisard
/
Naiad Plant / DR