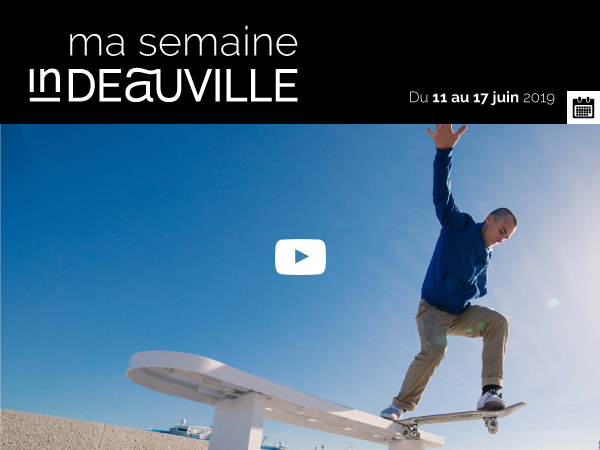 TOUQUES

12 at 15 June

__________

4th Open Deauville-Trouville:
the entry of the pros

The 8th finals approach, the pros enter the tournament, the only one on natural grass in France. Will be present the first winner of the Open Deauville Trouville in 2016, Edouard Roger-Vasselin, the world n ° 20 and n ° 2 spanish Roberto Bautista-Agut, and Pauline Parmentier, n ° 4 French for the Open du Calvados, the female version of the tournament.

SAINT-ARNOULT

13 at 16 June

__________

Deauville Jump'in

Twenty nations meet in Normandy to confront their talents in a 2 * international Show Jumping competition, a 1 * one reserved for young horses and for French amateur riders, a stage of the federal circuit called "Amateurs Gold Tour" . In total, more than a hundred competitors and 450 horses will be divided into 4 competition levels.
DEAUVILLE

Saturday June 15

__________

Arrival of the 59th
Paris-Deauville by bike

This 220km sport cycling hike between cycling enthusiasts is at the service of a collective project: "leaving and arriving together". Since 2007, Paris-Deauville has established a partnership with the Cardiac Surgery Patronage, donating part of the registration fees to the association.

TOURGEVILLE

Monday June 17

__________

Opening of the summer meeting at the Clairefontaine racecourse

In 2019, Clairefontaine sees things big! 21 racing meetings will take place between June 17 and October 25, concentrating the 3 disciplines of Trotting, Flat and Obstacle. A whole new season filled with new features, great games, great entertainment, great discoveries, great races ... in short: great moments to live for young and old but also professionals.
DEAUVILLE
12 and 13 June
__________
8th Deauville Green Awards
Since 2012, this festival has given itself the mission of promoting this great repertoire of institutional films, spots and documentaries around sustainable development and eco-innovations, and thus raising awareness among all stakeholders on these vital subjects. The famous sailor Isabelle Autissier, president of WWF France, is the godmother of this 8th edition whose central theme is the protection of the living.
The Festival is also open to the general public through screenings and awareness-raising actions with schoolchildren. On Wednesday, a projection-debate evening, open to all, with Sophie Raous, head of the Normandy Sustainable Development Agency, and Romain Debray, head of the Norman Biodiversity Agency, will be followed by the screening of Biodiversity, will followed by the screening of the film "Après-Demain".
BENERVILLE-SUR-MER

13, 15 and 16 June

__________

Visit of Calouste Gulbenkian Park

Planted with rare species, the park combines different atmospheres conducive to meditation.

DEAUVILLE

Saturday June 15

__________

Sea trip aboard an old rig

Climb aboard the François Monique, a shellfish sloop from the harbor of Brest, launched in 1935.
DEAUVILLE

Saturday June 15 and Sunday June 16

__________

Sea trip on a sailboat

Take off for 2 hours to discover the world of sailing.
DEAUVILLE

14 at 23 June

__________

Exhibition of paintings:
"Sea and figures"

Some fifty paintings, painted by members of the Lexovian Creative Figuration Association, on the themes of boats and portraits will be exhibited.

TOUQUES

14 at 23 June

__________

Exhibition: "Imagery,
Reverie et Cie "

5 arts and 3 artists are presented: watercolors by Marie-Guenaël Le Galles-Ouler, collages and paintings by Jacques Cubaud, and drawings, paintings and photos by Pierre François Rault.
DEAUVILLE

12, 15 and 16 June

__________

Micro-Folie Deauville:
Myths and Antiquity

Family visit, artist seed, teen meetings, fablab training, fun visit, five formats and a new theme each week to experiment with the different spaces.
VILLERS-SUR-MER

15 and 16 June

__________

Guided tours of the Paléospace

Immerse yourself in the world of dinosaurs and learn to recognize their fossils.
DEAUVILLE

Saturday June 15

__________

The jazz workshop in concert

Organized by the Claude Bolling intercommunal music school under the direction of Marek Deptuch.

DEAUVILLE

Sunday, June 16

__________

Liturgical music concert

with the Jewish Choir of France conducted by Maître Hector Sabo.
VILLERS-SUR-MER

Saturday June 15

__________

Garage sales

of the DH Coaching Rallye Sport association in Villers-sur-mer.

DEAUVILLE /

TROUVILLE - LE HAVRE

Saturday June 15

__________

Crossing of the estuary shuttles

A sea shuttle is offered between the ports of Deauville / Trouville and Le Havre. Original and practical to spend the day on the other bank of the Seine!
SAINT-ARNOULT

Sunday, June 16

__________

Saint-Arnoult picnic

At the edge of the river, with your packed lunch, spend a friendly moment in music and pony rides.
The collection of your personal information is carried out by the SPL territory of Deauville for its own and exclusive use.
This registration is subject to a declaration to the CNIL (National Commission for Information Technology and Liberties).
In accordance with the Data Protection Act and the GDPR, you have the right to access, modify,
rectification and deletion of data concerning you. To exercise this right, send an e-mail to communication@indeauville.fr.
Photographs: © My Spot / Sandrine Boyer Engel / Naïade Plante / Laurent Lachèvre / Lawn Tennis Club / Paléospace Villers-sur-Me