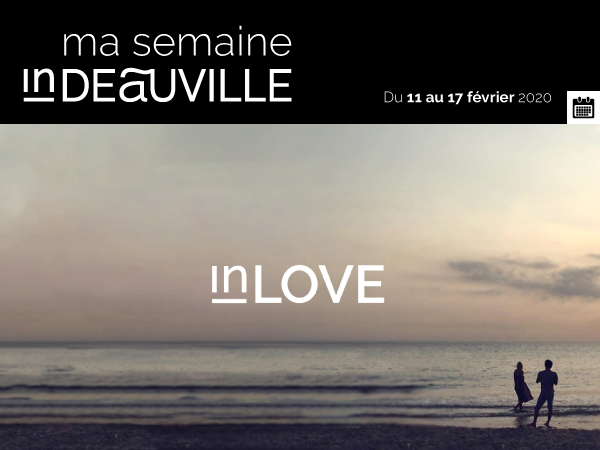 #inLove Valentine's Day #inDeauville
Rita Hayworth & Ali Khan, "A man and a woman" by Claude Lelouch, Catherine Zeta-Jones & Michael Douglas, Sophie Marceau & Christophe Lambert… inDeauville has always been the setting or the witness of beautiful love stories, which inspire every day many visitors.
What if you lived yours?
VILLERS-SUR-MER
Saturday February 15 and Sunday February 16
________
The unmissable event
scale models
Passionate exhibitors come together to share and introduce the general public to their know-how: boats, planes, trains, figurines, vehicles, dioramas and the novelty of this 10th edition, circuit 24! The exhibition is also an opportunity for fun activities, demonstrations, navigation, driving simulations ... for the whole family!
DEAUVILLE
Tuesday February 11
________
The 2019 season | 2020
"Anna Magdalena Bach's little book"
Often associated with Laurent Pelly's shows, Agathe Mélinand divides her activity between the theater and the Opera. His passion for music and his storytelling had earned, not long ago in the cultural season of Deauville, a beautiful tribute to Erik Satie. Jean-Sébastien Bach, this time is revealed to us through the prism of Anna Magdalena, his wife in a musical show that combines two actresses, a pianist and a harpsichordist.
DEAUVILLE
Sunday February 16
________
Love in words
Anne-Marie Philipe and Jérôme Garcin
read George Sand and Alfred de Musset
George Sand and Alfred de Musset loved each other. They exchanged around sixty letters and then left in Venice in 1832, after betrayals and heartbreak. This correspondence was explored and loved by Françoise Sagan and inspired her the preface to a reissue. An exceptional moment worn by Anne-Marie Philipe joined on stage by Jérôme Garcin.
VILLERS-SUR-MER

Until February 14

________

Take yourself for a paleontologist

The Norman rocks are full of fossils of the Jurassic fauna. At the end of each workshop, the children leave with their discovery notebook or a fossil molding.

From 5 to 10 years old.

VILLERS-SUR-MER

Until February 14
and February 17 to 21

________

Make lots of small items at Créa'club

Each day a workshop / theme to always vary and stimulate children's creativity.

From 4 to 12 years old.
VILLERS-SUR-MER

February 12 and 14

________

Challenge yourself at the Planetarium

A planetarium session followed by a challenge to save Earth from meteorites or to compete between spaceships at 360 °.
DEAUVILLE

Friday February 14

________

Discover Deauville and its puzzles

Like a little detective, decipher the clues sown in your path and discover the city while having fun. From 5 to 12 years old.

TROUVILLE-SUR-MER

February 15 and 16

________

Learn to make 100% vegetable recipes

On the menu at Molybagert: colorful bento, Japanese inspiration, with or without gluten for teens and adults on Saturday and pancakes and waffles without eggs or milk for 5 to 10 year olds on Sunday.
VILLERS-SUR-MER

Sunday February 16

________

Cross the cliffs of the Black Cows

Go back in time on this exceptional paleontological site. A family stroll with an introduction to fossil collecting.

VILLERS-SUR-MER

17 at 21 February

________

Learn about astronomy

Discover the celestial curiosities through fun workshops, games to take home then! From 5 to 10 years old.

Sport for 7 to 14 year olds. On the program: badminton, discovery of a new sport, football, team sports, large traditional games…
VILLERS-SUR-MER


Wednesday February 12
________
Secret stories of seaside villas
At the end of the XNUMXth century, Villers-sur-Mer became a fashionable destination for sea bathing. Villas emerged from the ground. Along the streets, discover the anecdotes that mark the history of the city.
DEAUVILLE

Thursday February 13

________

Deauville, gourmet stories

Through the streets of Deauville, savor the anecdotes on the history of Deauville and Norman gastronomy. Along the way, tastings of local products will whet your taste buds!
DEAUVILLE


Saturday February 15
________
Deauville, architecture and villas
Villas, mansions and other extraordinary buildings highlight a great diversity of architectural genres. Come and meet this remarkable heritage.
SAINT-ARNOULT


Tuesday February 11
________
Show jumping: warm up
A day open to all riders who wish to train show jumping horses for future competitions.
DEAUVILLE

February 11 and 12

________

February mixed sale

First vacation of the year, the mixed sale will see 442 horses parading in the ring, including horses in training, two years old, broodmares, fillies and yearlings.
DEAUVILLE


Saturday February 15
________
Chef's Soup
More than twenty restaurateurs offer for sale the soups concocted for the benefit of the actions of the Lions Club of Deauville-Trouville.
DEAUVILLE

Saturday February 15

________

Sale at the Red Cross locker room
The collection of your personal information is carried out by the SPL territory of Deauville for its own and exclusive use.
This registration is subject to a declaration to the CNIL (National Commission for Information Technology and Liberties).
In accordance with the Data Protection Act and the GDPR, you have the right to access, modify,
rectification, deletion and forgetting of data concerning you. To exercise this right, send an e-mail to communication@indeauville.fr.
Photographs: © Polo Garat / G. Wait / Naïade Plante / Delphine Barré / Olivier Houdart / Zuzanna Lupa /
Zangersheid / Duodecim /
Casino Barrière Deauville /
wikicommons Ji-Elle /
All rights reserved.