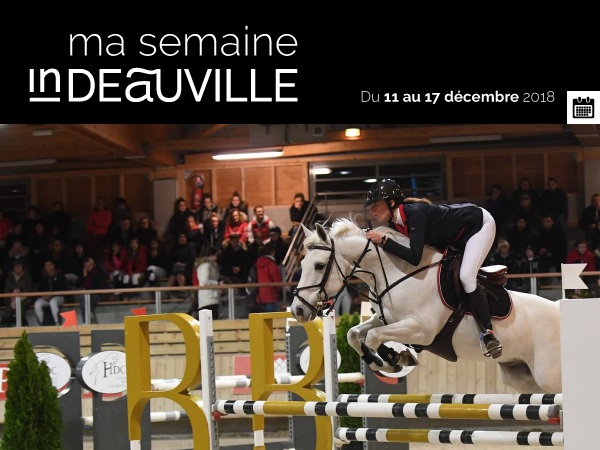 In the eye inDeauville this week
Congratulations to Liz Humet who wins the AS Pony Elite GP Excellence Resort Barriere Deauville event
and to Cinnamon Paramucchio who won the Ace Pony Elite GP Equip'Horse !!
1 riders were riding the best French sport ponies this weekend
at the Pôle international du Cheval Longines Deauville.


DEAUVILLE
Saturday 15th December XNUMX
_______
Emily Bécaud and Julien Dassin
sing Pierre Delanoë
Lyricist out of category (and faithful resident of Deauville), Pierre Delanoë would have been 100 years old in December 2018. He did not only write the greatest successes of Gilbert Bécaud, Joe Dassin, Michel Polnareff, Michel Fugain or Nana Mouskouri… He is also the French adapter of the songs of Bob Dylan and Simon and Garfunkel. Emily Bécaud and Julien Dassin cover this repertoire, including songs created by their fathers, for an exceptional evening.
DEAUVILLE

Saturday 15th December XNUMX

_______

Concert of
"Gospel Together"

Traditional and contemporary gospel, blues rhythm and negro spiritual: discover the repertoire of this Lexovian group - united by the passion for singing and the pleasure of being together - at the Saint Laurent Church.

Organization "The Friends of Saint-Laurent Church"

VILLERVILLE

Saturday 15th December XNUMX

_______

How about health and happiness together? Meeting and signing session with
Brigitte-Fanny Cohen and Antoine Chereau

Brigitte-Fanny Cohen's book "The why of health" offers a best of everyday's big and small sores. The comic book album "So happy?" "By Antoine Chereau lists 87 hilarious scenes on the unrestrained quest for happiness.

DEAUVILLE

Sunday December 16

_______

"An evening with Montand"

Like a homecoming, the desire to sing Yves Montand titillated Pierre Cassignard, actor and director who, for thirty years, has led a prolific career between theater, television and cinema. Twenty unforgettable songs are on the program for this singing tour, which Yves Montand himself would have found "cool". At the piano: Eric Ballet.
VILLERVILLE

Saturday 15th December XNUMX

_______

In the presence of various artisans: pottery, sale of Calvados, small confectionery, Christmas decorations, jewelry, home decorations. Various activities will also be offered in the afternoon: pony ride, photo with Santa Claus, children's make-up…

TOUQUES

December 15 and 16

_______

Come to the Quartier des Arts to share the magic of the end of year celebrations around creative workshops, animations,

donkey rides, a full-size crib and the traditional Christmas market.

VILLERS-SUR-MER

15 and 16 December

_______

Thirty exhibitors will offer a multitude of gift ideas: Christmas decorations, chocolates, pastries, beer brewed in Villers-sur-mer, books, confections and arts and crafts… and with the visit of Santa Claus!
VILLERVILLE

From December 15 to January 6

(except December 25 and January 1)

_______

Christmas exhibition and sale: Printed art

Fabrics, clothes, notebooks, greeting cards, lights, prints.
SAINT-PIERRE-AZIF


Wednesday December 12
_______
Projection :
"Heulà! Things are getting hot ! "
The documentary presents the current and future impacts of global warming and offers "ben d'chez nous" solutions to combat the greenhouse effect.
DEAUVILLE

Tuesday December 11

_______

Lyric show:
"The singer from Mexico"

The spectacle of the Lyric Renewal offers a new youth to the operetta by Francis Lopez, created in 1951 and immortalized by Luis Mariano.

DEAUVILLE

Saturday 15th December XNUMX

_______

Revue-spectacle: "Deaullywood"

Through the evocation of a few films and filmmakers who have become cults, dance, song and comedy serve the sequence shots of this 7th art.
DEAUVILLE
They will be in Deauville…
_______
After Stanislav Yanevski in 2018, aka Viktor Krum,
"Welcome to the Wizards":
it's Natalia Tena and Devon Murray's turn to come to Deauville
Natalia Tena is known to have played the role of the auror Nymphadora Tonks in the saga
"Harry Potter" (and savages Osha in the HBO series, "Game of Thrones"),
and Devon Murray for his interpretation of Seamus Finnigan in the saga.
It will be an unforgettable moment: a signing session and a portrait alongside the
two actors in the saga. You will leave with a memorable memory of your day!
In accordance with the "Data Protection" law of January 6, 1978, you have the right to access and rectify data concerning you.
For any request, send us a message by clicking on communication@deauville.fr.
Photographs: © Pixelsevents / Sandrine Boyer Engel / Naïade Plante / DR