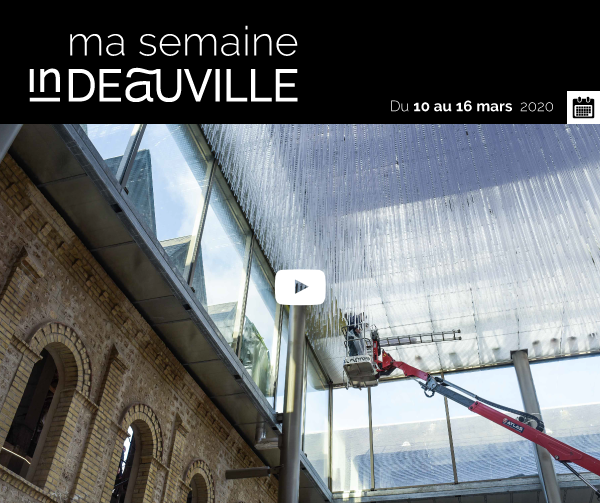 Video of the week
The Franciscan chandelier is installed
To bring light and transparency to the Franciscaines building, the architect Alain Moatti imagined a chandelier composed of 14,285 polycarbonate tubes. In pictures, we followed the installation.
DEAUVILLE
Teenager's Award :
get inspired by their reading
5200 students from 101 schools in Normandy have committed to reading four books selected for the 2020 Teen Prize. Among them,
Mes nuits apaches
by Olivier Martinelli (Editions Robert Laffont).
SAINT-ARNOULT

Saturday 14 and Sunday 15 March

________

Indoor polo tournament

The best polo players will once again take over the large riding arena at the Pôle International du Cheval Longines Deauville before returning to the grassy fields of the Deauville-La Touques racecourse for the Barrière Deauville Polo Cup next August. They will compete all weekend in a succession of matches by teams of 3 players,

each with a minimum of two horses. Each match will be played in 4 periods of 6 minutes 30.
SAINT-ARNOULT


March 16th to 19th
________
Jumping competition for young horses
The young horses, aged 4 to 6, are ready to qualify for the national finals in September! The competition is an opportunity to admire their performances and to detect the future show jumping stars.
DEAUVILLE

Saturday, March 14th

________

Concert:
"Buddies First."

Les copains d'abord" salsa version, "Le Gorille" in merengue... Nelson Monfort and the troupe of Enjoliveurs pay tribute to Georges Brassens.
DEAUVILLE

Saturday, March 14th

________

Red Cross Sale

The association offers clothes in all sizes for the benefit of the most needy.
The collection of your personal information is carried out by the SPL territoire de Deauville for its own and exclusive use.
This registration is subject to a declaration to the CNIL (Commission Nationale de l'Informatique et des Libertés).
In compliance with the French Data Protection Act and the RGPD, you have the right to access, modify, rectify, delete and delete your personal data,
of rectification, deletion and oblivion of data concerning you. To exercise this right, send an e-mail to communication@indeauville.fr.
Photographs: © Sandrine Boyer-Engel / Justine Jacquemot / Pixels Events / Casino Barrière Deauville
/
All rights reserved.