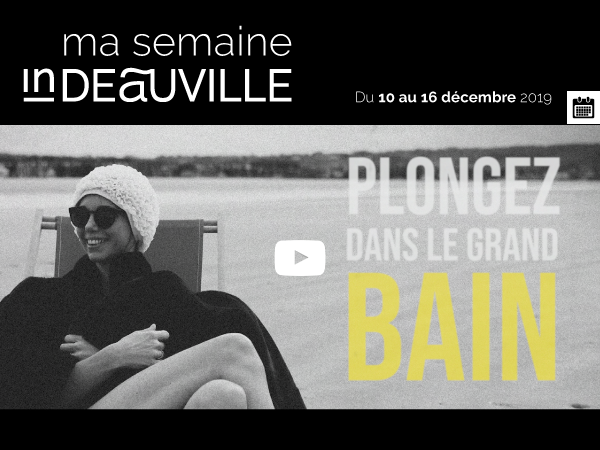 Craft markets, meetings with Santa Claus, shows and concerts, illuminations, partner Christmas and New Year's Eve parties, not forgetting the traditional January 1st bath... inDeauville is ready to celebrate the festive season!
________
This week in the inDeauville advent calendar


________
DEAUVILLE
Tuesday, December 10
________
The 2019 | 2020 season
Pierre Arditi "Reads what he loves
A major actor in theater and cinema, Pierre Arditi, after a long career in troupes, takes to the stage alone with four favorite authors. A well-known gourmet reader and lover of books and fine wines, he smells, savors and shares the best of his library. Drawing on works by Jean-Michel Ribes, Yasmina Reza, Philippe Delerm and Michel Onfray, he generously chooses and shares a selection of their texts, which have become his own because they express, with rare accuracy, what he feels and what moves him.
DEAUVILLE


December 13, 14 and 16
________
3 days of horse racing
Thanks to its "all-weather" track The fibre-reinforced sand track, Deauville-la Touques racecourse is able to program a winter meeting every year, with meetings in December and January.

DEAUVILLE

Saturday, December 14th

________

Stop Violence Day
and self defense

Nous Toutes14 and ASTD Karaté are organizing two days of meetings on the theme of violence and harassment at school, with a conference and self-defense workshops.

DEAUVILLE

Saturday, December 14th

________

Sale at the Red Cross Cloakroom

Men's and women's clothing in all sizes for the benefit of the French Red Cross association in Deauville.
DEAUVILLE

Friday December 13 and Saturday December 14

________

Revue-dinner-show:
" Deaullywood

"

Through the evocation of a few films and filmmakers that have become cult, dance, song and comedy will serve up the sequence shots

of the 7th art.

VILLERS-SUR-MER Friday, December 13

________

Concert by the " Instant Cocktail "

Fred and Mireille perform an acoustic duo with guitar and vocals, offering a wide selection of covers from the jazz, bossa, ballad and French chanson repertoires.

DEAUVILLE

Sunday, December 15th

________

Lyric concert
"La route fleurie

The Renouveau Lyrique troupe presents a fresh, humorous and cheerful version of the famous operetta created in 1952 by Francis Lopez.
Since she moved to Villerville a little over two years ago, Emmanuelle Mellot Kristy has organized several workshops and artistic gatherings to transmit and share art and techniques. She chose to join the network in Deauville to go further and invite to create on our territory. A place she finds fascinating.
Your personal information is collected by SPL territoire de Deauville for its own and exclusive use.
This registration is subject to a declaration to the CNIL (Commission Nationale de l'Informatique et des Libertés).
In compliance with the French Data Protection Act and the RGPD, you have the right to access, modify,
rectification, deletion and omission of your personal data. To exercise this right, please send an e-mail to communication@indeauville.fr.
Photographs: ©
Casino Barrière Deauville / Instant Coktail / Audrey Pasquet / Sandrine Boyer Engel / Justine Jacquemot / Ville de Deauville / Pixabay / All rights reserved.