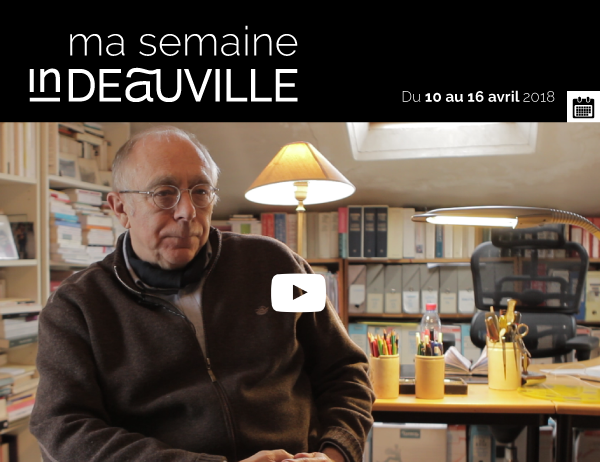 THE VIDEO OF THE WEEK
Jean-Pierre Le Goff, philosopher, writer and sociologist, delivers his analysis of May 1968. He will be at the Books & Music Festival next weekend.
Du 13 to 15 April
________
Books & Music Festival
"Revolt in art" 15th Edition
Feminism, May 1968, adolescence, war, dictatorships ... the writers and musicians of the 2018 edition drew from the literature texts that blow hard. 8 musical readings and meetings are on the publishing program. Julie Depardieu, Patrick Mille, Philippe Maneuver, Alice Zeniter, among others are expected to read and speak about the protest texts. The Festival will also celebrate its 15th anniversary this year and has offered festive moments as a gift: a rebellious aperitif, an anniversary opening ceremony and an Igit concert. Finally, the Festival renews its commitment to the youngest with its "Roulez jeunesse" program to live with the family.
Highlights :


Opening, Friday 13, 20 p.m .: reread Aragon with Patrick Mille and Florent Marchet
Great evening
Saturday 14 from 19:30 p.m .: awards ceremony for the winner of the 15th Prix de la Ville de Deauville and show by Julie Depardieu and Mathieu Baillot, concert by Igit
Sunday 15, 11:30 a.m .: giant dedication
on the planks

Du 14 to 30 April
________
22nd Easter Festival: 9 exceptional concerts
The Easter Festival allows a hundred young instrumentalists each spring
to meet to approach within the most diverse ensembles the whole repertoire of music
chamber music, trio orchestra and baroque music on the big pages of modern music. Adèle Charvet, Philippe Hattat, Justin Taylor, Théo Fouchenneret, David Petrlik,
Volodia van Keulen, Mathis Rochat, Manuel Vioque-Judde, Liya Petrova, Elina Bukhsa,
Adélaïde Ferrière, the Arod, Hanson, Hermès quartets and the Ouranos ensemble will bring
at this 22nd festival the momentum and freshness of their bright personality.
Program for this first weekend:
Saturday April 14, 20 p.m .: Schnittke & Chostakovitch
Sunday April 15, 16 p.m .: Ives, Copland, Barber & Adams
On video :
On the occasion of the opening of the Festival
Easter, Yves Petit from Voize
looks back on the creation of the Festival,
listen to it here
Cabourg

Sunday 15 April

________

Dives estuary trail

Two trauls open to all:

the 100 steps (15 km - positive drop of 230 m)

and La Corniche (33 km - vertical drop of 640 m).
VILLERS-SUR-MER

Saturday 14th and Monday 16th April

________

Go back in time
in the Jurassic era

Immerse yourself in the world of dinosaurs, whose fossils have been found on the cliffs of the Vaches Noires, with a guide from the Paleospace.
VILLERS-SUR-MER

Du 11 to 17 April

________

Exhibition
paintings

Nicole Piquot, Maud Drege

and Michel Lamare

TOUQUES

Du April 14 to May 1

________

Exhibition-sale

"Equi-libre" - sculptures & paintings by Anne Clabaux and Marie Ackers

DEAUVILLE

Saturday 14 April

________

Dinner show

"Muses season 3"
VILLERS-SUR-MER

Monday 16 April

________

Asteroid challenge

A planetarium session followed by a challenge to save the Earth.
SAINT-PIERRE-AZIF

Wednesday 11 April

________

Aromatherapy workshop

Essential oils, a breath of fresh air in this stressful world…

SAINT-PIERRE-AZIF

Wednesday 11 April

________

Kitchen workshop

The secret recipe for Guacamole with spirulina, accompanied by homemade Blinis.
SAINT-PIERRE-AZIF

Friday 13 and Saturday 14 April

________

Discover aromatherapy

Training to better understand essential oils and how to use them.
In accordance with the "Data Protection" law of January 6, 1978, you have the right to access and rectify data concerning you.
For any request, send us a message by clicking on communication@deauville.fr.
Photographs: © Sandrine Boyer / Naïade Plante / Claude Doaré / Paléospace Villers / Jeshoots / Peter-Heeling / William-Duvernoy