Trouville Marine Cures Institute
Balneotherapy center, Thalassotherapy center, Massage, Swimming pool / Aquatic center, Fitness center, Gym, Sauna, Spa, Thermal baths
Thalassa Sea & Spa
Boulevard de la Cahotte
14360 TROUVILLE-SUR-MER
3kmfrom Deauville
Services/Equipment:
Access for people with reduced mobility
Fitness center
Fitness
Hammam
Massages
Indoor swimming pool
Restaurant - Table d'hôtes
Weight room
Sauna
Site accessible to people with reduced mobility
Spa
Sea view
Installed in the old casino built in 1912, the Trouville Marine Cures thalasso is inspired by the first sea baths. Black and white photos from the beginning of the century and the stripes of the parasols of yesteryear are the elements of a cozy and intimate decor.
The thalasso area (pools, hammam and sauna) and seawater treatments are currently unavailable, but the spa offers a menu of body and facial treatments, modeling and coaching.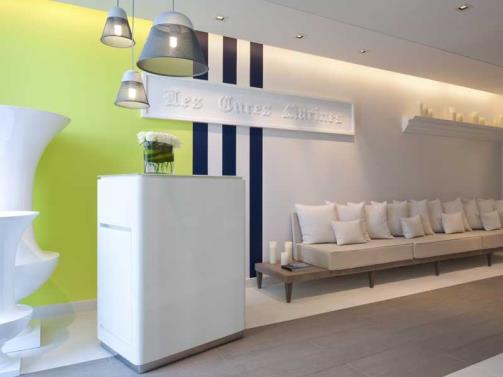 Services offered
Sports on the beach of Trouville-sur-Mer
Benefits
Coastal Longevity®, Water Walking, Coastal Water Walking, Nordic Walking, Running
TROUVILLE-SUR-MER