Algotherm Thalasso Deauville
Thalassotherapy center, Pool / aquatic center, Gym
3 Sem Street

14800 DEAUVILLE
Services / equipment:
Cash
Centre Fitness
Fitness
hammam
massages
Indoor pool
Restaurant - Table d'hôtes
Work out room
Tea Room
Sauna
Site accessible to people with reduced mobility
Disabled toilet
Free Wifi
A must for a successful stay in Deauville, the Thalasso Deauville by Algotherm is dedicated to well-being, relaxation of body and mind and the multiple benefits of active marine ingredients. It is the first Deep Nature Spa concept integrating the benefits of seawater-based treatments and the virtues of algae and sea mud. Ideally located by the sea, the Thalasso is a natural stopover between a walk on the mythical Boards along the beach, a shopping getaway or an evening at the casino: a rejuvenating break, the good sea air renowned for its iodine and negative ions bringing well-being and relaxation.

Whether for relaxation, slimming, beauty or even maternity, the Thalasso Deauville by Algotherm offers many offers for all profiles.
If we find the traditional à la carte treatments, they are also available in half-day "stopovers". The 2 to 5 day cures include a combination of specific treatments, hydrotherapy and other massages, with the possibility of sleeping in one of the many partner hotels.

Access to the spa is reserved for people over 16 years of age (except for "My first spa" treatments).

For a lunch break, the restaurant Bistrot des Planches offers a wide variety of dishes, some of which are available in a "slimming" version. Open to everyone.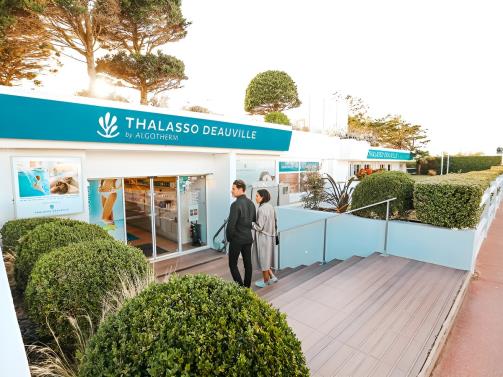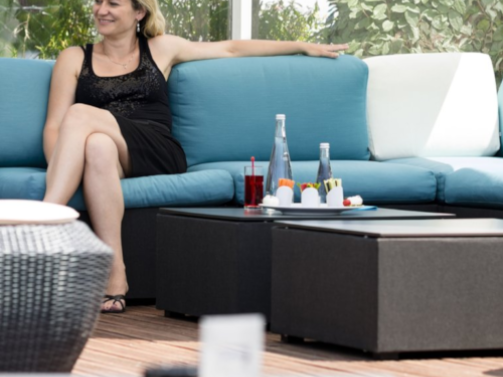 READ ON THE BLOG
LA THALASSO DEAUVILLE JOINS THE INDEAUVILLE NETWORK
The principle of thalassotherapy is to transfer these active ingredients from the water to the body for regenerating, oxygenating, soothing actions ...
A story to share inDeauville to read here ...