Let's have a brunch!
Brunching, a tradition dating back to the beginning of the 19th century - literally the contraction of "breakfast" and "lunch"- combines these two meals offering a gourmet formula. Like an invitation to slow down and take time to taste an abundant meal, it is often organized on weekends, particularly on Sundays.
Both if you love the French, the English or the buffet brunch, if you prefer a cosy hall or a terrace, let's have a brunch in some of the best places of the Côte Fleurie.
Brunch with your family
La Belle Epoque
Leave for a journey back to the past having a relaxing brunch at the heart of the famous Hôtel Normandy of Deauville. America inspired dishes, made with local or traditional French products, combining scrambled eggs with bacon, lobsters, medium cooked meat, Norman cheese and sweet notes of fruits, tartlets and chocolate desserts. It's the perfect place to spend some time with your family during weekends.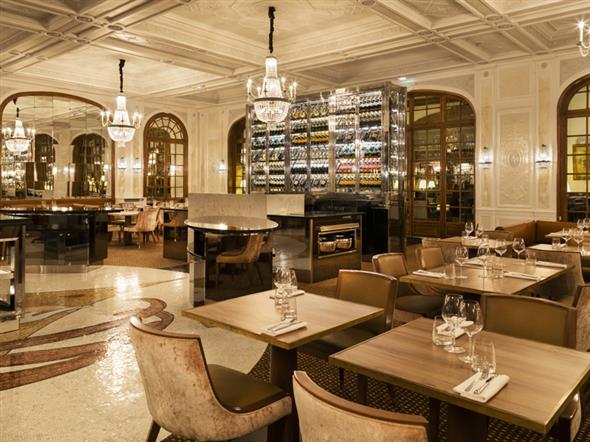 La Belle Epoque
Hôtel Barrière Le Normandy Deauville
38 rue Jean Mermoz
France
02 31 98 66 22
Brunch in a brasserie
Le Morny's Café
Le Morny's Café offers a friendly and genuine atmosphere, typical of a brasserie, and proposes an abundant French brunch. After taking a walk to the market and filling your bags with fruits and vegetables, you can go for fried eggs, scrambled eggs or eggs in pots with fresh bread, special pastries, a good coffee and a freshly squeezed orange juice.
Le Morny's
6, Place Morny 14800 Deauville +33 (0)2.31.87.32.06
A French brunch
Café de Paris
While the Deauville market is in fully swing at the Morny square, the Café de Paris invites you to take a brunch break inside or outside. The brunch -of British origin- is entirely French here: it includes eggs, spreads, croissants, pains au chocolat, a freshly squeezed juice and a hot drink.
Brunch on the beach at La Folie Douce by Barrière
La Folie Douce by Barrière
If you want to make your Sunday morning seaside stroll last longer, take a seat on the terrace of La Folie Douce by Barrière. The all-you-can-eat buffet offers a wide range of fresh fruits, cakes and home-made pastries, salads, cold meats and cooked eggs: enjoy it!
La Folie Douce by Barrière
1, Avenue de la Terrasse 14800 Tourgéville +33 (0)2.31.98.65.58
A brunch at the Spa!
L'Ephemer
After a relaxing morning of treatments at the spa, come and enjoy the Ephémer through a generous brunch made by the chefs. Here you can find main courses, desserts or delicious home-made specialties that will turn into nice memories of a Sunday morning in Trouville for a long time!
L'Ephemer
Hôtel-Spa Les Cures Marines, Boulevard de la Cahotte - 14360 Trouville-sur-Mer - +33 (0)2.31.14.26.00
Brunch in front of the fireplace
La Chaumière
Enjoy the sea view in a cosy setting made of wooden beams, a large stone fireplace and soft armchairs. Enjoy your time in this hotel-restaurant situated between Deauville and Honfleur. Every Sunday you can have a buffet brunch made of the chef specialties: cakes, muffins, waffles...