The famous Norman cheeses
Sometimes known all over the world, Norman cheeses make the reputation of our land as a high place of French gastronomy. There are no less than four flagship cheeses, to be tasted urgently.
The Camembert
One of the most famous Norman cheeses in France and abroad, Camembert has a delicate white bloomy rind. Its unique taste has been refined through the ages. One of the secrets of making Camembert is that unlike other cheeses, it is ladled.
The Neufchatel
The Neufchâtel or "bonbon de Neufchâtel" as it is called, is the oldest Norman cheese, it dates back to 1035! Its particular heart shape which distinguishes it from any other cheese comes from the 100 years war, the young girls formed cheese hearts to show their affection to the English soldiers! During the manufacturing process, a piece of the previous cheese was traditionally added to help the development of good bacteria and thus have a better result.
The Livarot
Graindorge cheese factory
It is distinguished by its beautiful straw yellow color, Livarot dates back to the late Middle Ages. It is also unique because it is made from skimmed milk. The mystery of its color comes during its maturation, it is washed and brushed with a natural vegetable dye called annatto. It is also encircled with five thin strips of dried reeds.
Le Pont-L'Evêque
The original name of the Pont-l'Evêque is actually "Angelot", that is to say the name of a coin because it was used as a means of exchange for wages and taxes. Its current name was only established in the 18th century when it was very successful in the markets of Pont-l'Evêque, and when it took on its square shape to differentiate it from Livarot.
Discover the secrets of Norman cheeses!
The Graindorge Cheese Village offers guided tours to learn the secrets of cheese making, including the maturing cellars. You will learn everything about their production: from the arrival of the milk to the packaging of the cheeses! The visit ends with a tasting of a nice plate of cheeses. In July and August you can also sit at the cheese bar with 4 tasting platters to share.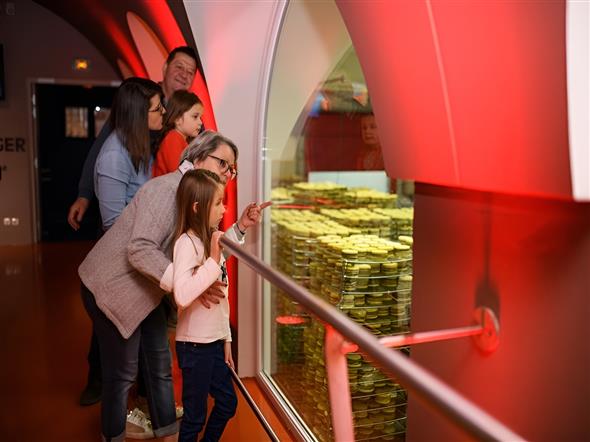 Le Village Fromager - Fromagerie Graindorge
42 rue du Général Leclerc
14140
LIVAROT-PAYS-D'AUGE
France
02 31 48 20 10
Where to find Norman cheeses ?