Camping de la Vallée joins the inDeauville network
One more!
Entering the Camping de la Vallée de Saint Arnoult is like going on vacation to the Netherlands or Belgium where Pasty and Didier were born.
In Deauville, they cultivate the culture of Dutch-style vacations that can be summarized in three words: cycling, nature and fresh air. Patsy told us that in the Netherlands, they give a caravan as a birth gift. A nice way to say that the Dutch like to sleep under the stars... France is their second choice of destination, especially if they find accommodation and infrastructures like they like. This is the case in the Valley where they come in large numbers.
A family history
When she arrived in Saint Arnoult 23 years ago, Patsy did not speak French. It's hard to believe how comfortable she is today. Daughter of an entrepreneur in the food industry, passionate about horses, she grew up between Bruges and the sea and then married Didier Desmet. On his side, they manage campsites. A major activity in a country that has a real culture of open air hotels. Together, they start in 1997 at the campsite Le Bellevue in Villers-sur-Mer. Didier's parents settled in Saint Arnoult before selling them the campsite of La Vallée in 2005. A little more than ten people work all year long in the company with Patsy and Didier, today assisted by their son.
Both of them remain very attached to their country of origin where they go very often. They share with the inDeauville area a strong passion for horses. Patsy has also joined the municipal team of Saint Arnoult where she accompanies the elected officials on tourism issues, among other commitments.
A five-star campsite
Since 2005, the projects have continued to make the Camping de la Vallée a real playful, relaxing and family village: creation of a heavenly water park, a heated indoor swimming pool equipped with jacuzzi and whirlpools, a restaurant, a multi-sports field and a vast fishing pond. Because "camping remains the best memory for children", the nineteen hectares of the Valley are secure and offer multiple possibilities for family activities. Animations, club, playgrounds....everything is planned to keep children happily occupied. In addition to the 180 mobile home pitches sold to families, there are 80 pitches for mobile home rentals and 80 plots for caravans, camper vans or tents.
This division between visiting guests and residents guarantees a very friendly atmosphere. The landscaped paths of the campsite and the gardens attest to the residents' attachment to the place.
The rental accommodation offered by the La Vallée campsite is also of very high quality. Comfort, modern design, natural environment: the mobile homes have all the assets to seduce a clientele in search of disconnection, reconnection with nature. Seven formulas are offered on the site, a move upmarket appreciated by campers who now choose camping more as a destination than as a mode of accommodation, according to the Fédération de l'Hotellerie de Plein Air.
Apart from the specific case of the summer of 2020, camping is very popular in the summer: 75% of reservations are made in advance for July and August. Many of the tenants come from the Netherlands where Patsy and Didier work with two tour operators.
Children's playground and petanque court
Strong levers to develop our attractiveness
The Dutch love nature, varied landscapes, space, culture and heritage. A top-of-the-range outdoor hotel industry is essential in this market, as well as a very successful cycling offer: secure tracks & long routes. The greenway linking Saint Arnoult to Deauville is a first step. The development of all the cycling routes on a national level will be a real plus in the coming years. 
The Valley & its neighbors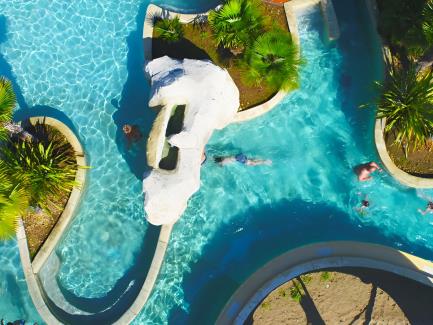 Where to sleep
Domaine La Vallée de Deauville
Enjoy your vacations with family or friends, from April to October, in mobile homes...