At the water's edge
At Villerville beach
The narrow and colorful streets of Villerville descend to the sea and its two beaches: Graves beach to the West and Bains beach to the East. If they are only accessible at low tide, you can observe the steep cliffs of Roches Noires from the dike. A sensitive natural space, the Falaises des Roches Noires are 60 meters high and owe their name to the limestone blocks of the beach.
The beach will reopen on June 2 with the possibility of walking everywhere and there will be static areas for putting down your towel, delimited by stakes.
The unavoidable
THE PARK OF GRAVES
Above the cliffs of Roches Noires, 800 meters of footpaths with benches, picnic tables and games for children. Protected natural space, it hosts amazing wild plant species, vestiges of the pleasure gardens of yesteryear.
THE BUNKERS
On the beach of Cricqueboeuf, vestiges of the Atlantic Wall, visible at low tide.
THE CROSSING OF MONKEY IN WINTER
When you come back from the beach, stop in front of the Normand Cabaret, filming location for the film "A Monkey in Winter" by Henri Verneuil shot in 1962 with Jean Gabin and Jean-Paul Belmondo.
The Cliffs of the Roches Noires
4 km long, 60 meters high and connecting Villerville to Trouville-sur-Mer, the Falaises des Roches Noires alternate gentle slopes and steep walls. Only accessible at low tide, they offer a unique landscape whose name comes from the blocks of limestone scattered on the sand.
The Cliffs of the Roches Noires
Kids!
Each summer, in July and August, Air & Play Villerville Parc sets up on the Route du Littoral to keep babies and children occupied with inflatable games.
Route du Littoral - 06.98.86.12.39 - 06.13.42.82.90 -
Open from July 10 to August 31: 11 a.m.> 21 p.m.
€ 8 for children.
The events
National Holiday : the fireworks on July 13 on Graves beach
Mid-July : the Sea Festival every year
Mid August : the Village Festival, it ends with fireworks over the sea
Late August-early September : a festival in Villerville, an art theater festival that is both "learned and popular", sometimes on the beach.
Eat & sleep with sea view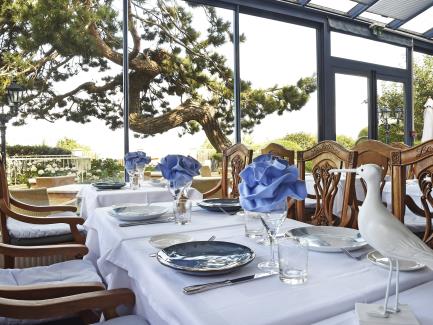 Where to eat
hotel Bellevue
In the picturesque village of Villerville, between Deauville and Honfleur, this little corner of paradise ...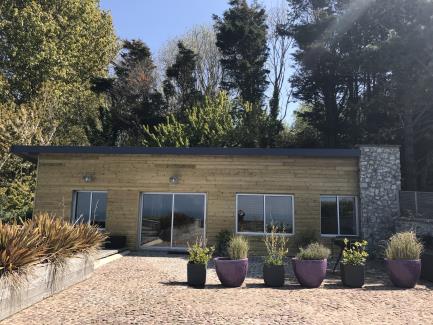 WHERE TO sleep
Domaine du grand bec - Gîtes
Want to get away from it all by the sea? The Domaine du Grand Bec welcomes you from May 11 in ...
Convenience
ACCESS
Access to the center of Villerville is difficult by car, we recommend that you reach the beach on foot via Rue de la Cabine (Plage des Bains) and Chemin des Fondrières (Plage des Graves)
The beach is unsupervised throughout the year, be careful when swimming.
Access to animals: Dogs are prohibited from July 1 to August 31 on the beach and on the Villerville promenade between 9 a.m. and 18 p.m. They are only authorized on the so-called grave beach, from the access to the beach at the end of the graves pedestrian path and only on the cliffs side. For horses, a tolerance is granted by a specific access located in Parc des Graves, chemin des Fondrières. At low tide only.
Shellfish fishing is prohibited all year round in the town of Villerville
Find the prefectural orders on the Calvados shore fishing site et Calvados.gouv.fr