Tourgéville,
the bucolic
Tourgéville stretches out in the Auvergne countryside. At its northern end, this beach is very popular between Deauville and Bénerville-sur-Mer. Horses gallop there morning and evening. The sunset on the English Channel is majestic.
The must-haves
To be amazed in front of the Villa Mors
Behind the promenade, this large villa surprises with its neo-gothic inspired architecture; it is composed of turret, bow window, loggia and raised terrace. It was built in 1905 by the Mors brothers, Emile and Louis, both automobile design engineers, whose family business was famous in the early 20th century for its racing success.
The Villa Mors
Have a drink facing the sea
From the terrace of the Villa sur la Plage, overlooking the sea, you can enjoy a relaxing moment under the light of a sunset.
The Villa on the Beach
Take a horseback ride on the beach
In group or private rides, beginners and experienced riders alike take pleasure in treading the wet sand, to the sound of the waves.
Equestrian Center of Blonville-sur-Mer
Galloping on wet sand
Rent a cabin
The cabins on the beach of Tourgéville
Paloma Gabet
Next to the Tourist Information Office of Tourgéville are 10 new beach cabins that can be rented all year round.
Rates: old cabins south side - 350€ / old sea view cabins - 420€ / new sea view cabins - 530
Reservation at the Town Hall of Tourgéville - 02 31 87 95 10
Practical side
ACCESS
Access to the beach is via Avenue de la Terrasse and its perpendicular streets. Paid parking is available at the traffic circle where Avenue de la Terrasse meets Boulevard Cornuché. Free parking is available in the small adjacent streets.
Pets are not permitted from 10am to 7pm year round. Dogs are allowed on the boardwalk when on a leash.
SURVEILLANCE
The beach is supervised from July 1st to August 31st every day from 11:30am to 6:30pm.
First aid post located at the border between Bénerville-sur-Mer and Tourgéville.
In case of trouble, call : 02 31 88 33 08
Eating with a view of the sea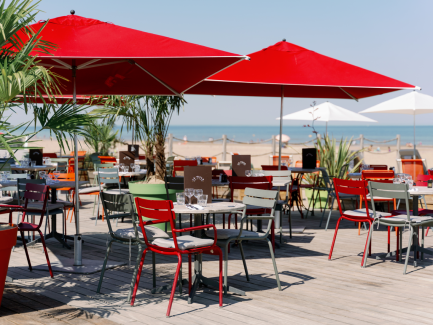 Where to eat
La Villa sur la plage
An atmosphere that lives to the rhythm of the waves: during the day, chill out on the different terraces...