Blonville-sur-Mer,
children's paradise
Blonville-sur-Mer beach has room! It extends over two kilometers and displays no less than four atmospheres. Just after Bénerville-sur-Mer, it spreads out at the foot of the cliffs and is only accessible at low tide. Laforge Beach in the city center is lined with small boards that run alongside a kids' club and a sailing club. All-white cabins and white and blue parasols are rented there in front of breathtaking seaside villas. Further on, Goblins beach becomes wilder. This is the starting point for the Marais de Blonville-Villers and its nature walks. The West beach, relatively narrow, borders Villers-sur-Mer where another story begins.
Not to be missed!
Make memories at the Beach Club
An institution for 70 years! Zip line, trampolines, inflatable structures... This is the essential summer activity for children
The Beach Club
Discover nature at the Marais de Blonville-sur-Mer
Going up the beach via Avenue Jean Moulin, stop off at Parc du Marais de Blonville-Villers. Hygrophilous plants, birds, white storks, amphibians and reptiles are some of the species you will observe in their natural environment.
Nature and ornithological walks are regularly organized. The dates and times can be consulted in the agenda of our website.
The Marsh of Blonville-Villers
Savor an ice cream
Vanilla, lemon or chocolate, there's nothing like a gourmet ice cream to prolong the summer or have lunch in a restaurant with your feet in the water.
L'ILE DE LA GOURMANDISE
The Villers-Blonville Nautical Center
The Pole Nautique Villers-Blonville (PNVB) was born from the merger of the Cerle Nautique de Blonville and that of Villers-sur-Mer, created in 1962. It is run by enthusiasts of light sailing and offers a wide choice of nautical activities .
Visit the base of Blonville-sur-Mer to discover nautical pleasures and share the passion for the sea (depending on the weather).
The Villers-Blonville Nautical Center
54 Avenue Michel d'Ornano - 14910 Blonville-sur-Mer - 02 31 87 92 58
Kids!
An unmissable summer event for children from 4 years old, the Blonville-sur-Mer Beach Club brings together zip lines, trampolines, inflatable structures, high jumpers and slides in which children bounce, jump, roll and laugh. The club also offers 20-minute swimming lessons in a heated and covered learning pool. Open in summer, it is a first approach for the little ones who learn to swim in complete safety, before trying the big swim a few meters away!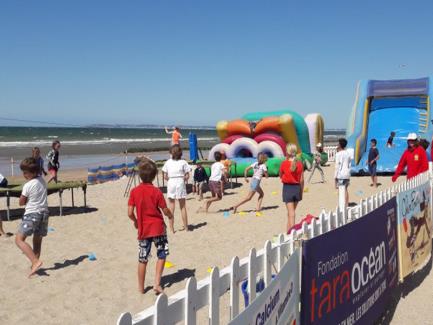 The exits
Blonville-sur-Mer Beach Club
The Beach Club is open from April 25 to May 8 (mini-club only 3-7 years old) and during...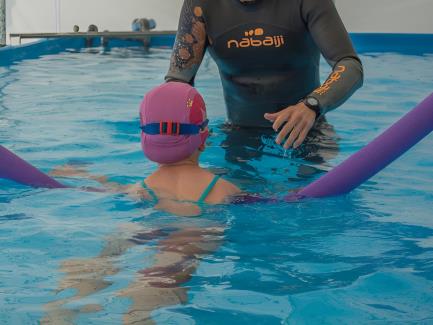 The exits
Blonville-sur-Mer swimming pool
Every summer, 20-minute swimming lessons are offered every day from the age of 4 at...
Rent a beach cabin, umbrella, deckchair or sunbath
Its umbrellas are striped blue and white in front of beach huts of a pristine white color. In total, there are 180. A whole atmosphere! Depending on the desired product, several rental formulas available: by the day, week, fortnight, month, two months or the season.
Daily rates : parasol - 10 € / deckchair - 4 € / sunbathing - 7 €. Parasol, deckchair and sun lounger are available for hire every weekend from May 1 and every day during the summer holidays.
Beach cabin prices : July and August - 320 € / season (mid-June to mid-September) - 360 €
Bains de Blonville-sur-Mer - Promenade des Planches - 06 11 79 24 37
Eco-citizenship
Collective waste collection from July to the end of September / +33 (0)7 82 70 96 65
"Clean shore" operation in July and August / +33 (0)2 31 78 07 89
Sorting and zero waste activity in July and August / +33 (0)7 72 72 13 27
Practical
ACCESS
Access the beach by the following streets: Rue de Hoinville, Rue Louise, Rue Laforge, Boulevard Marcelle Lechanteur, Rue Pierre Jacquot, Rue Chevalier, Avenue Michel d'Ornano (opposite Camping de la Plage and opposite the Marais). You will find parking spaces in all the streets leading to the beach and their perpendicular streets. These are free parking places. You will also find parking in the blue parking zone between rue Jean Duchemin and Avenue Michel d'Ornano at the level of the Central Pharmacy as well as on the market square.
Access to animals is prohibited from April 1 to September 30 from 10 a.m. to 19 p.m. Outside of these hours they must be kept at a distance of 100 meters from boards and villas.
SURVEILLANCE
The beaches of Blonville-sur-Mer are monitored from July 1 to August 31 every day from 11:30 a.m. to 18:30 p.m.
They have two first-aid stations: Laforge beach (02 31 87 92 94) and Goblins beach (02 31 87 81 90).
Eat and sleep with sea view