At the water's edge
At the beach of Blonville-sur-Mer
The beach of Blonville-sur-Mer has room! It stretches over two kilometers and displays no less than four atmospheres. Just after Bénerville-sur-Mer, it stretches out at the foot of the cliffs and remains only accessible at low tide. Laforge Beach in the city center is lined with small boards that run alongside a kids' club and a sailing club. This is where cabins, umbrellas and deckchairs are rented. The beach of the goblins is the starting point in the west towards the marsh and its nature walks. The relatively narrow western beach borders Villers-sur-Mer where another story begins. All summer long, activities take place on the sand, including castle competitions or photo challenges ...
The unavoidable
The marsh of Blonville-sur-Mer
Protected natural area, the Blonville-Villers marsh, located a stone's throw from the beach, offers rare and diverse flora and fauna.
You will be able to observe protected species such as the green tree frog, the field frog or even storks.
Nature and ornithological walks are regularly organized. The dates and times are to be consulted in the agenda of our website.
The Marsh of Blonville-Villers
The nautical pole Villers-Blonville
The Pole Nautique Villers-Blonville (PNVB) was born from the merger of the Cerle Nautique de Blonville and that of Villers-sur-Mer, created in 1962. It is run by enthusiasts of light sailing and offers a wide choice of nautical activities .

Visit the base of Blonville-sur-Mer to discover nautical pleasures and share the passion for the sea (depending on the weather).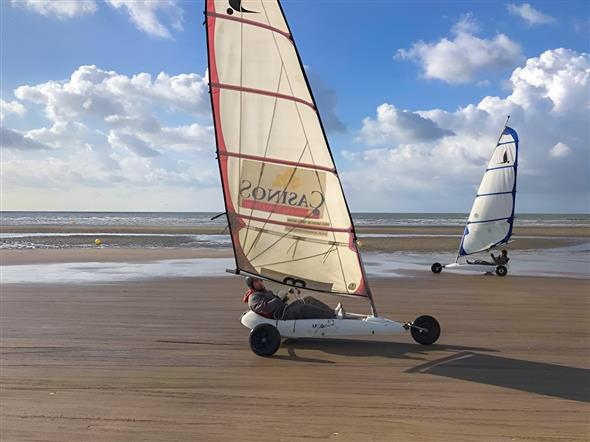 Pole Nautique Villers-Blonville
02 31 87 00 30
Kids!
The Club Mickey de Blonville is the meeting place for children from 3 years old! They will love having fun on the inflatables, slides and swings set up on the sand. The club also offers sports and fun activities by age group and swimming lessons.
Rue du Général Leclerc - 06.73.57.67.75
Open every day during the summer holidays from 9:30 a.m. to 12:15 p.m. and then from 14:30 p.m. to 18:15 p.m.
Activities
In July and August : nature walks are regularly offered by Blonville Tourisme and the Paleospace.
July 13 and August 14 : Blonville celebrates at 19 p.m. and ends with fireworks. Place du Marché (a stone's throw from the beach) and Avenue de la Brigade Piron.
End of September : The 21km Sea, Mountains and Marsh. The first edition of a race in the heart of nature starting from Blonville-sur-Mer. Three distances: 5,12 or 21 km.
Rent a beach cabin
Its umbrellas are striped blue and white in front of pristine beach huts. In total, there are 180. A whole atmosphere!
Several rental formulas available.
Indicative price : € 60 per week.
Parasols, deckchairs and sun loungers are available for hire from 01/05 on weekends and from June 15 to September 15.
Blonville-sur-Mer baths - Promenade des Planches - 06.11.79.24.37
Convenience
ACCESS
Access the beach from the following streets: Rue de Hoinville, Rue Louise, Rue Laforge, Boulevard Marcelle Lechanteur, Rue Pierre Jacquot, Rue Chevalier, Avenue Michel d'Ornano (opposite Camping de la Plage and facing the Marais). You will find parking spaces in all the streets leading to the beach and their perpendicular streets. These are free parking places.
You will also find a car park in the blue parking area between rue Jean Duchemin and Avenue Michel d'Ornano at the level of the Central Pharmacy and on the market place.
Access to animals is prohibited from April 1 to September 30 from 10 a.m. to 19 p.m.
Outside these hours they must be kept at a distance of 100 meters from planks and villas. They must be kept on a leash or harnessed.
SURVEILLANCE
The beaches of Blonville-sur-Mer are monitored from July 1 to August 31 every day from 11:30 a.m. to 18:30 p.m.
It has two first-aid stations: Laforge beach (02.31.87.92.94) and Goblins beach (02.31.87.81.90).
Sleep with a view of the sea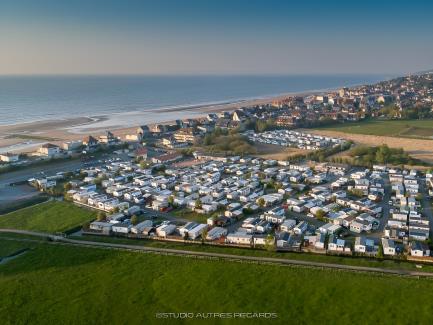 Where to sleep
La Plage campsite
The Camping de la Plage in Blonville sur mer: a 3-star campsite to spend pleasant ...
Where to sleep
Hotel de La Mer
This pretty Norman house, all dressed in white, lives up to its name: it invites you to ...