Benerville-sur-Mer,
the californian
Here, there are no less than three beaches to explore: Lais de Mer beach, on the border with Tourgéville, Garenne beach and Ammonites beach. La Garenne beach is the liveliest in season, with its pedestrian promenade and children's club. Ammonites beach, larger and wilder, runs along the Yves Saint-Laurent promenade which leads to Blonville-sur-Mer at low tide. It bears the name of the fashion designer who, in 1983, bought Château Gabriel where the great publisher Gallimard lived.
Not to be missed!
Immortalize the aid station
With its little Californian air all in wood on stilts, it attracts curious people and photo enthusiasts on the beach of Lais de Mer. It is even prettier at sunset!
Take to the heights on Mont-Canisy
On the heights of Bénerville-sur-Mer, Mont-Canisy offers a breathtaking view of the entire coast, from Ouistreham to Le Havre; oh
n likes to fix the horizon there to track the green ray at sunset.
This protected natural site can be visited for its fauna and flora and the vestiges of the Second World War.
Mont-Canisy
Mont-Canisy - 14910 Bénerville-sur-Mer 02.31.87.91.14
Walk between sea and villas
At the end of the Planches de Deauville, the walk continues to Bénerville-sur-Mer on the Lais de Mer promenade. With the sea as a garden, children play, lovers stroll, holidaymakers pose and athletes let off steam.
Rent a cabin
Every summer, 33 beach cabins are for rent by the month (July or August) or by the season (from June 15 or September 15).
Prices: the month - 245€ / the season - 450€
Reservation at the Bénerville-sur-Mer Town Hall: 02 31 87 92 64
Convenience
ACCESS
Access to the beach is via rue des Lais de Mer and its perpendicular streets (extended avenue Saint-Michel, avenue Maréchal Foch, avenue Victor Caillau). You can park for free on rue des Lais de Mer, boulevard de Bénerville and rue Pierre Roucher. From April 9 to November 6, 2022, parking becomes chargeable: rue Victor Caillau, Avenue du Maréchal Foch, Parking des Ammonites, Parking de la Garenne (next to the bakery) and Parking Avenue du Littoral. Rue Gaston Gallimard is in the blue zone all year round.
Access to animals is prohibited from 10 a.m. to 19 p.m. all year round. Dogs are allowed on the Yves Saint-Laurent promenade when they are kept on a leash.

SURVEILLANCE
The beach is supervised from July 1 to August 31 from 11:30 am to 18:30 pm at two places: the Tourgéville lifeguard station and the Ammonites beach lookout.
In case of problems: 02 31 87 33 08
Eat and sleep with sea view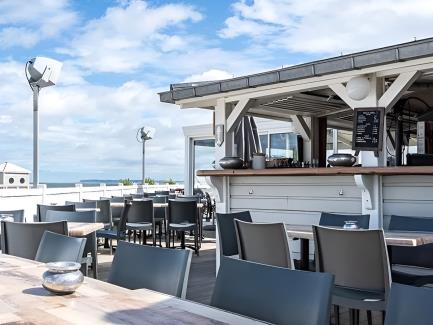 Where to eat
LA TERRASSE DES AMMONITES
At the end of Bénerville beach, go to this restaurant for regulars with a breathtaking view...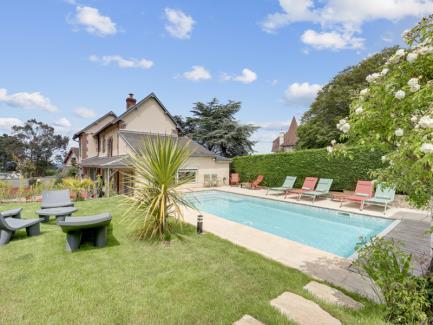 Where to sleep
Hermitage Villa Pool
You are not dreaming, you are there! 200 meters from the sea and 5 minutes by bike from the center of...