The warm Villa René
For sixteen years, Edith has welcomed hundreds of visitors in her guest house called Le Montivert, located in the hills of Villers-sur-Mer. In 2022, change of direction, she wanted a house in the center of town so that her guests could do everything on foot. She found La Villa René, a large house built in 1880 in the center of Villers-sur-Mer, "three minutes from the sea on foot, I calculated to be precise" she says. Her son, a specialist in home renovation, got down to the task. Edith wants a modern environment, but does not hesitate to keep her family furniture to decorate. The breakfast room overlooks a private garden, where an apple tree, an apricot tree and a plum tree have been planted, essential for the home-made jams. 
INTERVIEW CHALEUREUSE
Who isVilla René? Edith bought the Villa under that name and kept it. She is the soul of the house, the one that the clients of the Montivert have called "Mamedith" since she was sixteen. She likes to share, she sits down willingly to talk about her life, yours, her memories, her sparkling blue eyes and her smile that does not let her go.
Since when ? Edith has been a villager for over thirty-five years, she loves the city and knows it by heart. She moved into Villa René in July 2022.
What does La Villa René offer? Two very different rooms. One "Heure Bleue", refined, luminous, with light colors, the other "Vol de nuit", in a more cocoon style, with subdued lights and nestled under the roof. Both names are a reference to the Guerlain perfumes she has worn all her life. Every morning, Edith prepares an organic breakfast on her veranda. She prepares a scented water with mint verbena or basil from her garden, and offers her home-made jams.
Sensation ? It feels like home, like a grandmother's house, delicious smells emanate from its pretty modern kitchen. The house is welcoming. A real holiday or beach house. One passes there before going to bathe. 
Her favorite? "I love the energies that this house gives off" she smiles.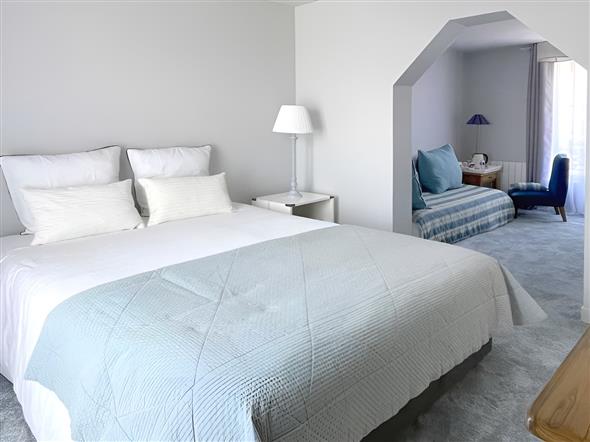 Villa René
06 87 22 58 73