Hotel Le Bellevue
Hotel-Restaurant
12 rue du Général Leclerc

14113 VILLERVILLE
Capacity:
Total number of rooms: 28
Total number of suites: 6
Services/Equipment:
Luggage routing
Animals accepted
Elevator
Baby Sitting
Laundry
Customer safes
Luggage storage
Half board
Garden
Massage
Free private parking
Rapid charging of electric vehicles
Restaurant
Reservations for external services
Room service
Tennis
Terrace
Television
Night watchman
Handicapped WC
Free Wifi
Room prices
| Title | Rate - | Rate +. |
| --- | --- | --- |
| Double room (rate per room) | 110,00€ | 190,00€ |
| Family Room/Suite | 140,00€ | 260,00€ |
| Breakfast (rate per person) | 16,00€ | |
Double room (rate per room)
Min 110,00€ - Max 190,00
Family Room/Suite
Min 140,00€ - Max 260,00
Breakfast (rate per person)
Min 16,00€.
Payment method(s) :
Blue card
Payment cards
Vacation vouchers
Species
Eurocard - Mastercard
Visa
The residence of a couple with a passion for music, it became at the beginning of the last century a hotel with an evocative name: the Bellevue Hotel. The panoramic view of the sea is breathtaking from the rooms, the dining room or the terrace. In the magnificent garden, an Austrian black pine adds to the romanticism of the place. Calmness assured between sea and countryside...
The hundred-year-old Norman villa, with its hushed character, has been enlarged with an outbuilding of large rooms with a balcony overlooking the sea.
In the evening, relax in the living room in front of the fireplace... The atmosphere is both chic and simple, the welcome attentive but discreet...
Its restaurant under the veranda facing the sea will delight those who don't want to move once their suitcases have been put down. There, everything is homemade and with passion, from the starter to the dessert.

The hotel has a private parking lot.
Nearby: beach, horse riding, hiking, golf, casino, thalasso.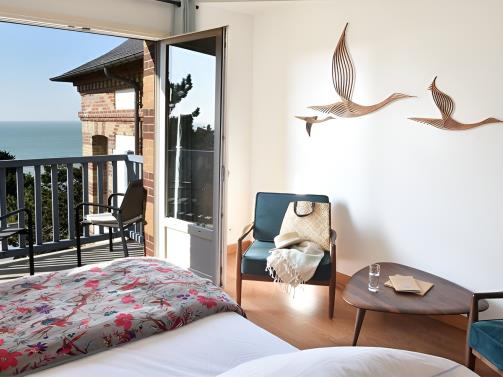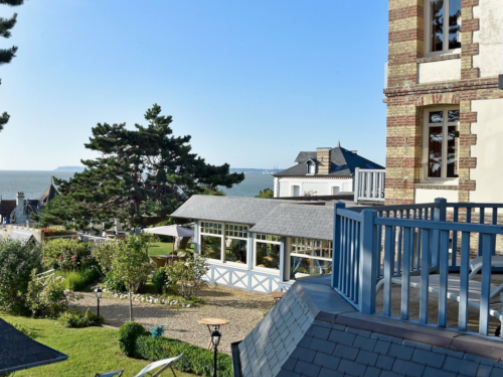 READ IT ON THE BLOG
THE BELLEVUE JOINS THE INDEAUVILLE NETWORK
Nicolas Donot acquired the Bellevue Hotel in 2016. At the time, he already owned the Saint James Hotel in Trouville-sur-Mer, a cosy British address with so much charm that it made him switch to the hotel business.
A story to share inDeauville to read here...