Enjoy
An ice cream by the water
Our addresses to refresh you in gluttony.
The balance of ice cream flavors
Martine lambert
Martine knows how to melt with pleasure any gourmet of ice creams and sorbets! She arrives in Deauville almost by chance to sell her ice cream on the beach in the summer.
In 1981, she permanently installed her shop there. Martine has the taste and the demand for good products; she carefully selects ingredients - mostly local - which she enhances in around fifty perfumes.
Which one will you choose? Almond praline? Tiramisu ? Or the perfume of Deauville?
Ice in all its forms!
Luc's workshop
A pastry chef, chocolate maker and ice cream maker by training, Luc went to good school in prestigious establishments before opening his own in Bayeux and then in Trouville-sur-Mer. In 2014, he created Atelier de Luc, a restaurant-ice cream shop in his own image with a laboratory where he made ice creams and sorbets himself with raw products and above all a love of the trade! Over 30 tasty fragrances are available to amateurs.
Perhaps you will even let yourself be tempted by 1 meter of ice with its 18 flavors to taste!
Also enjoy waffles, pancakes and meals on the go.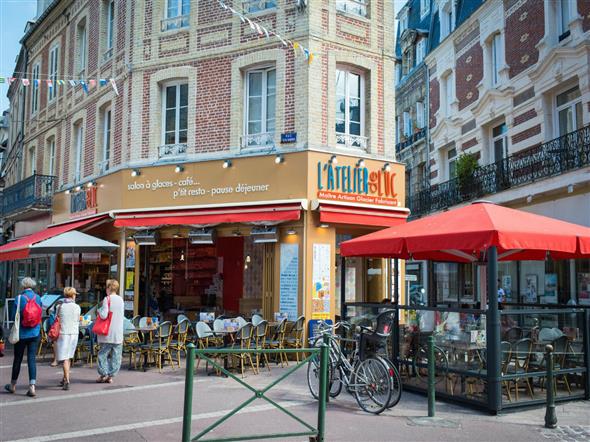 Luc's workshop
+02 31 81 51 81 XNUMX
Princess ice cream
Princess Sophie
Princess Sophie has been on the boards for several decades. Its small name comes from Princess Sophie Troubetskoy, of Russian origin, married to the Duke of Morny in 1857.
Known for her elegance and her spirituality, the princess came to Deauville for the first time in 1864, a year before the death of her husband the Duke of Morny.
While strolling on the boards, she would have liked to stop there to taste ice cream, sweets and drinks to take away.