EATING THE HEAD IN THE STARS
Local products are skillfully prepared by three Michelin-starred chefs
Flavours from here and abroad at L'Essentiel
After studying at Grégoire Fernandi and Le Cordon Bleu, Charles Thuillant and Mi-Ra Kim acquired experience at the main Parisian tables, including those of Robuchon. Charles, attached to his homeland Normandy, proposed to Mi-Ra to start a new adventure and open a restaurant: L'Essentiel.
Charles and Mi-Ra Thuillant, recently starred chefs, combine Norman and Asian flavours. This couple, as complicit in the kitchen as in life, combines South-Korean elegance with Norman generosity and highlights local products and Asian specialities. The coat with breadcrumbs stands alongside miso and king prawns accompany the passion fruit in this simple and naturally lit restaurant where you can admire the kitchen through a large glass while being comfortably seated.
Climate-friendly dishes
L'Essentiel is a member of the Bon pour le Climat Association that commits to propose at least a starter, a main course and a dessert complying with the three following criteria:
Seasonality: the products composing the three dishes are fresh and seasonal
Vegetal origin: vegetables are the protagonists
Local products: the ingredients of the dishes are produced within a range of less than 200 km.
Watch the video and discover L'Essentiel
Maximin Hellio: a cuisine made of sense and history
Maximin Hellio, who has been cooking from childhood, followed the footsteps of his father, starred chef in Brittany at the La Voile d'Or hotel restaurant.
After his studies, he left home to work with the greatest personalities in French cuisine, including Frédéric Anton and the Raimbault brothers, and then he decided to open his own restaurant in Deauville. He gained his first Michelin Guide star in 2016, less than a year after opening his restaurant. His restaurant is a reflection of himself: a refined and essential setting, with a main hall inspired by modern wagons and a lounge-library on the first floor. The best table is undoubtedly placed in front of the kitchen opening up to the dining room.
In terms of menu, the love for local products, highlighted through a real journey of the senses – a journey telling a story – is found. We suggest you try the chef's special menu called La Mer en Héritage. You can discover the family blue lobster recipe, accompanied by the creations made by Maximin Hellio, namely a tasty turbot with poivrade artichokes.
Watch the video and discover the cuisine of Maximin Hellio
A cuisine made of 4 elements
Johan Thyriot, born in Lorraine, has proved his talent with Christian Willer, then Philippe Labbé of the La Tour d'Argent restaurant, and finally Michel Bras at the Château de Bagnols. He then left for Japan where he spent four years on the Hokkaido Island. When he returned, he opened his restaurant with his wife in Tarascon. In his continuous quest for new perspectives, he decided to unleash his creativity in Trouville-sur-mer.
At the Cures Marines Le 1912 restaurant at Trouville-sur-mer, you are conquered by the murmuring waves, the blowing wind, the heat of the sun and the gentleness of the earth. The cuisine of Johan Thyriot is made of poetry, under the sign of the 4 elements and with an inspiration from Japan. The dishes are elegant, essential, but full of flavour, delicacy and colours. Each meal is like an ode to travelling.
Address book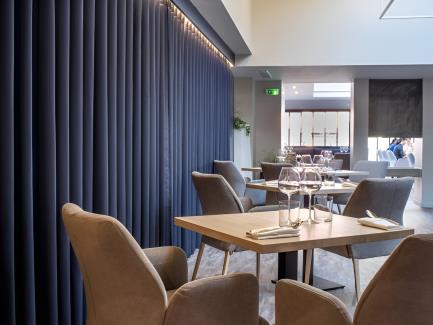 Place to eat
L'Essentiel
"L' Essentiel", recently renovated starred restaurant since 2018, favours exchange...
Place to eat
Maximin Hellio
Providing an authentic high-quality affordable cuisine in an area dedicated to time-sharing is the...