Learn to sail
Internships & courses
You want to familiarize yourself with a new language, the sailor. It only takes a few new words to acclimatize yourself to the wind that dictates its law on the largest playground in the world: 360 km700. So, get started and enjoy unique places with the two inDeauville centers: the Pole Nautique Villers-Blonville and the Deauville Yacht Club. Their learning proposals are very tempting and take into account all ages and all desires, from discovery strolls to advanced training for the most athletic, on a light boat for the first or on a habitable sailboat for the last.
To learn to sail or improve your skills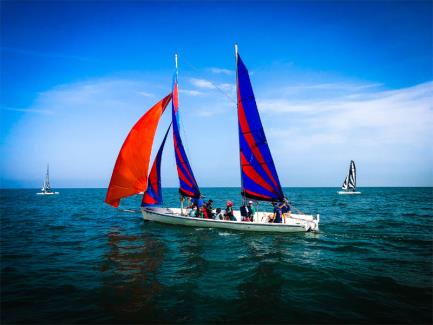 The exits
Sailing course during the holidays at the Pôle Nautique Villers Blonville
The weekly internships supervised by qualified instructors allow you to master the basics: ...
The exits
Sailing holiday courses on habitable with the Deauville Yacht Club
Sailing courses on D80 for 3 to 5 consecutive days, 4 hours a day, are ...