Debout dans les cordages
Invited to the Books & Music Festival 2017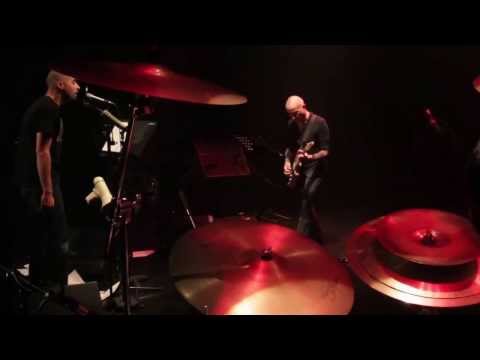 This creation is performed live on January 27th 2013, in the framework of the Festival littéraire de la ville du Havre: "Le Goût des Autres". It gathers Serge Teyssot Gay (Interzone, Zone Libre, Noir Désir), Marc Nammour (La Canaille) and Cyril Bilbeaud (Versari, Tue-Loup, Zone Libre).
The reaction of the public is immediate and unanimous: they managed to give a second life to the text! Their free and very contemporary performance adjusts to current times Aimé Césaire, making his texts accessible by a large public through the extracts chosen by Marc Nammour, considering it his favourite book of the latest ten years.
Distribution:
Marc Nammour: reading and singing
Serge Teyssot-Gay: electric guitar
Cyril Bilbeaud: drums
"The echo of its resonance is constantly renewed, independently from times, places, societies. It is a universal message about a relationship based on awareness, sharing and tolerance. It is about verticality, dignity and freedom rediscovered in human beings.
This text is an incredibly strong pearl. In our daily life, answering and spreading this message needs energy.
It is something personal to build, entertain and protect. Not losing this strength is is a political act. Our music does the same, every music reading must have this function of self-renewal. As a text, it cannot be frozen. Improvising is a voluntary and deliberate act.
It follows the course of life, constantly renewing because every day is different. We play what we are. Echoing the text, the world crossing us and that we cross every day." – Serge Teyssot-Gay.