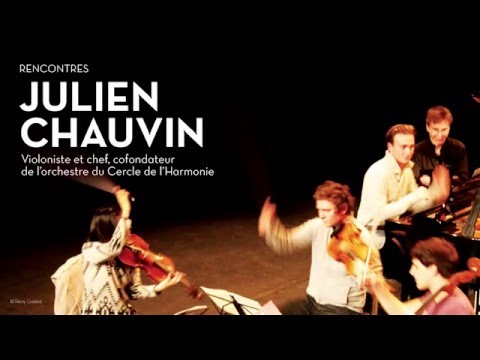 Easter Festival: "Stolen instants of great music emotion"
Julien Chauvin, winner of the 1st prize at the Concours Général de Paris in 1997, studied with Vera Beths at the Conservatoire royal of The Hague, and with Wilbert Hazelzet, Jaap Ter Linden and Anner Bylsma to perform baroque and classic music.
In 2003, he was laureate at the International Early Music competition in Bruges and has performed as a soloist in Georgia, South Africa, at the Easter Festival of Deauville and at the Concertgebouw of Amsterdam.
His education background led him to play in baroque ensembles such as the Concerto Köln, Les Musiciens du Louvre, the Concert d'Astrée, and the Ensemble baroque de Limoges.
He also performed Romantic and modern music, in close cooperation with Steve Reich, György Kurtág, Thierry Escaich, Thomas Adès and Philippe Hersant. He played with Renaud Capuçon, Jérôme Pernoo, Jérôme Ducros, Bertrand Chamayou, Christophe Coin, Patrick Cohen, Alain Planès.
After a ten-year collaboration with Le Cercle de l'Harmonie ensemble that he directed together with orchestra conductor Jérémie Rhorer, Julien Chauvin created a new orchestra in 2015: Le Concert de la Loge Olympique. At the same time, he continued to perform with the Quatuor Cambini-Paris which was formed in 2007.
The Era la Notte show with soprano Anna Caterina Antonacci, directed by Chauvin and staged by Juliette Deschamps, has been presented, since its creation in 2006, in the major European theatres in Luxembourg and Nîmes, at the Théâtre des Champs-Elysées of Paris, in Amsterdam, Toulouse, Caen and Vienna.
In 2012, he was invited to direct Echo et Narcisse by Gluck at the Conservatoire national supérieur de musique of Paris. During the 2014/15 seasons, he directed Félicien David's opera Le Saphir as well as Haydn's opera Armida, both staged by Mariame Clément.
He is a regular guest on radio stations France Musique and Radio Classique. The Mezzo TV channel dedicated a portrait to him in 2006. He also appeared in recital with Olivier Beaumont at the Château de Versailles, the Villa Medici in Rome and at the concert hall of the Musée d'Orsay.
Julien Chauvin has recorded concertos by Joseph Haydn, Ludwig van Beethoven and Hector Berlioz with Le Cercle de l'Harmonie under the Eloquentia and Ambroisie-Naïve labels.
He is associate artist of the Singer-Polignac Foundation in Paris.