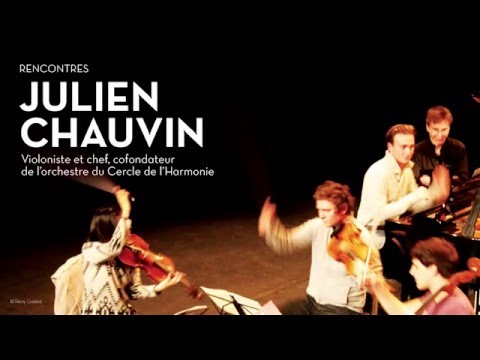 The Easter Festival: "Stolen moments of great musical emotion
Julien Chauvin, first prize winner of the Concours Général in Paris in 1997, studied with Vera Beths at the Royal Conservatory in The Hague, as well as with Wilbert Hazelzet, Jaap ter Linden and Anner Bylsma for the interpretation of works from the baroque and classical periods.
In 2003, he won the Bruges International Early Music Competition and has since performed as a soloist in Georgia, South America, South Africa, at the Easter Festival in Deauville and at the Concertgebouw in Amsterdam. His training has led him to play in baroque ensembles such as Concerto Köln, Les Musiciens du Louvre, the Concert d'Astrée, and the Ensemble baroque de Limoges.
He also performs the romantic and modern repertoires, in close collaboration with Steve Reich, György Kurtág, Thierry Escaich, Thomas Adès and Philippe Hersant. He has performed with Renaud Capuçon, Jérôme Pernoo, Jérôme Ducros, Bertrand Chamayou, Jean-François Heisser, Christophe Coin, Patrick Cohen and Alain Planès.
After ten years with the Cercle de l'Harmonie, which he conducted with Jérémie Rhorer, Julien Chauvin founded a new orchestra in 2015: Le Concert de la Loge. At the same time, he continues his collaboration with the Cambini-Paris Quartet created in 2007.
Julien Chauvin is the musical director of lyrical productions such as Era la notte directed by Juliette Deschamps with Anna Caterina Antonacci, Le Saphir by Félicien David and Atys by Piccini in productions by the Palazzetto Bru Zane. He has also conducted Le Concert de la Loge in several opera productions directed by Mariame Clément( Haydn'sArmida ), Marc Paquien( Lemoyne'sPhèdre ) and Sandrine Anglade( Sacchini'sLe Cid ).
He has also been invited to conduct the Esterházy Hofkapelle Orchestra, the Orchestre régional d'Avignon Provence, the Orkiestra Historyczna of Katowice and the Orchestre Français des Jeunes, the Folger Consort in Washington, the Quebec Symphony Orchestra, and soon Les violons du Roy and the Kammerorchester Basel.
He regularly performs in recital with Olivier Baumont and recorded with him at the Château de Versailles the disc "À Madame" for the label Aparté. 
His discography with the Cercle de l'Harmonie, includes concertante works by Haydn, Beethoven and Berlioz for the Eloquentia and Ambroisie-Naïve labels, and in 2016 he begins the complete Haydn Parisian Symphonies with the Concert de la Loge for the Aparté label.
Since September 2017, he has been associated with the Paris Institute for Advanced Studies in a partnership that works to bring music and research into dialogue.