Anna Broujean
Young talent photographer of the festival Planche(s) Contact 2015 and IN 2016
Anna BROUJEAN, In pursuit of the green ray, Deauville, 2016
Anna BROUJEAN, In pursuit of the green ray, Deauville, 2016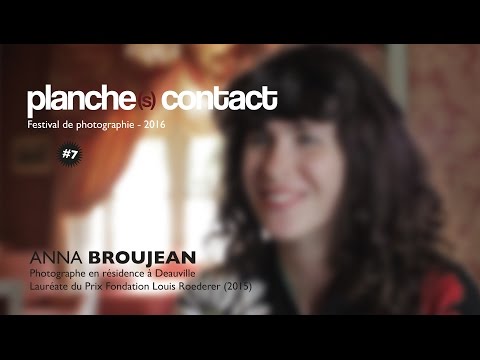 In pursuit of the Green Ray
Born in 1987 in Paris, Anna Broujean graduated from the Ecole Nationale Supérieure de la Photographie d'Arles in 2015. In 2014, she was invited to the 59th Salon de Montrouge and her videos were screened at the Forum des Images and broadcast on Arte.
Multidisciplinary artist, she proposes with humor in her different works rereadings and shifts mixing photography, texts, archive images and installations.
After a first solo exhibition in Marseille in April 2015, she was welcomed in residence in Montreal and Shanghai.
In Deauville as part of the Planche(s) Contact festival
Winner of the Louis Roederer Foundation Prize of Planche(s) Contact 2015, Anna Broujean was invited in 2016 for a photographic commission of the festival.
She sets out in pursuit of the Green Ray.
Between science, fiction and science-fiction, this project is interested in the phenomenon of the green ray, this colored point of light that we can perceive furtively when the sun tilts below the horizon. Bringing together elements of half-dream, half-reality investigation, and using different media (photographs, photomontages, archive images, collages, sounds...), In Pursuit of the Green Ray will capture and decline in photographic form this furtive flash that sometimes appears on the horizon of Deauville.