Patrick Braoudé
Actor, filmmaker, producer, scriptwriter and photographer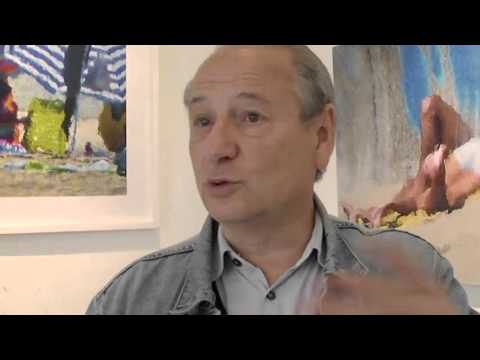 Deauville: "Pleasant memories with my family, an incredible light"
Patrick Braoudé, at the same time actor, filmmaker, producer, scriptwriter and author, has also developed another talent since he was a teenager: photography.
Falling in love with Deauville, where he used to spend weekends with his family when he was a child, this versatile personality has exhibited in 2015 at the Galerie La Bohême a series made on the coastline of this seaside resort, stealing its "incredible colours". He presented photos reminding impressionist-style paintings through the effects obtained directly while shooting, with no computer work. "It's a digital Impressionism", said friendly Claude Lelouch during the exhibition organized in Deauville. "As a filmmaker who loves observing his contemporaries, I love spending time to observe the beach: groups of friends meet to discuss, families look for a moment to relax, lovers come here to stay alone. My photos are snapshots of these spied lives. My characters are often represented from behind, they are sometimes hidden or against the light, unrecognizable, or maybe they are the only who could recognize themselves… while converting in blurred images, shadow puppets, "ghosts", sometimes just stains of colours… The special light of Normandy, providing to the sea surprising nuances, ranging from green grey to Prussian blue, gives to the beach a yellow of rare gentleness and to the coloured beach umbrellas a sunny brilliance. Some poetic photos…as the storyboard of a film. It's funny, he adds, that every time I post a photo on the social networks, even just a sunset, people think that I am at the Seychelles! And that's true that the sky and the sea here have wonderful colours. I really understand why the Impressionists came here to paint: they were fascinated by the light that highlights details. Ecstasy is reached in front of this palette of colours. We are happy and we cannot leave until the sun completely sets."
"I've spent my childhood's weekends in Deauville, with my parents. Then, when I was shooting film during summer, I left my children in Deauville or Trouville, so that I could rapidly come back from Paris to see them during weekends. Deauville is for me a place of concentration, relaxation, so close to Paris and its madness. It offers a special moment, so easy to experience that it would be stupid to give up!"
After performing at the theatre, with Du ronron sur les blinis a piece that he wrote and performed, Patrick Braoudé obtained in 1982 the Prix de la meilleure pièce de café-théâtre. In 1986 and 1987, he co-authored two features: Black mic mac, then L'Oeil au beur(re) noir, before starting to work as a filmmaker, in 1991, with Génial, mes parents divorcent. He also worked as an actor together with Michel Galabru, Roger Hanin, Jacques Villeret, Richard Berry or Jeanne Moreau, then he staged and performed in 1994 Neuf mois, encountering great popular success. Then he performed in Dis-moi oui by Alexandre Arcady and XY by Jean-Paul Lilienfeld, before directing Amour et Confusions, then Deuxième vie.