Patrick Braoudé
Actor, director, producer, screenwriter and photographer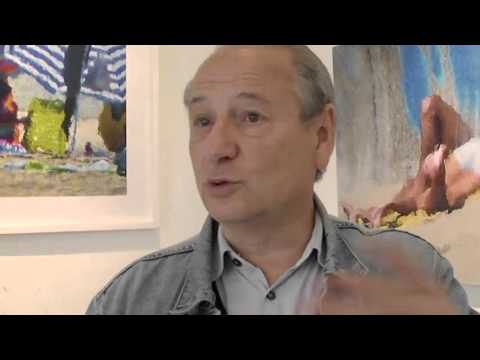 Deauville: "Pleasant family memories, incredible light"
A film man, actor, director, producer, screenwriter and author, Patrick Braoudé has also developed another talent since his adolescence: photography.
Lovers of Deauville, where he often spent his weekends with the family as a child, this jack-of-all-trades exhibited in 2015 at the La Bohême Gallery a series produced on the coast of the seaside resort, which he praises "incredible colors". He presents there photos giving the illusion of paintings, in an "impressionist" style. Effects obtained at the shooting, without computer work. "Digital Impressionism", said Claude Lelouch with friendship during the Deauville exhibition. "As a filmmaker who likes to watch his contemporaries, I like to take time to observe the beach: groups of friends meeting for a moment of friendship, families looking for relaxation, couples of lovers who have come to isolate themselves. My photos are snapshots of these "spied" lives. Characters often from behind, sometimes masked, or backlit, unrecognizable, except for them, who may be the only ones who recognize themselves… becoming fuzzy beings, shadow puppets , "ghosts", sometimes even just spots of color ... With this particular light of Normandy which gives the sea its astonishing hues, from gray green to Prussian blue, to sand this yellow of a rare softness, to parasols and beach accessories colored their sunny radiance… It's funny, he adds, every time I post a photo on social media, even a sunset, people imagine that I am in Seychelles! It is true that the sky and the sea take on colors in believable. I really understand why the Impressionists came to paint here, attracted by this light that makes everything stand out. One can only be in ecstasy before this palette of colors. We are happy there and we cannot leave before the sun has completely set. "
"I spent in Deauville the weekends of my childhood, with my parents. Then, when I shot my films during the summer, I put my children in Deauville or Trouville, so as to quickly come back to see them on weekends. end of Paris. Deauville is for me a place of concentration, relaxation, so close to Paris and its madness. These are special moments, and so easy that it would be silly to miss them! "
After taking his first steps in the theater, with Purr on the blinis that he writes and performs, Patrick Braoudé obtains in 1982 the Prize of the best play of café-theater. In 1986 and 1987, he co-wrote two feature films, Black mic mac and L'Oeil au beur (re) noir, before embarking on production, in 1991, with Great, my parents are getting a divorce. After a few cinema appearances alongside Michel Galabru, Roger Hanin, Jacques Villeret, Richard Berry or Jeanne Moreau, he directed and performed in 1994 Nine months, which met with great public success. Then he plays in Alexandre Arcady and XY by Jean-Paul Lilienfeld, before returning to directing with Love and Confusions and Second life.