On the seaside
At the beach of Villerville
The narrow and coloured roads of Villerville lead you to the sea and two beaches: the Graves beach to the west and the East Beach. They are just accessible at low tide, but you can walk - when the tide is high - on the dyke dominating it and stretching along the Roches Noires steep cliffs. The Roches Noires cliffs, a delicate natural area, are 60 m high and owe their name to the blocks of limestone rock found on the beach.
The must
LE PARC DES GRAVES
Over the Roches Noires cliffs, you'll find 800 m of pedestrian paths with benches, picnic tables, and children's games. This protected natural area welcomes astonishing wild vegetal species, vestiges of the ornamental gardens of past times.
THE BUNKERS
On the beach of Cricqueboeuf, you'll find vestiges of the Atlantic Wall.
THE CROSSING OF 'A MONKEY IN WINTER' MOVIE
When you go back up from the beach, stop in front of the Cabaret Normand, shooting area of "A Monkey in Winter" by Henri Verneuil, shot in 1962, starring Jean Gabin and Jean-Paul Belmondo.
The Roches Noires cliffs
The Roches Noires cliffs, 4 km long and 60 m high, linking Villerville to Trouville-sur-Mer, alternate gentle slopes and steep walls. Exclusively accessible at low tide, they offer a unique landscape owing its name to the blocks of limestone rocks scattered on the sand.
The Roches Noires cliffs
Kids!
Every summer, in July and August, the Air & Play Villerville Parc, found along the Route du Littoral, offers inflatable games to children.
Route du Littoral - +33 (0)6.98.86.12.39 - +33 (0)6.13.42.82.90 –
From July 10 to August 31, 11 am > 9 pm.
€ 8 for children.
The events
National Day: fireworks on the Graves beach, at 11 pm.
Half-July: Fête de la Mer every year.
Half-August: Fête du village. It ends by fireworks on the sea.
End of August-beginning of September: Festival at Villerville, popular Festival of art theatre, sometimes organized on the beach.
Eating & Sleeping with view on the sea
Place to eat
Hôtel Le Bellevue
Sea view, Norman villa with garden. Coast fish and shellfish Kitchen chef: Mickaël ROY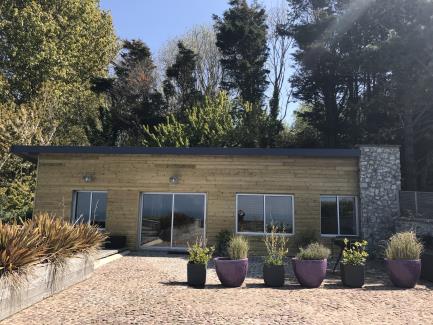 Place to sleep
Les chambres d'Annie - Gîtes
The "chambres d'Annie", overlooking the sea, just 5 minutes from Deauville, invite...
Practical information
ACCES
The access from the centre of Villerville is hard by car, it's better to reach the beach on foot from the Rue de la Cabine (East Beach) and the Chemin des Fondrières (Graves beach).
The beach is unsupervised all year long. Be careful when bathing!
The access to animals is forbidden from 9 am to 7 pm from April to September.
Fishing is forbidden all year long in the municipality of Villerville.
Find the prefectural decrees in the website about gathering fish by hand in Calvados and Calvados.gouv.fr