On the seaside
The beach of Bénerville-sur-Mer
Not fewer than three beaches to explore: the Lais de Mer Beach, at the border with Tourgéville; the Garenne Beach and the Ammonites beach. The Garenne Beach is the liveliest in the summer season, including a pedestrian walk and a children's club. The Ammonites beach, bigger and wilder, stretches along the Yves-Saint-Laurent beach. It bears the name of the fashion designer that, in 1983, bought the Château Gabriel where the great publisher Gallimard was living.
The must
The Batteries of the Mont-Canisy
On the heights of Bénerville-sur-Mer, the Mont Canisy offers an amazing view on the coast, from Ouistreham to Havre. This natural protected site is visited for its fauna and flora and the vestiges of the Second World War.
Le Mont-Canisy
Le Mont Canisy - 14910 Bénerville-sur-Mer +33 (0)2.31.87.91.14
The Aid Post of the Ammonites
As the wooden structure sounds Californian, it attracts photo lovers. It's even nicer at the sunset!
Kids!
The Lilo Z'enfants Park on the Plage de la Garenne is an oasis of happiness for children that bounce, jump, roll and laugh among colourful and inflatable structures.
Open from April to November from 10:30 am to 7 pm at weekends, festive days and school holidays.
Events
Beginning of July: La Normandique, great day of Nordic walking.
Mi-juillet: the Urban sports day, a day of discovery of urban sports, on the walk.
July: the Saint-Christophe fair and the fireworks.
Practical information
ACCES
The beach is accessible from the Lais de Mer Road and its perpendicular roads (avenue Saint-Michel, avenue Maréchal Foch, avenue Victor Caillau).
You can park in Rue des Lais de Mer, boulevard de Bénerville, rue Pierre Roucher or even Avenue du Maréchal Foch. Most parking places are for free.
You can also find a half-shadowed car park in Avenue du Littoral, at the crossing with Avenue du Général Leclerc, and also a small parking in front of the Terrasse des Ammonnites, 16 boulevard de la Mer.
The access to animals is forbidden from 10 am to 7 pm all year long.
Dogs are allowed on the Promenade Yves Saint-Laurent if they are kept on a leash.
RENTING A CABIN
Every summer, 33 beach cabins can be rented for a month or a season from June 15 to September 15.
Mairie de Bénerville-sur-Mer: +33 (0)2.31.87.92.64
SAFETY
The beach is supervised from July 1st to August 31st from 11:30 am to 6:30 pm, in two places: the aid post in Tourgeville and the look-out post of the Ammonites Beach.
If any problems arise, call +33 (0)2.31.88.33.08
Eating with view on the sea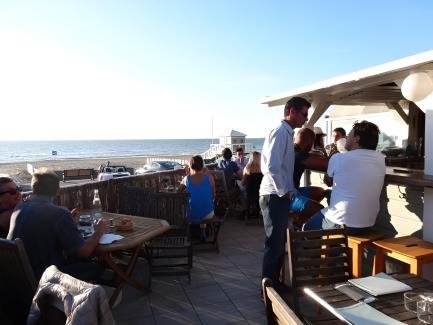 Place to eat
Les Ammonites
Located at the Ammonites beach in Bénerville-sur-mer. Parking and private beach. For specialties,...