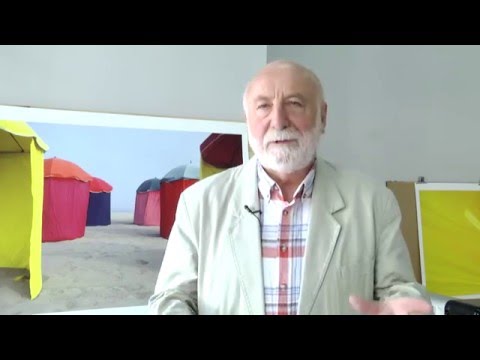 "Deauville, a unique place where light plays an essential role"
Born in 1939 in Normandy, John Batho began to photograph in 1961. Beyond the factual and the subject, his work is based on color, on its power of attraction, its specificity, its way of disturbing or surprising perception. The color is not really captured, rather it captures the viewer. Original, it cannot be reduced to the image of itself. It is photographed, however, the photographer reports the effects, prolongs the vibration. John Batho capitalized on the invention of digital printing. His freedom, his precision allowed him, from 1993, to develop his work and to perfect his previous works.
In 1977, John Batho began to photograph the Deauville parasols, at a time when black and white dominated the photographic production exhibited in museums. The photographer is then in full search and in search of "places of colors". He wants to write the color for " what it is » "A constitutive and constructive datum of the photographic image". Deauville beach is a must. "I don't know of any other range where the order of the color is also present by being distributed in such a random manner. " In close-up, in fragments by aligning them, he restores their forms and color variations with a unique sensitivity and principles of series. For the first time, in the summer of 2015, the first retrospective of John Batho's parasols showed some forty of his shimmering works in large format, all made in Deauville.
For John Batho " photograph these parasols, their shapes and their colors, it's trying to restore how the architecture of color is organized in space. It is to build rhythms of colors and share them in a joyful fashion, by rediscovering the same spontaneity that a box of paint spilled on the beach would arouse.. Deauville parasols have been photographed sporadically for many years, He says. My point is not linked to an iconographic concern: umbrellas are a motif which, constantly repeated, allows us to experience the gaze. Confronting a subject like this forces us to think about what is still surprising, to think about the desire to add, to photograph again, whereas a priori it always seems the same. It is a reflection on the insistence of perception, on the variations of light, on the unforeseen of the motif, on the astonishment of encountering what had not yet been seen. The attention to the architecture of shapes and colors in space led me to question photography as a subject in itself. I then worried about the materiality of the image, looking for a touch of the eyes for this art that we say without matter, questioning its ability to restore the tactility of the fabrics and sand, the smoothness of the sky, according to the hours and day, in the fine light of a seaside bathing the whole. »