Seaside and exotic: report in a Dream House
InDeauville partner
Véronique Marti is the proud owner of the most photographed store in Deauville. It is also one of the most hidden: no window, no visibility from the street and to top it off, a flight of steps before reaching the door ... Despite everything, Véronique has made it an essential address. , those that we visit with each stay with envy.
His history
As a little girl, Véronique came on vacation to Deauville in this pretty house in rue Edmond Blanc. She tastes the pleasures of summers in Normandy punctuated by fishing trips with her father. Later, she is a scriptwriter for the cinema and will live several years in Paris before devoting herself to her four children.
In 1994, when the last one was born, she looked for an apartment in the capital that she could not find. She then decides to settle in Deauville while waiting for a solution. Against all odds, she will never leave the house of her childhood. In Deauville, she feels that she will be able to easily combine family life and social life.
A concept store ahead of its time
This is the era of the cross stitch fashion and the explosion of "Dot it yoursel". She goes wild for customization and creative workshops. In 1999, she made up her mind and transformed the living room of the house into a boutique. For three years, the Marti family will welcome creative and passionate customers there. She remembers the mosaic workshops and the shelves of ribbons, pearls and threads ... Later, when large-scale distribution seizes the fabulous creative leisure market, Véronique renews her activity with spirit. The living room of the villa and its garden become a concept store: you will find decoration, jewelry and clothes nicely arranged ... just like at home. A place of inspiration in a preserved environment and original products, selected with curiosity and a constant desire to find nuggets. It is also a lively place where she succeeds in being very present for her children all day long.
2009 marks a new stage with a trip to India which reinforces its bohemian spirit. She finds multiple inspirations there: colors, fabrics ... objects, everything seems marvelous to her as in a movie set. This will become the starting point for a strong relationship with this country where it continues to obtain supplies.
Soon a second store
Today, the Maison is a little over twenty years old. Its success cannot be denied and all the lights are on the green to set new goals. The spirit of Véronique Marti pleases and the decoration is a sure value: we like to make, redo, re-invent an interior that is always more comfortable, more aesthetic, more personalized. In her living room, Véronique tests new products. This time it's furniture. They compose a new sequence of inspiration for his clients.
It is a transitional situation pending the opening of a new store on the Peninsula. He likes the place a lot. Facing the boats, on the sunny quay of Princess Eugenie, she is preparing a show room a little apart where you will want to settle down and sit down: a meeting place, lively, ... unique and bohemian like the House but with a restaurant and a terrace in addition facing the sea.
Stay tuned! : Véronique Marti tells all her desires on her instagram account: @lamaisondeauville and on @amaetsesdeuxmaisons, the account dedicated to the new store.
"I have high expectations for this new place. The Peninsula has changed. This district is so new, dynamic, without vehicles, with Deauville residents and visitors who discover it, admiring the boats. All this creates "a feeling of the sea", with a very present light, and when the weather is nice, the sun is from 11h to 22h! »The two towers, marking the entrance to the port? "They will become a real landmark, even an emblem for the city," she thinks. So I'm happy to settle here "
Address book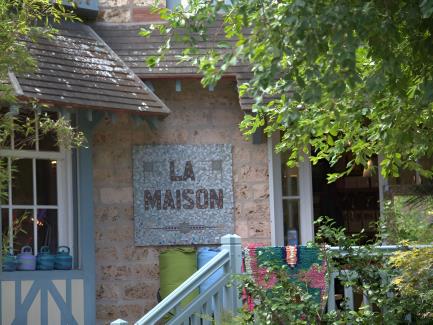 Home
An unmissable place in the heart of Deauville, place du casino. Hidden in the greenery, it ...