Bathing in the sea, swimming but not only ...
The sea bathing establishments are among the first buildings essential to the creation of seaside resorts. Originally purely practical, they had to provide seawater-based care and hire bathing equipment for baths taken directly in the sea. Over time and use, in particular learning to swimming at the beginning of the XNUMXth century, sea bathing finally became recreational. The bathing establishments were then redesigned so that bathers could take full advantage of seaside holidays.
The Pompeian baths of Deauville, art deco cabins
Like many seaside resorts, Deauville has based its reputation on the practice of sea bathing with curative effects. Several hydrotherapy establishments followed one another in Deauville from 1860, when the city emerged from the ground. In 1921, the municipality of Deauville organized a competition to replace its somewhat dilapidated bathhouse. The project of architect Charles Adda is chosen. Inspired by the Roman baths and their decor of polychrome mosaics, he built "the Pompeian baths" in an art deco style, all in keeping with modernity through clean lines and the use of concrete, while taking inspiration from models of antiquity. A delicate universe populated by atriums, a fountain, galleries ... In 1923, the sea bathing establishment included 250 cabins, dedicated to therapeutic baths or open on the beach, bathrooms, sweating, massage and rest, a hammam, an American bar, a hairdressing salon, shops and a wooden promenade, the famous "Les Planches" of Deauville.
Today, 450 cabins, spread over 9 courtyards and some with bath, shower or foot rinse, are rented by the day, week, month or season at the Sea Baths Establishment. Three options: beach side on Les Planches, boulevard side and small indoor pools, ideal for toddlers who love to splash around, and courtyard side of the baths, for the Roaring Twenties atmosphere.
The establishment of sea bathing
-
La Villa d'Eaux, a bath and bed!
Its street facade has retained a remarkable decoration of bricks and decorative panels in enamelled lava and colored ceramics, on which is inscribed "hot baths, hydrotherapy". In 2018, the Villa d'Eaux guest house invested in the former baths-showers of Villers-sur-Mer, a historical heritage from 1903. Deteriorated and partly broken to allow the opening of shops on the facade, after five years of work, this exceptional place steeped in history has now regained its original state. Its facade, witness to its past activity, its interior patio, its art deco treasures and the frescoes by Charles Catteau have been preserved.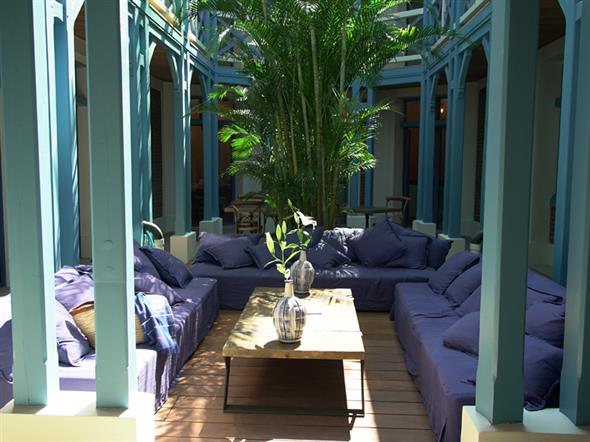 Water Villa
-
-
Valérie Carrat: love at first sight for the Villa
Initially an emergency doctor, Valérie Carrat led her career in the health sector, while keeping the idea of ​​one day opening a place dedicated to well-being, which she imagined in Aix-en-Provence in a country house. . A few days before making her decision to settle in the south, a friend arranged to meet her in Villers-sur-Mer, where she had never set foot, nor in Normandy for that matter. He shows him around the Villa d'Eau. It's love at first sight. The place was empty but restored, there was only the finishing touches to be done. In two hours, she questions her project in the south, seduces the then owner with his project. The re-opening to the public of the site is arousing real enthusiasm.
L'eau de mer jusque dans la piscine
A Deauville, on aime tant la mer qu'on la capture pour remplir la piscine olympique. L'eau de son bassin olympique (50 mètres) est pompée au large et chauffée à 28° C. Véritable prouesse architecturale, la piscine a été construite en 1966 sous une voûte qui capte le soleil et la lumière.
Swimming in seawater
La piscine olympique de Deauville